Doha 2015: Mixed zone flashquotes day three
Find out what athletes had to say after comeptition on Saturday at the 2015 IPC Athletics World Championships.
25 Oct 2015
Imagen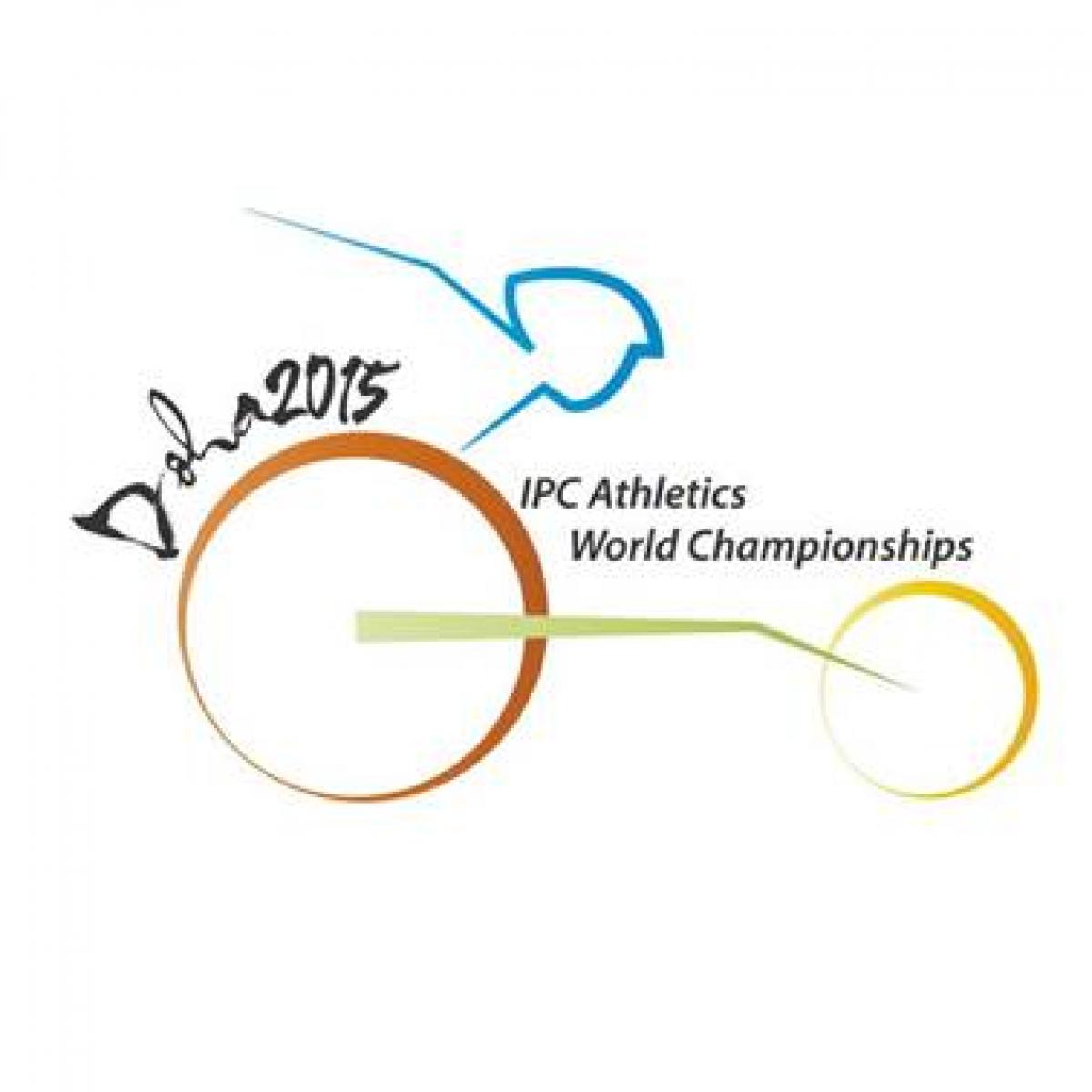 Women's 200m T44
Gold: Marlou Van Rhijn (NED)
"It was a very good race, I found the track very quick and I am very happy to be here and to maintain my title. The facilities are fantastic which helps a lot."
Silver: Marie-Amelie Le Fur (FRA)
"I am thrilled to be winning the silver medal. I was a bit tired after yesterday's race, but still – it feels amazing and I couldn't be happier at this stage."
Bronze: Fluer Jong (NED)
"It was a pretty tough win so I just had to keep everything together and have confidence in myself that I could just do it."
Women's 200m T35
Gold: Isis Holt (AUS) World record
"I was quite nervous before the race, this is my first time overseas ever, so to come here and win and break the world record is so amazing for me on all levels."
Silver: Maria Lyle (GBR) European record
"I am very pleased with my time and it was a great race, I didn't expect to break a Europe record at all."
Bronze: Oxana Corso (ITA)
"I am so happy with this medal, I have set the new Italian record so I feel amazing. Today has been an inspirational day and I am doing my best to change the perceptions of para athletes worldwide."
Men's shot put F32
Silver: Karim Betina (ALG)
"I am very happy, I didn't expect to do this well. I was worried about the competition but everything has gone very well. I love it here in Qatar, it is a great place with great facilities."
Bronze: Dimitrios Zisidis (GRE)
"I am very happy. One more medal for Greece."
Women's 1500m T54
Silver: Gunilla Wallengren (SWE):
"This is my first appearance in the IPC Athletics World Championships and to come here to Doha and get second is the biggest moment of my career."
Bronze: Madison De Rozario (AUS):
"It is a good performance for my first final and I am glad I have finished with a medal. I was hoping it would be better than bronze but it ended up being a very tactical race and I am glad I can away with a medal."
Women's 1500m T20
Bronze: Lyudmyla Danylina (UKR):
" I love this city, this country and these people for hosting us. Thank you to my team, my coaches, this was an amazing experience."
Men's 1500m T54
Gold: Rawat Tana (THA):
"I am so happy to win and become world champion! Me and Saichon decided to work together and thankfully our tactic worked. It's a big surprise to take the gold medal, but such a great feeling."
Silver: David Weir (GBR):
" I always knew this was going to be tough. Rawat has been the strongest all season. I got a little boxed in on the final two laps so I couldn't move out earlier. I am really happy with silver, the aim was to take a medal and at my age I am happy with that!"
Fifth place: Marcel Hug (SUI):
" I am really disappointed. I got my tactics wrong and found myself in a poor position going into the last round. I need to go back and analyse my performance because it really wasn't good enough."
Women's 100m T53
Silver: Hamide Kurt (TUR):
"My best result before Doha was 5th place, so to get a silver medal here is the best result of my career. I am so happy."
Bronze: Jessica Cooper Lewis (BER):
"I feel awesome, I am very happy. It's been amazing, the track is very good. I have enjoyed my time in Doha very much."
Men's 100m T13
Gold: Jason Smyth (IRE):
"It was great to get out there and start competing. It's been a couple of years since the world championships, so it's just great to be here and thankfully cross the line first. I am very happy with my time, obviously you always want to be quicker but at the end of the day I got gold and that's all that matters for me."
Silver: Gustavo Araujo (BRA):
"I was very nervous because this is my first world championships and now I am happy and looking forward to Rio 2016."
Bronze: Chad Perris (AUS):
"I feel amazing, I came here with a goal to win a medal, and I got the bronze so I couldn't be happier."
Men's Javelin Throw F57
Silver: Mohamed Mohamed (SYR):
" This competition was very tough, especially against the Brazilian and Iranian, but thankfully I managed to pull through with my final throw. I am happy with my silver medal and although I wanted gold it's still an honour to make my country proud."
Men's 400m T34
Gold: Walid Ktila (TUN):
"My victory was expected as I have worked extremely hard leading up to this championship. I wanted to break the world record but I am satisfied with this result."
Silver: Henry Manni (FIN):
" I'm ranked number two in the world, so to get the silver medal is sort of status quo, but I am really happy with that and is ultimately and improvement from the bronze I got in Lyon 2013."
Bronze: Mohamed Hammadi (UAE):
"To me this world championship series is preparation for the Rio games which will start in 10 months, once I am finished here I am heading straight to London to make a new chair as I want to change my seating position. This chair is over 10 years old but it has served its purpose for this championship."
Women's 400m T13
Gold: Nantenin Keita (FRA):
"It's been a very long time since my last medal, so I am really happy for myself, my team and the French delegation. Now I am off to prepare for Rio, and I am ready to suffer again to win."
Silver: Somaya Bousaid (TUN):
"It was very hard out there tonight, it is my first time competing in 400m but I did my best and I have achieved my goal."
Bronze: Sanaa Benhama (MAR):
"The race was great, very intense and my competitors were the best in the world so I am very happy with my performance."
Men's 800m T38
Gold: Michael McKillop (IRL)
"This gold medal means a lot to me and I will forever remember this day, not because of the time but because I never thought I would get to the start line after a really horrific injury. It's been so tough mentally but thanks to my family, and especially my girlfriend's support, I am here and I am still unbeaten."
Silver: Abbes Saidi (TUN)
"I was so scared and I have been thinking about this day for months. I am very satisfied with this result as I was competing against Paralympic champions. I have another race on the 30th which is the 1,500m and Michael McKillop will not be in this race and he is my strongest rival so I will be going for gold."
Bronze: Louis Radius (FRA)
"The race started fast and I knew it would explode towards the end. My objective is to be on the podium on Friday for the 1500m race. I dedicate this win to my new born son Paul."
Women's 100m T54
Silver: Amanda Kotaja (FIN):
"I am actually very disappointed. I really wanted to win, but I'm sure I will feel better in the morning."
Bronze: Hannah McFadden (USA):
" I am extremely happy with my performance. In London 2012 I came 8th and in the last world championships I came 7th, so I feel like I am really progressing, so as an athlete that's exactly what you want."
Men's 200m T44 (HeatS)
Richard Browne (USA):
"Tonight's only goal was to make the final and get ready for tomorrow. I slowed down in the end, didn't want to kill my body, it has been a long season so I was just playing it smart. I definitely feel like I can break the world record here in Doha, the track is so fast so let's look ahead to tomorrow."
Alan Oliveira (BRA):
"I stopped for a year and now I am back. I am back to win. I am the world champion,"
Men's Shot Put F41
Silver: Niko Kappel (GER):
" I am really pleased, it is my first championships and the silver medal is really enough, I did my best and I don't feel I could have done any better."
Bronze: Jonathan De Souza Santos (BRA):
"I feel pretty good, the weather here is very similar to Rio so I feel pretty much at home. It was a good performance and I feel like I am improving. I am pleased with the Bronze."
Women's club F51
Gold: Joanna Butterfield (GBR) Championship record
"It is amazing to be world champion, I can't quite believe that I am even here so it is fantastic. I knew I was in the best shape of my life so to win the gold medal is just an incredible feeling. I was paralysed only five years ago so it has been quite a journey for me."
Silver: Rachael Morrison (USA)
"The competition was pretty good, I didn't throw as well as I can, but I think a season's best is not too shabby. I am looking forward to the discuss on the 27th, it is going to be a lot of fun."
Bronze: Becky Richter (CAN)
"I am happy to be top three in the world, but I have thrown further earlier this year so I am a little disappointed as well."
Men's long jump T12
Gold: Kamil Aliyev (AZE)
"The competition was so strong here in Doha, but I'm thrilled to be top. I've had some small problems with injury coming into these World Championships, but at the end of the day it all went really well!"
Bronze: Mohamad Saifuddin Ishak (MAS)
"The competition was very difficult and while I'm happy with my result I didn't jump as well as I could have because of an injury."
Men's discus F46
Bronze: Dmytro Ibragimov (UKR)
"Fantastic competition, fantastic competitors and I am happy with the bronze."
The IPC Athletics World Championships has attracted around 1,300 athletes from nearly 100 countries and will continue until 31 October.
Download rights free images from the Championships here, credit: Doha 2015/ Getty Images
For broadcast footage, please email Jose Manuel Dominguez
Watch all the action live and find live results here.
The lastest IPC Athletics updates on Twitter can be found here.