World records tumble on second day of the IPC Athletics World Champs
Germany's long jumper Markus Rehm and Cuban Omara Durand set new world marks at Doha 2015.
24 Oct 2015
Imagen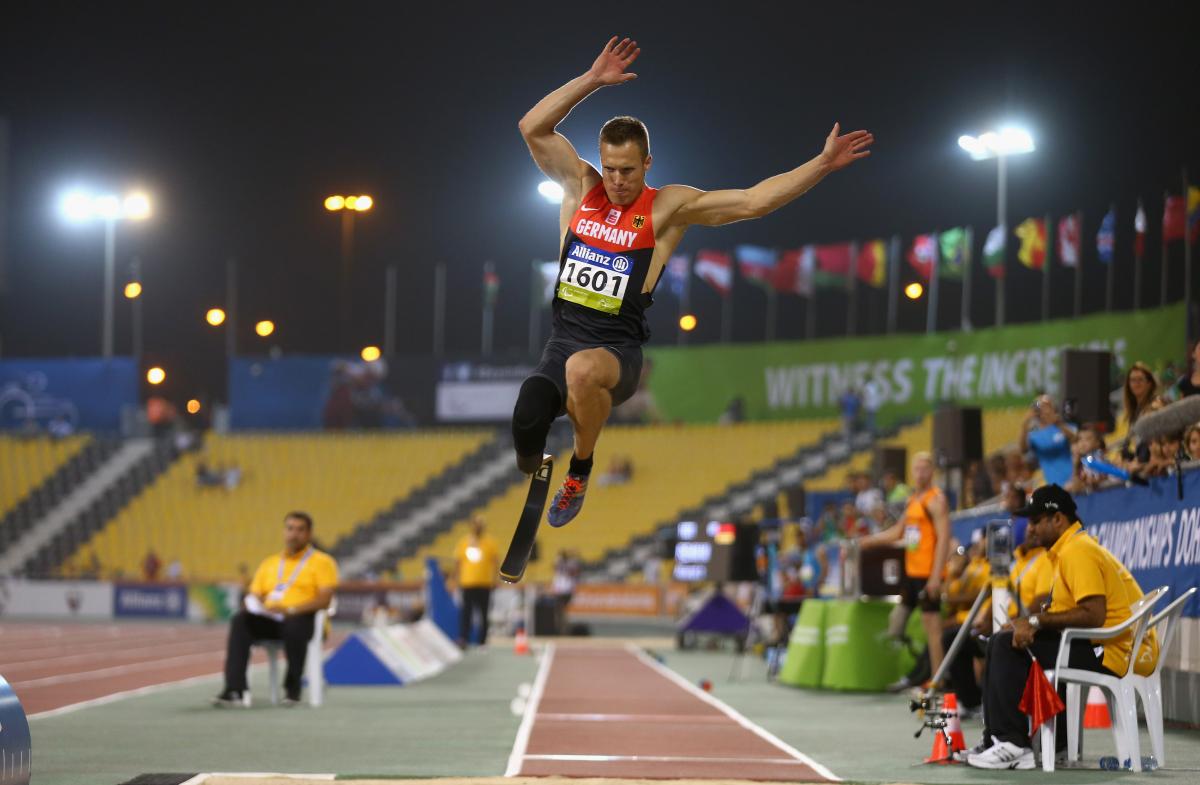 ⒸLOC Doha 2015 | Getty Images
By IPC
Multiple world records were broken on a sensational second day of action at the 2015 IPC Athletics World Championships on Friday (23 October), with Germany's Markus Rehm and Cuba's Omara Durand leading the way.
Rehm topped the podium in the men's long jump T44 with a staggering leap of 8.40m, to add 11cm to his own five-month-old world record.
"This was just an incredible competition today. I really enjoyed it with all these amazing athletes," said Rehm whose leap was just 1cm shorter than Greg Rutherford's IAAF world title wining jump from earlier this year in Beijing, China.
"To jump 8.40m is just what I dreamed of and I achieved it so I am really happy. I woke up feeling that it was going to be my day. Thankfully it all worked out for me."
Silver and bronze went to the Netherlands' Ronald Hertog (7.26m) and Russia's Vadim Aleshkin (6.91m).
The first world record of the day on the track was set by Cuba's Omara Durand (53.05) as she smashed the 11 year-old 400m T12 world record by more than half a second to win gold.
"I am so very proud of this gold medal and my new world record! It has been a hard competition but our hard work paid off in the end," said Durand who set 100m and 200m world records in August.
Ukraine's Oxana Boturchuk (54.92) took the silver ahead of bronze medallist Edmilsa Governo (58.68) who set a new African record to win Mozambique's first ever world championship medal.
China's Na Mi (13.56m) won her third successive women's shot put F37 world title in a thrilling competition which saw the world record fall four times. Mi broke the record in the first and second rounds with throws of 12.82m and 12.93m before Germany's eventual silver medallist Franziska Liebhardt took the lead with 13.39m in the third round. Mi responded straight away with 13.56m to top the podium. Russia's Irina Vertinskaya (12.10m) took the bronze.
The women's javelin F54 featured two improvements on the world record. China's Liwan Yang (18.50m) added 5cm to her own world best in the opening round but could only manage silver. Gold went to Tunisia's Hania Aidi (18.86m) with a superb second round effort. South Africa's Ntombizanele Situ (16.36m) completed the podium.
A world record opening round throw of 29.70m was enough for Tunisia's Raoua Tlili to retain her women's discus F41 world title ahead of teammate Fathia Amaimia (24.83m) in silver. Ireland's Niamh McCarthy (23.66m) claimed the bronze.
"My father passed away this year so I did this for him and I dedicate my win to him. I am extremely proud to do this for my country and my team mate also won silver which was amazing," said Tlili.
There was a huge shock in the women's 400m T11 as China's Cuiqing Liu, guided by Donglin Xu, (56.68) won gold in an Asian record to stop Brazil's Terezinha Guilhermina and guide Guilherme Soares de Santana (58.52) from winning a third successive world title. Guilhermina had to settle for silver ahead of teammate Thalita Vitoria Simplicio Da Silva (59.73), guided by Felipe Veloso Da Silva, in bronze.
A number of 400m races opened the second day of competition.
Russia's Evgenii Shvetcov (53.70) opened his campaign to win four gold medals in Doha by retaining his men's T36 world title with a championship record. Silver went to Great Britain's team captain Paul Blake (54.58) who held off a late challenge from bronze medallist Roman Pavlyk (54.60) of Ukraine.
The men's T47 was a thriller which was won in a championship record by the USA's Jaquvis Hart (48.17). Shane Hudson's (48.89) silver medal was Jamaica's first ever on the track at a World Championships. Russia's Alexey Kotlov (48.92) took bronze.
Brazil's Daniel Martins (48.27) won the men's 400m T20 finishing ahead of Spain's Deliber Roriguez Ramirez (49.62) and Russia's Artem Muratov (49.96) in silver and bronze respectively.
The men's 800m T13 was won by Russia's Egor Sharov (1:51.16) in a championship record. Algeria's Adbellatif Baka (1:54.18) edged out Morocco's Mohamed Amguoun (1:54.56) for silver.
World record holder David Brown, guided by Jerome Avery, (11.03) won his first world title with victory in the men's 100m T11.
"Words cannot explain how I feel right now. It's a great honour to race against these guys, I love competing against them, to come out here and defeat them this time in the Middle East is a great success for me. I am speechless," said Brown.
Brazil's Paralympic champion Felipe Gomes (11.28), took silver for a second successive World Championships after beating China's Dongdong Di (11.35) into bronze.
The men's 100m T12 was won by Cuba's Leinier Savon Pineda (10.82). He was joined on the podium by the Russian duo of Artem Loginov (10.99) and Fedor Trikolich (11.07).
Belgium's first medal of Doha 2015 was gold thanks to Marieke Vervoort (35.91) in the women's 200m T52 after she finished ahead of the USA's Kerry Morgan (37.60).
China's Xuelong Zhang (51.26m) won his second javelin F37 world title in the field. A European record from Latvia's Dmitrijs Silovs (50.48m) secured silver with bronze going to China's Dong Xia (49.55m).
A European record by Bulgaria's Stela Eneva (11.14m) won her the closest contest of the day in the women's shot put F57. Just 1cm behind in silver was Mexico's Angeles Ortiz Hernandez (11.13m) whilst Germany's Ilke Wyludda (10.95m) picked up the bronze.
The three podium finishers in the women's shot put F20 all set personal bests. Poland's Ewa Durska (13.92m) took gold, Russia's Antonina Baranova (13.41m) the silver and Ukraine's Anastasiia Mysnyk (12.89m) the bronze.
Gold in the final medal event of the day went to Australia's Carlee Beattie (5.75m) in the women's long jump T47. Cuba's Yunidis Castillo (5.46m) set a new Americas record for silver and New Zealand's Anna Grimaldi (5.41m) completed the podium.
The IPC Athletics World Championships has attracted around 1,300 athletes from nearly 100 countries and will continue until 31 October.
Download rights free images from the Championships here, credit: Doha 2015/ Getty Images
For broadcast footage, please email Jose Manuel Dominguez
Watch all the action live and find live results here.
The lastest IPC Athletics updates on Twitter can be found here.