Buffalo 2015: Lipsett's Group B picks
Buffalo2015 commentator, retired ice sledge hockey player and triple Paralympian Taylor Lipsett, gives us his choice of athletes to look out for when competition starts on 26 April.
26 Apr 2015
Imagen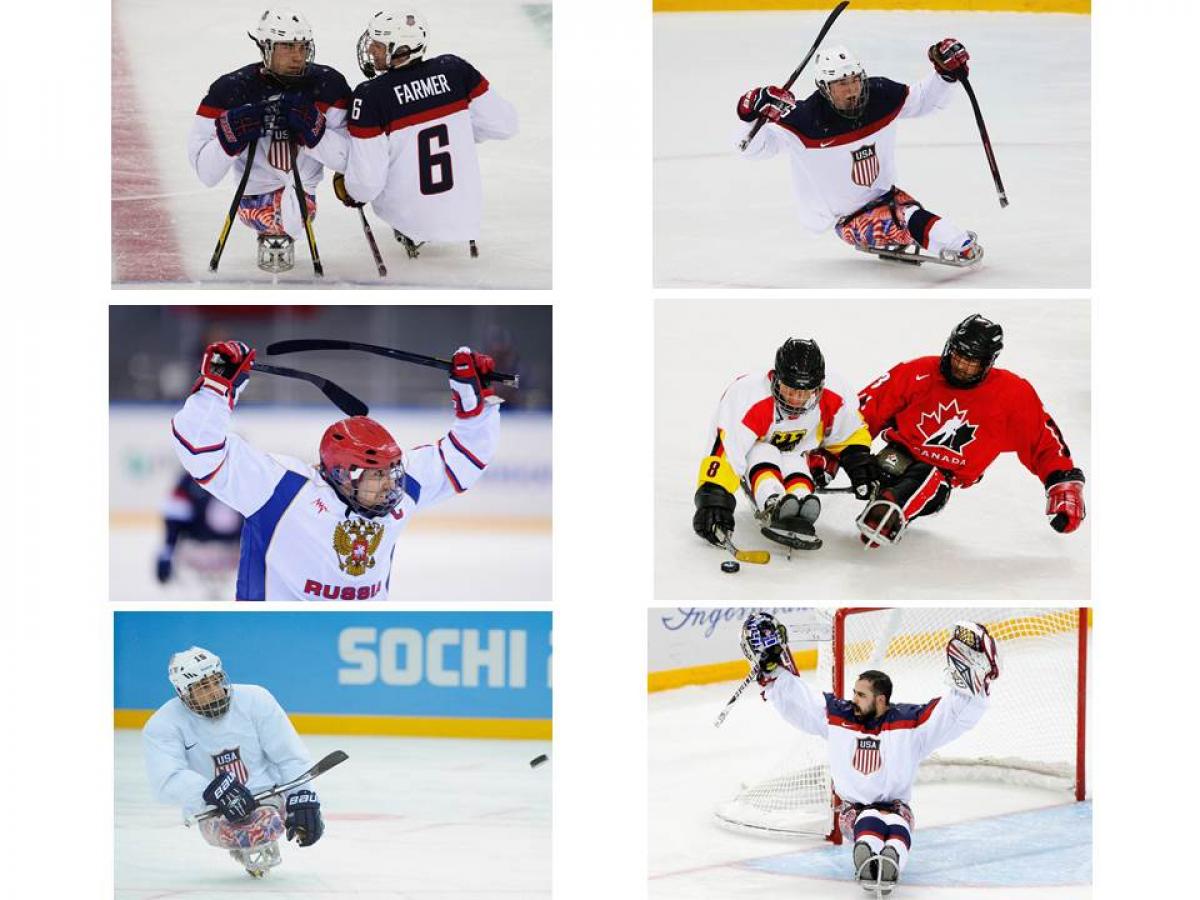 ⒸGetty Images
By IPC
The 2015 IPC Ice Sledge Hockey Championships A-Pool will be shown live from the HARBORCENTER in Buffalo, New York, USA, at Buffalo2015.com.
In the second installment of Lipsett's picks, double Paralympic gold medallist turned commentator Taylor Lipsett offers his view on which players to look out for on the ice between 26 April-3 May in Group B.
USA
Brody Roybal (forward)
After taking a support role on the No.1 line in his debut season in 2013-2014, which culminated with a gold medal in Sochi, Roybal has used the 2014-2015 season to make a name for himself as not only one of the youngest at 16 years old, but one of the most talented players in the world. Brody has posted 11 points, five goals and six assists in eight games this season so far. With his speed and agility, Roybal is extremely tough to contain, and if you let him cross over the blue line without a body on him, a goal for Team USA usually follows shortly thereafter.
Declan Farmer (forward)
Farmer continues to take the ice sledge hockey world by storm after a remarkable sophomore season in 2013-2014. He ranked No.1 on Team USA's points list with 12 points in 13 games, which earned him the title of Best Male Paralympian at the 2014 Winter Paralympic Games in Sochi, Russia, as well as an ESPN 2014 ESPY Award for Best Male Athlete with a Disability.
Farmer has not only maintained his form, but seems to have taken it up a notch in 2014-2015 leading Team USA yet again with 14 points, four goals and 10 assists, in eight games for Team USA. His knowledge of the game, his poise, and his ability to control and shoot the puck with both hands makes him a nightmare for every opponent. Let us not forget he is also one of the youngest players in the world at 17-years-old.
Nikko Landeros (defence)
Landeros got a 'promotion' this season, and is serving as an alternate captain for the first time in his career. He has taken this responsibility to heart on and off the ice, and he has proclaimed that he is in the best shape of his life. It's hard to argue when you look at his performance. He's tied second in points after posting 11 points in eight games, three goals and eight assists. Landeros is definitely the quarterback for Team USA when he is on the ice, and is also the No.1 defenceman on the team. His speed, agility, and size make him hard to stop once he gets going, and defenders will often see him go coast-to-coast with the puck usually ending with a quality shot on goal or a pass setting up a scoring chance.
Steve Cash (goaltender)
Cash is arguably the best sledge hockey goaltender of all time, and he is off to another historic start in 2014-2015. Cash is 8-0 on the year, with four shutouts, only conceding four goals, posting a 0.53 GAA (goal against average) and a 0.946 save percentage. With a lightning fast glove, and the ability to get from post-to-post in a split second, he remains the toughest goaltender in the world to beat. He has been and will be an integral part of Team USA's success, and if he is dialled in like he has been so far this season, Team USA will be extremely tough to beat.
Russia
Dmitry Lisov (forward)
Lisov has led the Russian offensive attack the past few years as they have quickly scaled the ranks and become one of the top teams in the world. Lisov's speed, quick shot release, and ability to get under the opponents skin allows him to constantly have an impact game in and game out.
Germany
Frank Rennhack (defence)
Rennhack has helped resurrect the German sledge hockey programme after the team missed out on both the 2010 and 2014 Winter Paralympics. Rennhack helped the team win the 2013 World Championships B-Pool, and now he will look to carry that over into the A-Pool tournament. He is not the biggest player on the ice, but he is quick and shifty, and does a good job of quarterbacking the German offense from his defensive position.
Lipsett will commentate all games from Buffalo 2015 alongside Brent Pope, who voiced ice sledge hockey at Torino 2006 and Sochi 2014.
The competition gets underway on Sunday (26 April) with preliminary round clashes between the USA and Russia and Italy v Germany in Group B.
A full competition schedule, live results and live coverage can be found at Buffalo2015.com.