Caio Carvalho closing canoe gap
Brazilian ready to beat his rivals to gold at Tokyo 2020
11 Nov 2018
Imagen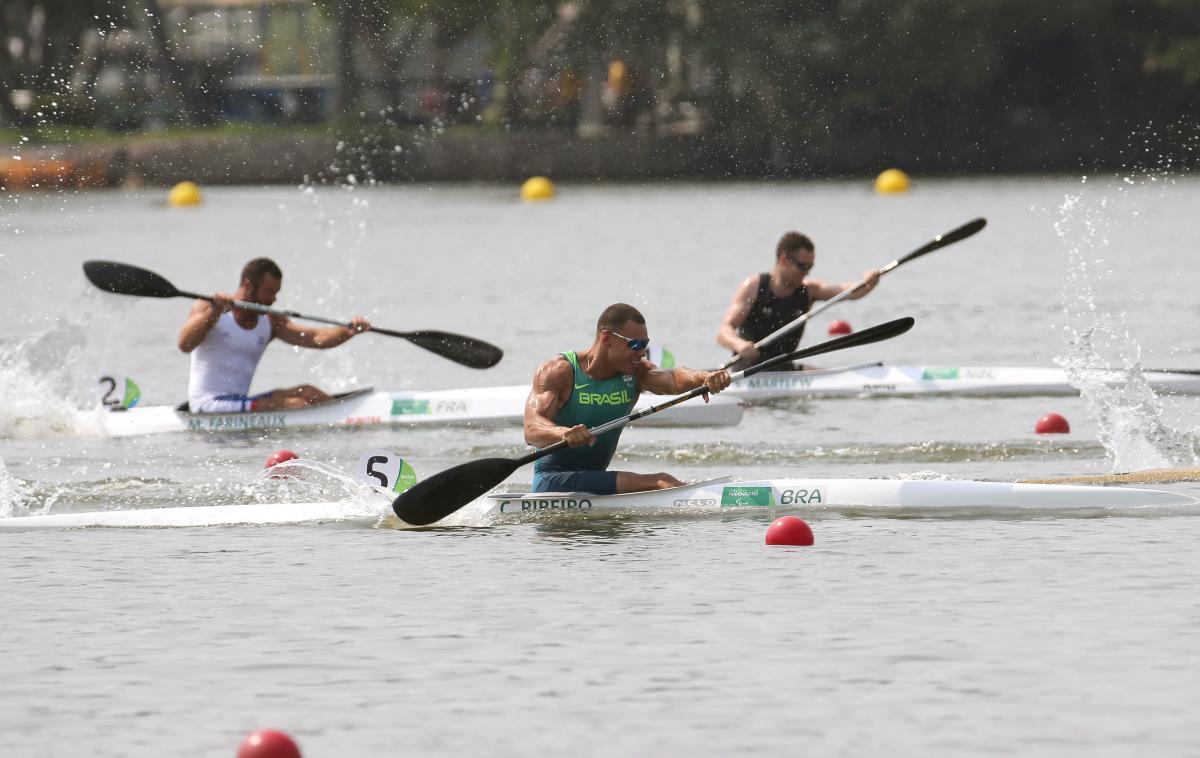 ⒸCezar Loureiro/MPIX/CPB
By Tim Norris | For the IPC
"I am investing to be a Paralympic champion. This is what I want, it is my dream, and I am doing my best to achieve it."
Following two World Championship silver medals, Brazilian Para canoeist Caio Carvalho has the perfect motivation for training towards the Tokyo 2020 Paralympic Games.
The 2018 World Championships in August saw the latest chapter in Carvalho's growing rivalry with Ukraine's Serhii Yemelianov. The Ukrainian beat his Brazilian rival by a split second in the men's KL3 final, while Yemelianov also won gold ahead of Carvalho's bronze in canoe's Paralympic debut at Rio 2016.
But with the gap between the pair closing, Carvalho is confident he can soon overtake his rival.
"I am going to beat him by keeping focused and doing what I do best – training. He is a good athlete, he is a champion, but I am also good and a champion. He could have advantages, but I have my goals.
"I was training to win a gold medal at the Paralympic Games, so it was sad to finish in third place," Carvalho added. "But it is still hard to comprehend that I won a Paralympic medal, the first one in Para canoe in Brazil."
At Tokyo 2020, three new medal events will be added for the sport – men's VL2 and VL3, and women's VL2. Carvalho fellow short of the VL3 world title to Australia's Curtis McGrath but further training could change those results by Tokyo 2020.
"It was even more competitive in the World Championships, after Rio," Carvalho said. "And now that va'a is back, a lot of other athletes will be there competing."
Carvalho has come a long way since a motorbike accident aged 25 meant he needed his left leg amputated above the knee.
"There was a colleague doing physiotherapy with me a couple of years ago and he told me about a canoe project for people with disabilities," Carvalho reflected.
"I have now been world champion twice, a silver medallist six times and finished third at the Rio Paralympics Games. But I think the best result I've had so far is my strength, persistence and courage to face life hurdles every day and represent Brazil as best I can."
"In Tokyo I will compete twice, both in the kayak and the va'a. I want the gold in these two categories. I am investing to be a Paralympic champion. This is what I want, it is my dream, and I am doing my best to achieve it."