Caironi and Shvetcov set new 200m world records
Caironi broke the 200m world record for the third time in three weeks, whilst Shvetcov broke a seven year old mark.
21 Jun 2015
Imagen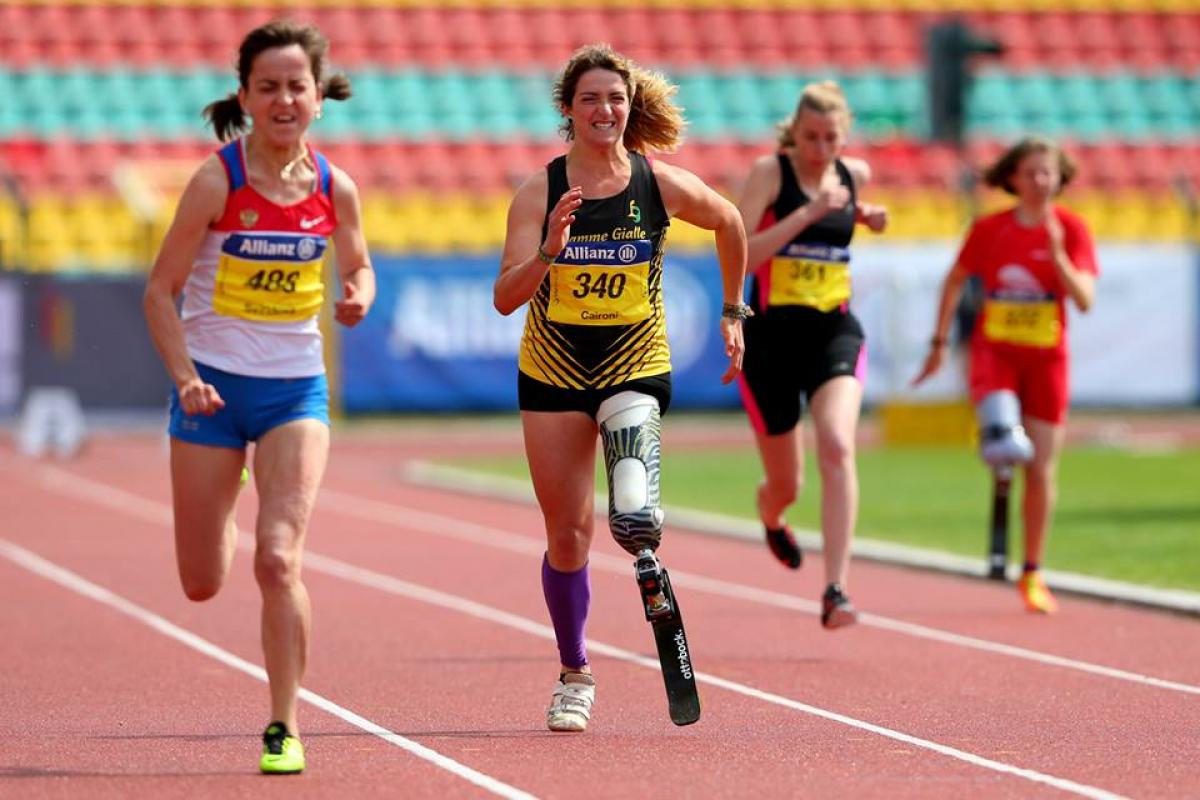 ⒸGetty Images
Two world records fell on the track on the final day of competition (Sunday 21 June) in Berlin as Russia's Evgenii Shvetcov and Italy's Martina Caironi both smashed the 200m world record for their class at the IPC Athletics Grand Prix in the German capital.
World and European champion Evgenii Shvetcov smashed the 200m T36 world record at the Allianz sponsored event as he raced to victory in a time of 24.45, knocking 0.20 off the previous world record mark set by Hong Kong's Wai Wa seven years ago.
The 27-year-old proved he is still the man to beat after losing out to British rival Graeme Ballard over 100m yesterday at the Friedrich Ludwig Jahn Sportpark venue.
"I was very pleased with my performance today. I did not expect a world record. My start was very successful so I felt very good.
"Today the race was excellent, everything went so smoothly, it was perfect. It's not very often to make it happen like this so maybe the weather was good for me too. If the British athlete had done the race today I would have beaten him too," he laughed.
"Sometimes you win and sometimes you lose, and my rivals train hard also to be here. This is all part of the preparation towards the World Championships and the Paralympic Games. The 200m gives me more strength and more power and I can now improve my performance for the 100m and 400m too."
Caironi, who broke her own T42 world record in Nottwil, Switzerland, last month then lowered it even further on home turf in Grosseto, Italy just one week ago, took a further 0.56 off her mark as she clocked 31.73.
The 25-year-old finished third in a race won by T13 sprinter Ilse Hayes – the fastest female para-athlete in the world - and the Italian was able to use her opposition to great effect as she chased hard to the line.
"I'm very surprised by this world record because I was very tired," said Caironi. "I pushed a lot thinking Vanessa [Low] was coming forward suddenly.
"I'm very happy and now I'm ready for some days of deserved relaxation."
Hayes stopped the clock at 25.04 to win the race, the fastest of the T13 sprinters, and she was pleased with the progress she has made as her preparations continue towards October's World Championships in Doha, Qatar.
"I'm happy with that, I came here to run a really good bend because that's what we've been working on and I think I achieved that today," Hayes said. "Time isn't important for me at this stage as I work towards Doha so all this competition is working well in terms of preparation."
Frenchman Timothee Adolphe set a new 200m T11 European record as he clocked 23.12 to finish third overall in the 200m T11/12 heats. South Africa's Jonathan Ntutu (T12) came out on top after winning his heat in 22.77.
Brazil's teenage star Veronica Hipolito won the women's 200m T36/38 in 28.66, but was disappointed with her performance despite the win.
"In Brazil is it very hot so the conditions didn't help but I'm not happy with my performances, but I will train," said Hipolito.
"I was a little afraid of my rivals this weekend, my coach told me to go to Berlin and see how I cope with my rivals in the same event. Now I have a few months to work on the psychological side.
"In my training I have excellent marks, but I have things to work on now, and before the World Championships it will be good."
Russia enjoyed further 200m track success as Alexander Zverev (22.72) won the T13, Alexey Kotlov (22.95) won the T47 and Anton Prokhorov (25.87) won the T42.
South Africa's Anrune Liebenberg was the fastest of the women's T47 sprinters, crossing the line in a time of 27.26 while her compatriots Union Sekailwe (23.82) excelled in the 200m T38 and Charl Du Toit improved on his 2015 world best in the 200m T37 clocking 23.34.
Argentina's Hernan Barreto (26.71) won the men's 200m T35/48 while Brazil's Ren Nunes Da Cruz (25.45) took the tape in the T44 event. There was victory too for Great Britain on the track as Kyle Powell (23.97) won the 200m T45/46, Laura Sugar (28.66) won the T43/44, and Georgina Hermitage set a new 2015 world lead as she won the T37 in 28.48 to add to her world record over 400m yesterday. The women's T35 event was won by the Netherlands' Nienke Timmer (35.55).
There were also a number of 200m victories for the host nation.
David Scherer (T54) notched up yet another win on the track after multiple successes yesterday, this time clocking 29.33 in the fastest of two heats; Laura Leineweber (1:13.68) won the women's T53/54; Katrin Muller Rottgardt (25.49) won the T11/12, and Abdul Nagibulla (34.54) triumphed in the men's T34/51-53, with Finland's Toni Piispanen clocking 43.66 for second place. Sebastian Vogt (23.92) won the T20.
First out on the track at the start of the day were the 5,000m races – and Russia's Elena Pautova (T12) did not disappoint, winning in 18:10.19, a new 2015 world lead, while Germany's Mathias Kohler won the men's T12 in 17:58.25 and Austria's Wolfgang Lehmann (17:39.32) won the men's T46.
Germany also clinched victory out in the field as Maria Buggenhagen (24.85m) won the discus F55, Andreas Wolfram (40.39m) dominated the javelin F28, and Markus Protte (5.47m) won the long jump F28.
There were two javelin victories for Russia as Anna Sorokina (38.38m) led the way in the F11/12/40 event and Svetlana Sergeeva (25.79m) won the F37/38. Great Britain's Hollie Arnold (39.00m) won the F44-48.
In the discus events, Lithuania's Ramun Verbavicius notched up another win, throwing 25.64m in the F55, while Croatia's Velimir Sandor (14.88m) won the T51-53 and his countryman Miroslav Petkovic (40.29) won the F56/57.
Long jump T20 victory went to Portugal's Lenine Cunha with 6.32m.
Next up on the IPC Athletics calendar is the Grand Prix Final in London, Great Britain on Sunday 26 July.