Canmore winners strike gold twice on first days
Romele, Masters, Wilkie, Lekomtsev, Panferova and McKeever start season off with a bang in short-distance and middle-distance cross-country events
06 Dec 2021
Imagen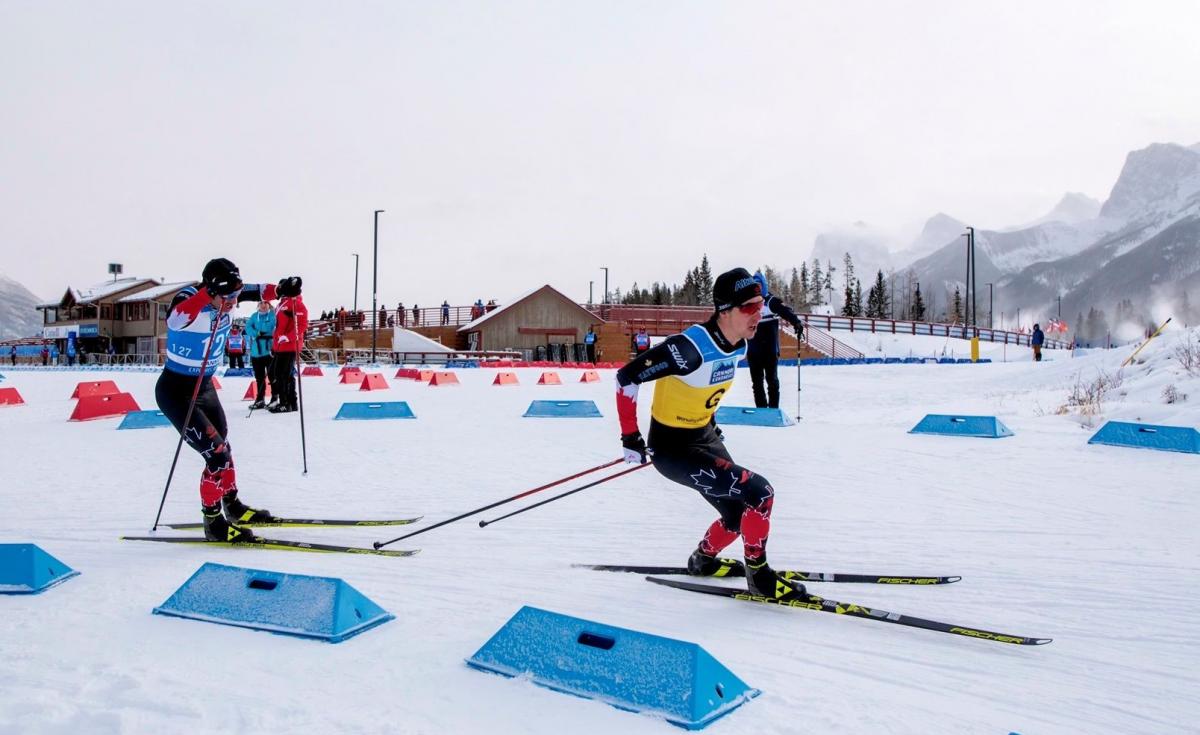 ⒸPam Doyle/Alberta World Cup Society
By Lena Smirnova | For World Para Snow Sports
Italy's Giuseppe Romele proved that his breakout success from last season was no accident as he won two gold medals in the first World Cup races in Canmore, Canada.
Five other athletes - USA's Oksana Masters, Canada's Natalie Wilkie and Brian McKeever, and Russia's Vladislav Lekomtsev and Anna Panferova - were able to achieve a similar golden double as the six-day competition opened with the short-distance and middle-distance cross-country events.
CATCH ME IF YOU CAN
Romele was able to beat his biggest rival, Ivan Golubkov of Russia, by large margins in both men's sitting races. 
In the short-distance classic on 4 December, the first day of competition, the Italian skier was 10.5s ahead of Golubkov. In the middle-distance freestyle he secured an even bigger lead of 33.4s.
"I had a fantastic race and a lot of training. I arrived in Canmore in perfect condition," Romele said. "In the first lap I was not in the best form, but laps two, three, four, it was a fantastic race."
Russia's Danila Britik finished third in the short distance, but Canada's Collin Cameron pushed him to fourth place in the middle distance as he claimed the bronze for himself.
USA's Oksana Masters enjoyed equally successful races in the women's sitting class. The Tokyo 2020 Para cycling champion marked her return to winter sports with two gold medals in Canmore, getting a 45.8-second lead over her teammate Kendall Gretsch in the short distance race and more than a minute lead in the middle distance. 
Russia's Natalia Kocherova took bronze in both women's sitting races.
NO PLACE LIKE HOME
Natalie Wilkie and Brian McKeever brought the host nation a total of four gold medals in the first days of competition.
Wilkie, who has not raced internationally in almost two years, tied for gold with fellow Canadian Brittany Hudak in the women's standing short distance, but in the second race she was 42.2s ahead of her teammate, who finished with silver. 
Russia's Ekaterina Rumyantseva took bronze in both races. 
Unlike Wilkie's comfortable finishes, Brian McKeever's victories were true nail biters. 
The veteran skier and his long-time guide Graham Nishikawa were 6.1s ahead in the short distance event, outracing Russia's Oleg Ponomarev and Sweden's Zebastian Modin. In the second race, the lead was even smaller - McKeever and Nishikawa crossed the finish 1.4s ahead of Russia's Stanislav Chokhlaev and USA's Jake Adicoff.
RUSSIAN SWEEPS
There was a lot less drama in the women's vision impaired races where Russian skiers swept the podium on both occasions. Anna Panferova and Vera Khlyzova were one and two in the races, and their teammates Marina Galitsyna and Anastasiia Bagiian split the two bronze. 
Canada's Mark Arendz prevented a Russian sweep in the men's standing class when he came third in the short-distance race behind Vladislav Lekomtsev and Vitalii Malyshev. But when Arendz did not start in the middle distance, Rushan Minnegulov rushed into his spot on the podium, thus completing a Russian trio of medallists. 
With his two gold medals in Canmore, Lekomtsev has extended his undefeated streak into the second consecutive season. The Russian has not lost a World Cup race since 7 February 2020 when he finished second to Malyshev in Finsterau, Germany.
The World Para Nordic Skiing World Cup continues in Canmore, Canada with the cross-country sprint on Tuesday, 7 December and the biathlon individual race on Thursday, 9 December.
Live results from both races will be available on the World Para Nordic Skiing website.