Season look back: Top six Nordic skiing moments
Undefeated streaks, a national milestone and a career switch make for an exciting season in biathlon and cross-country skiing
06 Aug 2021
Imagen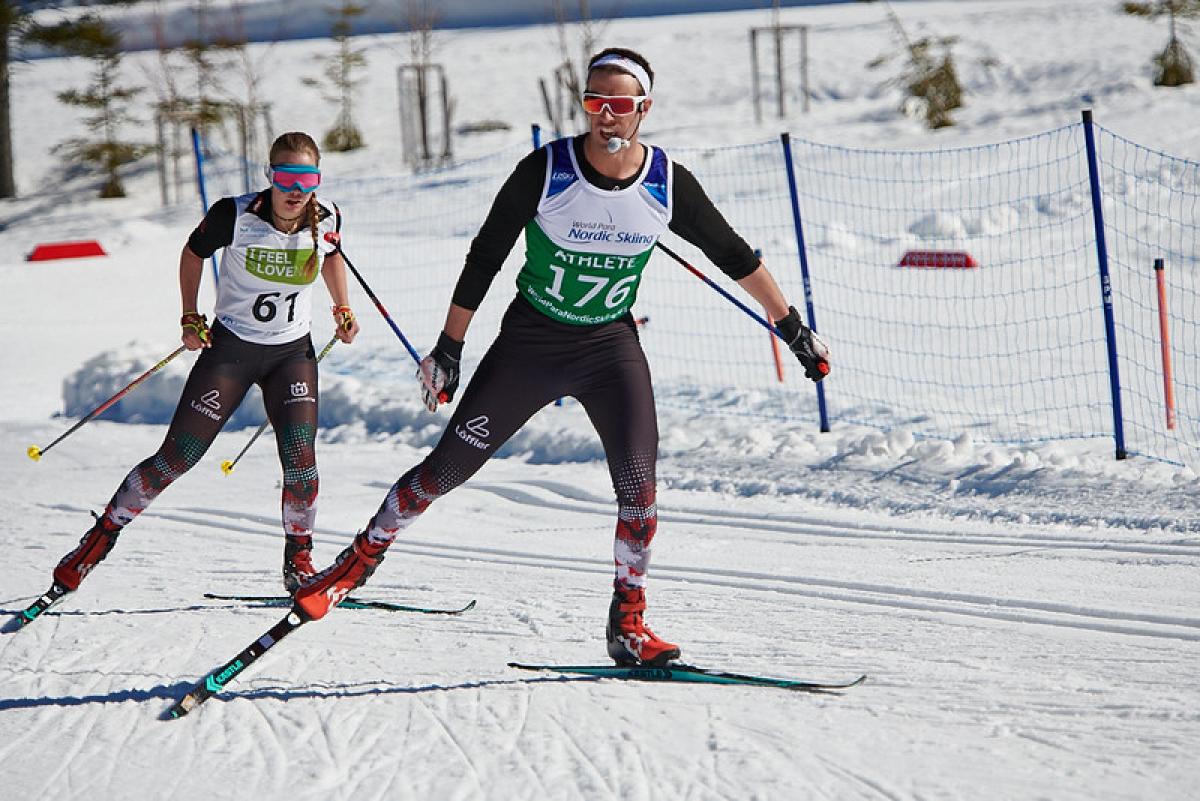 ⒸAdrian Stykowski/World Para Snow Sports
By Lena Smirnova | For World Para Snow Sports
Para Nordic skiing made a big step towards its future growth this season with the revival of the Europa Cup races. This Europa Cup, together with two-action packed World Cups and outstanding performances across national teams, sent a clear message: the best is yet to come.
Join us on a journey though the Top six moments of a season that was unlike any other.
1. Europe calling 
Para Nordic skiing took a major step to further grow the sport when Ptaszkowa, Poland hosted the first Europa Cup in two decades.
Three cross-country races were held in the Polish city in February to continue on the goals first set at a similar event called the Alpen Cup in the 1990s. This competition, like the Europa Cup, was an effort to give athletes more opportunities to race against each other and help lower-level skiers get started in the sport.
"A typical model for developing athletes includes a progression of competitions from a local level to the highest international competition," said Rob Walsh, chairperson of the World Para Nordic Skiing's Sport Technical Committee (STC). 
"Regional races such as a Europa Cup welcome athletes to compete internationally and to develop, on and off the tracks, as part of their journey to qualify for and succeed at the World Cup level," he added. 
2. All of the lights
Russian standing skier Vladislav Lekomtsev accomplished what no other Para snow sports athlete managed this season - to win all races. In total, this added up to gold medals in seven cross-country and five biathlon races against top-level competitors, including triple Paralympic champion Benjamin Daviet of France.
Lekomtsev wrapped up the season with his second consecutive overall titles in cross-country and biathlon.
"I haven't had this happen before. This is the first time in my career and I am very happy," Lekomtsev said of his undefeated streak. "There is very little time left until the [Beijing 2022] Paralympics and there is always something to improve. There is no limit to perfection."
3. Italian Renaissance 
Lekomtsev's teammate Ivan Golubkov came just short of a similar streak in the men's sitting races. While the Russian sit skier won all biathlon races last season, he missed the top spot in two cross-country events, coming second to Italy's surprising newcomer Giuseppe Romele.
The Italian skier was 12th in the cross-country rankings last season, but finished the 2020-21 season second overall. Not only did Romele earn his career's first World Cup victories this season by outracing the double Crystal Globe winner from the past two seasons, he also collected four silver medals in the other five races.
"I didn't think that I would get this far, but I did," Romele said. "Now it is just the beginning of a new career."
4. Do cheer for me, Argentina
While there were no podium finishes for Nicolas Lima at this season's World Cup, his achievement in the cross-country races in Planica, Slovenia was no less significant.
The Argentine youngster finished in 16th place in the three cross-country races in Planica, which was his first major international competition. The 177 points Lima earned qualified him to the Beijing 2022 Paralympic Winter Games. 
He is now set to become the first Para Nordic sit skier and the second ever cross-country skier from Argentina to compete at the Winter Paralympics. 
"I believe that these Games will change my life and will fill me with goals and energy for what comes next," Lima said. "In the future I hope that cross-country skiing will develop more in my country so that we can form a team and I can teach everything I learned the same way that I was taught, with camaraderie and humility, and in this way over time have more people classified in the Games in this sport."
5. Other side of the mic 
Austria's Carina Edlinger is a champion on the sports circuit, but her winning race routine looked a little different last season. Aside from competing in seven World Cup vision impaired races, the four-time world champion interviewed fellow athletes as part of her sports journalism studies.
Switching from skis to a voice recorder, Edlinger interviewed the medal winners in Planica and Vuokatti, and wrote features on top athletes including Anna Panferova and Vilde Nilsen, Mark Arendz and Nils-Erik Ulset.
Despite taking on these extra tasks, Edlinger also continued to excel in her sports endeavours. She won three gold medals at the World Cup with her guide Daniel Bauer and finished the season with her fourth overall title in cross-country skiing.
6. Carpe diem
USA's Oksana Masters and Norway's Vilde Nilsen each only raced at one World Cup stage this season, but their appearances - while brief - were pure perfection.
Masters was undefeated in the women's sitting cross-country and biathlon races at the World Cup opener in Planica. After the races, she switched to her summer sports training and qualified to the Tokyo 2020 Paralympic Games in Para cycling. Tokyo 2020 will be her fifth Games.
Nilsen was equally efficient in her four-race stint in Vuokatti, her only stop at the World Cup this season. The four-time world champion won all cross-country races to finish second overall in the women's standing class.
"I'm happy that we made it to this World Cup. It gave me a little taste of what it will be like next year, which is the most important season," Nilsen said. "I am in incredible shape and I'm feeling very strong now so I'm very happy."