Athlete-coach duo ready to transform Para Nordic skiing in Argentina
Nicolas Lima is set to become the first sit skier from his country to go to the Winter Paralympics with support of former Olympian Maria Giro
21 May 2021
Imagen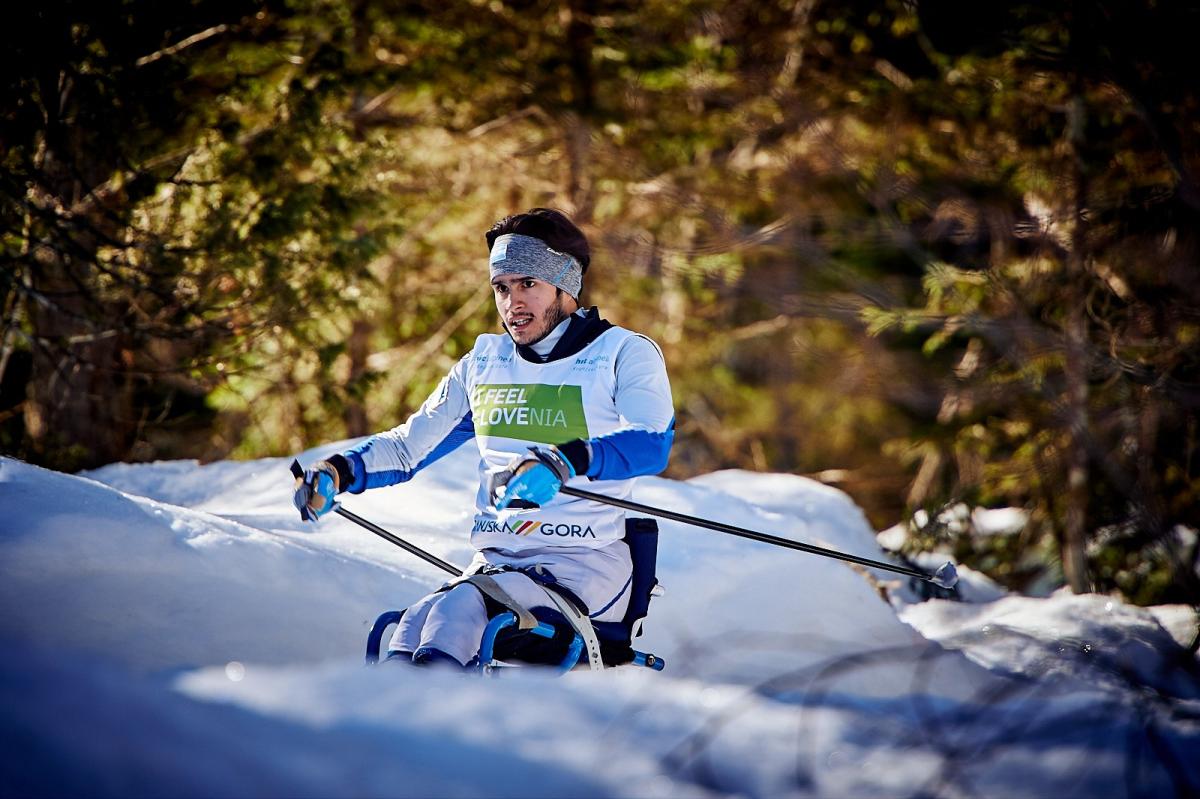 ⒸAdrian Stykowski/World Para Snow Sports
By Lena Smirnova | For World Para Snow Sports
The finish line at the World Cup in Planica, Slovenia was filled with celebrations after the final cross-country race, but none were as emotional as the one between Para Nordic sit skier Nicolas Lima and his coach Maria Giro. 
The two shared a tearful embrace as other teams looked on with curiosity. To most, the emotion seemed over-the-top for a 16th place finish.
"I think more than one of them thought, 'What's wrong with those crazy people?'" Giro recalled. "We did not win a medal in that competition, but for both of us it was the greatest achievement. We finally reached our goal."
With this 16th place in the middle-distance race, following on two 16th places in the earlier short and sprint distances, Lima qualified to the Beijing 2022 Paralympic Winter Games. 
He is now set to become the first Para Nordic sit skier and the second ever cross-country skier from Argentina to compete at a Paralympic Games. 
"It was a unique moment that I will never forget, without a doubt the best day in my life," said Lima, who previously competed in Para swimming.
"I had always dreamed of classifying for the Games. When I saw that in swimming it was difficult because of my classification, I felt that my dream was slipping away and now I classified to Beijing 2022 in a sport that I never imagined I would practice since I did not even know of its existence. It makes everything seem like a dream."
Perfect match
Lima was born with arthrogryposis, a condition that limits the range of motion in the joints. He underwent 18 operations to be able to walk with the help of walking sticks, although this did not prevent him from taking up sports at a young age.
He has practised various sports since he was eight, including Para swimming, Para athletics and wheelchair basketball.
"My parents always wanted me to be a person who can solve life's problems and overcome obstacles," the 22-year-old athlete said. "Sport was undoubtedly an important factor in feeling good physically and mentally. It helped me to overcome the surgeries and return to my daily life as soon as possible."
Lima enjoyed a successful streak in Para swimming, becoming a national junior champion and winning several medals at international competitions. But in 2017 he started to struggle and this is when skiing came into his life.
While cross-country skiing is not a popular sport in Argentina, Lima has the advantage of being from the most southern part of the country. The Tierra Mayor ski centre, which is about 20 kilometres from his hometown Ushuaia, is a popular destination for foreign athletes, including Brazil's Para Nordic team. In winter 2018, they invited Lima to train with them for a week.
"They are the ones who taught me everything I currently know about this sport. From the beginning they treated me with a lot of camaraderie," Lima said. "They are very good people. I don't train with them now, but whenever I meet them here in my city or at competitions, we always train together. I am still learning from the Brazilian team."
As Lima was learning the basics from his Brazilian neighbours, someone who would become even more influential in his life took notice of his efforts. 
"I saw that [skiing] really fascinated Nico. I had no doubts about buying a sit ski in Tierra Mayor and invited him to undertake this great challenge," said Maria Giro, a retired biathlete who represented Argentina at the Olympic Winter Games in 1992 and 1994.
"I always wondered why we didn't have that option of adaptive skiing in Ushuaia. Meeting Nico on this journey was something wonderful," Giro added.
The duo started training together in January 2019, and two more Para cross-country skiers joined them later. 
Lima is the most experienced skier in the group. He has had success in national and continental competitions, and is now making his name known on the world stage.
"Nico is one of these people who goes beyond limits," Giro said. "He is very determined and when he sets a goal, he does not stop until he reaches it. He is a very professional young man. Nico is a great example for many and, without a doubt, a great athlete."
Ticket to Beijing
The World Cup held in March 2021 in Slovenia was Lima's first major international competition. He was able to classify to Beijing 2022 by obtaining 177 points in three races where he competed alongside the world's best including Paralympic cross-country champions Shin Eui Hyun and Maksym Yarovyi.
With this classification, Lima is on track to become the first Para Nordic sit skier from Argentina at a Paralympic Games. The only other Argentine Para Nordic skier who competed at the Games is Pablo Javier Robledo. He participated in the men's standing races at Sochi 2014.
"It means a lot to me. It means that I achieved my teenage dream and that I can achieve even more if I put in the effort. Now everything is possible," Lima said. "To be at the global celebration of sport is incredible and to be the first in my category makes it unique."
And the young skier has even bigger plans for the future.
"This is just the beginning for me. I believe that these Games will change my life and will fill me with goals and energy for what comes next," Lima said.
"In the future I hope that cross-country skiing will develop more in my country so that we can form a team and I can teach everything I learned the same way that I was taught, with camaraderie and humility, and in this way over time have more people classified in the Games in this sport."