Sini Pyy uses Para Nordic skiing to advocate for the environment
'Winter is very important to me and I want the generations after me to also experience that,' says skier who will be in action at Vuokatti World Cup
15 Mar 2021
Imagen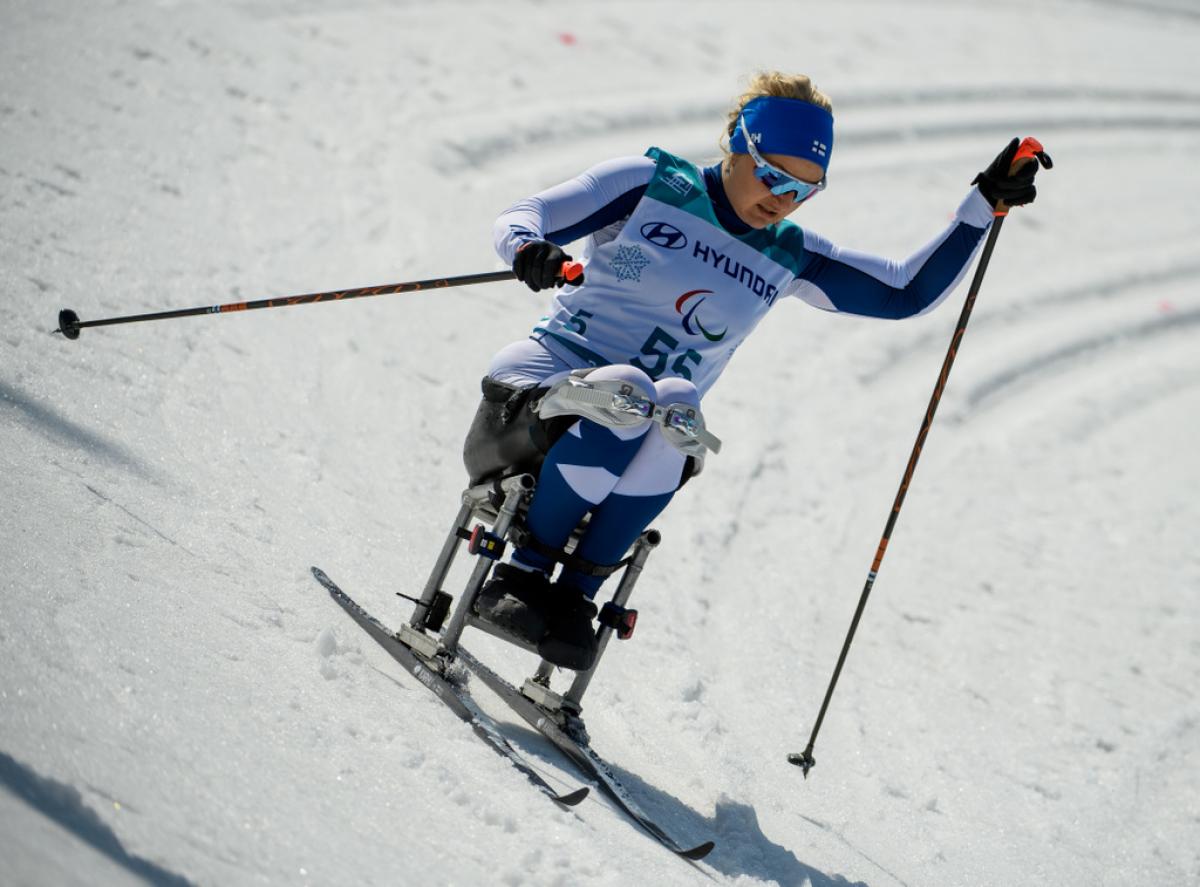 ⒸThomas Lovelock for OIS/IOC
By Lena Smirnova | For World Para Snow Sports
When two-time Paralympian Sini Pyy looks back at her childhood in northern Finland, the image that immediately comes to her mind is skiing and snow. Lots of snow. 
Over the years, Pyy's passion for Nordic skiing has only increased, but the same cannot be said for the snow on her home tracks. The winters are now shorter and the snowfalls are not as heavy.
This has turned the Para Nordic skier and political science student into a passionate advocate for environmental issues, and she is confident that athletes can be part of the solution.
"As an athlete, winter is very important to me and I want the generations after me to also experience that," Pyy said. 
"Since you get followers and you are known a little bit, I wanted to help as much as I can and be loud about these things so that maybe other athletes and people start thinking and making small changes so that our lifestyles become a little bit more sustainable and other athletes after us can also enjoy these great sports and nature."
Outdoor girl 
Pyy is the ultimate outdoor athlete. On skis since she was a toddler, a competitive sit skier for more than a decade and an avid Para cyclist, much of her time is spent outside the house.
This lifestyle is a natural fit for the place where Pyy grew up and still lives, Rovaniemi. The Finnish town is known as the gateway to the Arctic, home of Santa Claus, and a prime spot for watching the Northern Lights.
"When you grow up hunting with your dad and going on ski trips, basically living outside all the time, it's something that is a part of you and it's something you need," Pyy said. "I've been skiing all my life. I love to be outside and that's one of the things I also missed when I ended up in a wheelchair. It's harder to go outside with a wheelchair, especially out in nature, and when I got my first sit ski, I realised that's possible again." 
Living in Rovaniemi means long, cold winters and little daylight. The first snowfall can come as early as October, which is also when the first ski tracks open.
But in recent years, even the tracks as high up as the Arctic Circle have looked different.
"We had winters with little snow and this year, we didn't ski properly until December," Pyy said. "We had the first snow tracks open but natural snow came very late and that is crazy because I remember the winters we had when I was a child, and they were so long. We are seeing this change already and, of course, it's more drastic the more south you go."
Pyy has noticed similar changes at the venues that host Para Nordic competitions.
"I remember races where there has been a little snow, just enough that we can ski on," Pyy said. 
Seeing these changes inspired Pyy to learn more about environmental issues as part of her university studies. She is currently studying political science at the University of Lapland, which puts a strong emphasis on the Arctic region and indigenous populations. 
Pyy is also involved in Protect Our Winters, an international movement that the snow sports community launched in 2007 to address climate change.
"I live in the Arctic area. I live somewhere where winter dictates our life and we've been seeing effects of climate change already. Here we've been having bad winters and during my studies, I've been learning about the effects of climate change and where it can lead," Pyy said. 
"The time to make changes is now. We can't wait too long. It's good that we're seeing athletes realise this and the [race] organisers are also starting to think about other ways of doing things."
Athletes for change
Pyy will be one of five Finnish athletes to welcome Para Nordic skiers from 16 countries to Vuokatti, Finland this week for the final World Cup of the 2020-21 season.
Vuokatti is a popular destination not only for Finnish skiers, but also international athletes. National teams from South Korea, Russia and Ukraine regularly train there and, with the exception of last season, Vuokatti has hosted a World Cup in Para Nordic skiing every year going back to the 2010-11 season.
For Pyy, this means not having to travel far to train at a world-class ski course. Vuokatti is a four-hour drive from her hometown.
"Some other teams travel more but because we have such great places to train in Finland, it's kind of pointless to travel when you can just train here," Pyy said.
And that suits her perfectly. Although she travelled to Colorado, USA twice in her career to train in high altitudes, Pyy tries to keep most of her training local.
"I do think about how I travel and how much I travel and I try to avoid unnecessary travel. Also in everyday life, with my boyfriend, we have cut back on eating meat and are trying to make those small changes, maybe not driving everywhere," she said.
Pyy encourages other athletes to make eco-friendly choices too and spread the word about the environmental issues facing winter sports to their supporters.
"You can think how you travel, if there is a possibility to change the way. You don't always have to fly. You can use the train or public transport a little bit," Pyy said.
"What athletes can also do is just think about their everyday lives. What's your diet? Are you consuming a lot? How do you deal with your trash, are you recycling? Athletes can set an example in those things. Little things. I don't think you have to stress too much about it but do realise the footprint you leave with your actions and think about making that footprint smaller."