Ukraine's female skiers undefeated in standing races in Slovenia
Liashenko, Kononova and Batenkova-Bauman sweep medals in three World Cup Para cross-country events at Planica & Kranjska Gora
08 Mar 2021
Imagen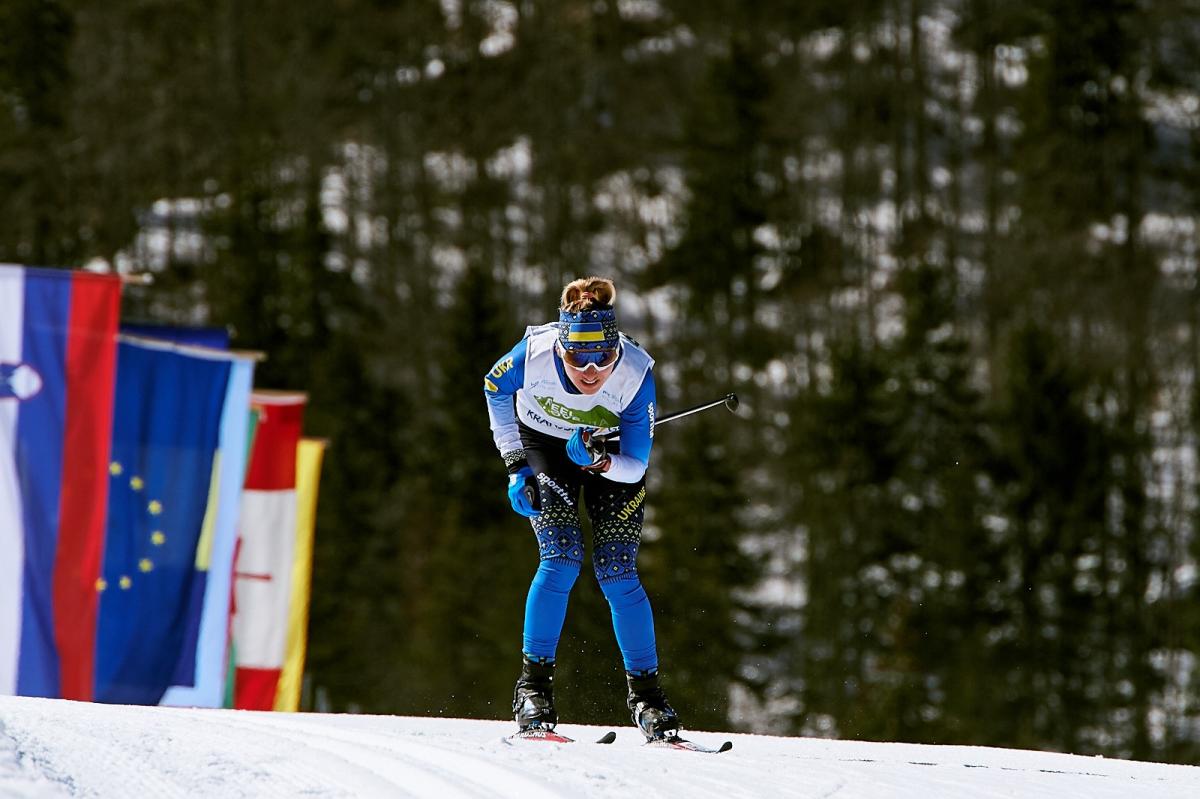 ⒸAdrian Stykowski/World Para Snow Sports
By Lena Smirnova | For World Para Snow Sports
Ukrainian women added a golden glow to their yellow-and-blue uniforms with a full medal sweep in the three Para cross-country races at the World Cup in Planica, Slovenia.
Liudmyla Liashenko led the charge with two gold medals, in the sprint and short-distance races, and a silver in Sunday's middle-distance event. 
Oleksandra Kononova picked up the gold in the middle distance, to add to her two silver from the earlier races, while Yuliia Batenkova-Bauman took a third cross-country bronze.
"I am happy with the results I have at the moment and am grateful to my coaches who believe in me and work with me," Liashenko said. "It is hard to race after a long break from competition."
Liashenko, who is a reigning world champion in all three biathlon events, also won gold in Saturday's biathlon middle-distance race and reached a personal milestone in the process.
"I was fresh for the first two cross-country races - it was easy to race then. Biathlon was harder for me, but my shooting saved me," Liashenko said. "I shot cleanly in the four shooting rounds - this was very unexpected for me. The last time I shot cleanly in a 10km was in 2019 at the World Championships in Prince George, Canada."
USA women got a similarly firm grip on the top prizes in the women's sitting races. Oksana Masters remains undefeated at this World Cup, claiming her fourth gold with a 52.4-second lead over teammate Kendall Gretsch. Russia's Marta Zainullina took the bronze medal.
Striving for the top
It was a breakthrough World Cup for Giuseppe Romele. The Italian sit skier, who started competing at the World Cup level in December 2018, won a silver medal in the cross-country middle distance to add to his gold and silver from the two earlier races.
Romele outraced strong competition, including multi-Paralympic medallists Shin Eui Hyun and Daniel Cnossen, to claim the silver and trailed only Russia's Ivan Golubkov, the double Crystal Globe winner from last season. 
"I didn't think I would get this close to such big people, but the work that I did with such determination and suffering has paid off big," Romele said. "I am very proud to be a part of this international group."
Russia's Aleksandr Davidovich took bronze in the 10km sitting race.
While Romele was able to beat his toughest competition, Golubkov, in the season's first World Cup race, France's Benjamin Daviet is still aiming for a similar goal in the men's standing races. A victory over Russia's Vladislav Lekomtsev has eluded Daviet so far in Slovenia. 
The French skier picked up his fourth consecutive silver in the middle-distance race, and he is determined to turn the tables in the remaining two biathlon races.
"Four races, four second places. Vladislav Lekomtsev is a strong man," Daviet said after finishing 27.6 seconds behind Lekomtsev in the 12.5km race. "He is a good skier, a good athlete, and he has a good mentality. I will try to take my revenge in the biathlon short and the biathlon individual. My best chances are in biathlon."
Russia's Rushan Minnegulov took the bronze in the men's standing race. 
Russian athletes also picked up gold medals in the vision impaired races. Stanislav Chokhlaev and his guide Oleg Kolodiichuk took their third consecutive gold in the men's race, ahead of teammate Nikolai Polukhin, skiing with Eduard Berezin, and Ukraine's Dmytro Suiarko and his guide Oleksandr Nikonovych.
Russia's Vera Khlyzova and her guide Natalia Iakimova took gold in the women's race ahead of fellow Russian skiers Anna Panferova and guide Andrei Zhukov, and Austria's Carina Edlinger, guided by Daniel Bauer. 
Edlinger previously won two gold medals in the cross-country events in Slovenia. She came to the competition still recovering from a knee injury and had two more minor crashes on Thursday, which forced her to cut the competition short.
"It's quite amazing to be back. I didn't expect to win even two gold medals," Edlinger said. "I had quite a bad crash in the end of January where I hurt my knee a lot and I even crashed in the sprint twice. A lot of pain came back so in today's competition I could claim the bronze medal. I'm glad for that but I know I can do better. I'm going to have some rest now and hope to be back soon in Vuokatti."
The next cross-country World Cup races will take place in Vuokatti, Finland from 19 to 23 March. The competition in Slovenia continues with the biathlon sprint and individual events on 9 and 10 March.
Full results from the races in Slovenia are available on the World Para Nordic Skiing website. World Cup pictures for editorial purposes can be found on Flickr.