Lekomtsev, Liashenko and Masters make it three out of three in Slovenia
Russian, Ukrainian and USA athletes take third gold medal at the first day of Para biathlon races in season's World Cup opener
07 Mar 2021
Imagen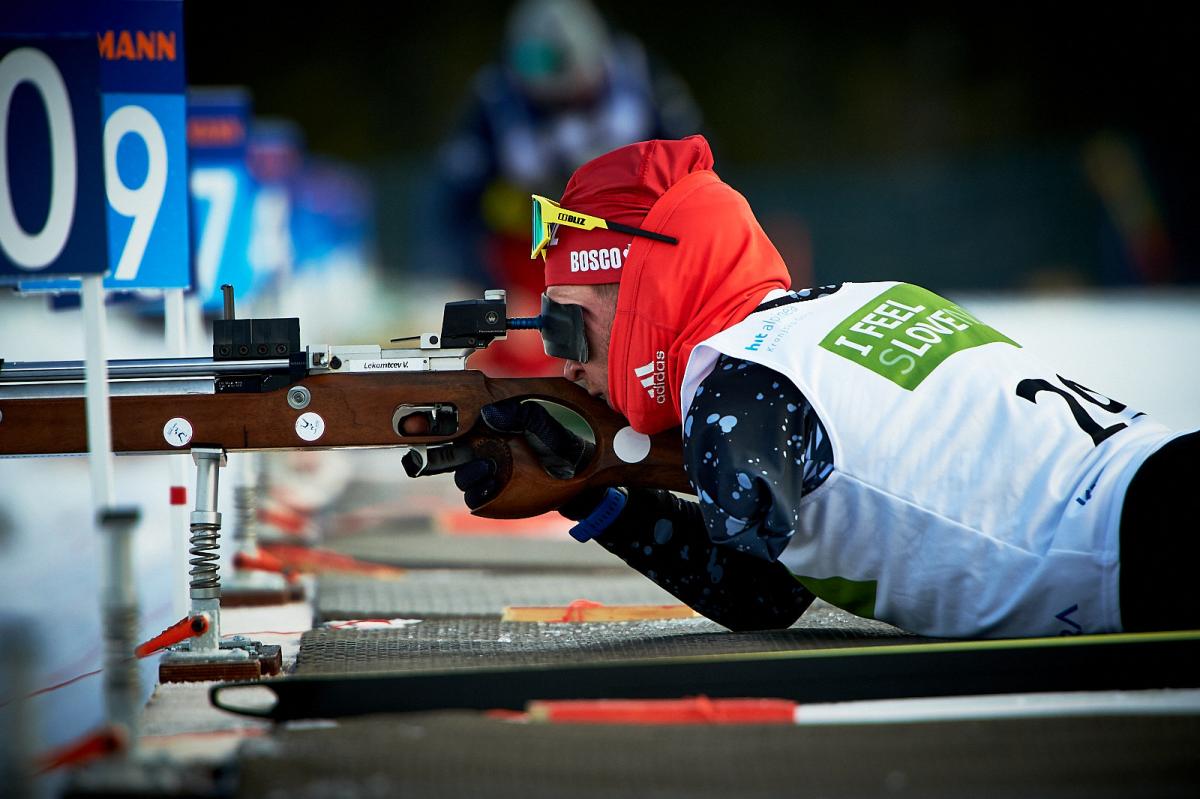 ⒸAdrian Stykowski/World Para Snow Sports
By Lena Smirnova | For World Para Snow Sports
Ukraine's Liudmyla Liashenko, Russia's Vladislav Lekomtsev's and USA's Oksana Masters all made it three gold medals out of three in Kranjska Gora, Slovenia on Saturday (6 March) at the first day of World Cup races in Para biathlon.
Russian athletes swept the men's events grabbing four gold medals out of six to add to the five gold they won in two earlier Para cross-country races. Two more biathlon races, the individual and the sprint, will be held on 9-10 March to wrap up the season's World Cup opener.
The gold in the men's vision impaired class was a welcome reward for Russia's Stanislav Chokhlaev and his guide Oleg Kolodiichuk after six years of being on and off the race circuit. 
"These races were quite difficult because we have not competed in a long time. It's been a while since we've skied on courses like this," Chokhlaev said. "Winning is always nice, so I am very pleased."
"It is a difficult course for vision impaired athletes," Kolodiichuk added. "The tracks are very fast, icy, quite a challenge."
Chokhlaev and Kolodiichuk previously won gold in the cross-country sprint and were third in the short distance race.
"I am so happy, even this possibility simply to take part in the races is already a big joy for us," Kolodiichuk said. "We overcame what I would call a real quest to come to Slovenia to the World Cup, and to be able able to race here and win here, this is such a nice feeling."
Fellow Russian athletes Nikolai Polukhin and his guide Eduard Berezin, proved their toughest competition in biathlon, as in the earlier cross-country races. Polukhin shot cleanly, as opposed to Chokhlaev's one missed shot, and was only 2.4 seconds behind to the finish line. 
Ukraine's Iaroslav Reshetynskyi and his guide Denys Nikulin prevented a Russian sweep in the middle distance race with their bronze result.
Inter-team rivalry also added extra momentum to the women's vision impaired race where Russia's Vera Khlyzova and her guide Natalia Iakimova took gold ahead of teammates Iuliia Smirnova and guide Roman Tarasov. Ukraine's Oksana Shyshkova and her guide Andrey Marchenko finished with a bronze.
Russia's Vladislav Lekomtsev extended his winning streak to three consecutive races in the men's standing class thanks to a narrow 0.5-second lead over Paralympic biathlon champion Benjamin Daviet.
Lekomtsev missed two targets on his second shooting turn, which put him behind the French skier. But Daviet's missed shot in the final round ultimately cost him the gold.
The bronze medal came as a breakthrough for fellow Russian standing skier Ivan Kodlozerov after he barely missed the podium in the cross-country events.
"This is a first, long-awaited victory. I was fifth, then fourth, and finally I am third thanks to wonderful, clean shooting," Kodlozerov said. "There is exactly one year left until Beijing. I will compete in three biathlon races there, the cross-country sprint, and I also hope to be in the relay. All my attention is on biathlon, and this year I plan to compete in everything."
Ivan Golubkov completed the sweep in the men's races for Russia with his golden finish in the men's sitting class. He finished ahead of Germany's clean-shooting Martin Fleig and Ukraine's Taras Rad.
No pressure
Lekomtsev's feat of three consecutive golds was matched by Ukraine's Liashenko in the women's standing class. As in the previous races, Liashenko lead an all-Ukrainian podium, this time flanked by Iryna Bui and Yuliia Batenkova-Bauman. 
USA sit skier Oksana Masters also claimed her third gold, despite missing two shots at the end of the biathlon race.
Her teammate Kendall Gretsch finished 25 seconds behind to take her third silver at this World Cup, with Russia's Marta Zainullina finishing in third place.
"Everyone is so used to racing so often, so a year off feels extra-long. There were a few extra nerves beforehand because you don't really know what to expect," Gretsch said of racing again after a year away from international competition due to the pandemic.
The first USA female athlete to win a gold medal in biathlon at the Paralympic or Olympic Games, Gretsch is eager to make up for this lost time and return to her top form in the year before the Beijing 2022 Paralympic Winter Games. 
She is also determined not to get stressed by this process.
"There's definitely that pressure from outside, but the other thing is, most athletes that are competing at this level, they put a lot of pressure on themselves," Gretsch said. "No one probably has higher expectations for yourself than you do, so that's the bigger thing - managing your own expectations, trying to still enjoy the experience and not be too stressed by it."
Full results from the races in Planica and Kranjska Gora, Slovenia can be found on the World Para Nordic Skiing website. Pictures from the World Cup are available for editorial purposes on Flickr.