Surprise history maker Gretsch ready for bigger spotlight at Beijing 2022
US Para biathlete proves she is no one-hit wonder en route to her second Paralympic Games
11 Mar 2021
Imagen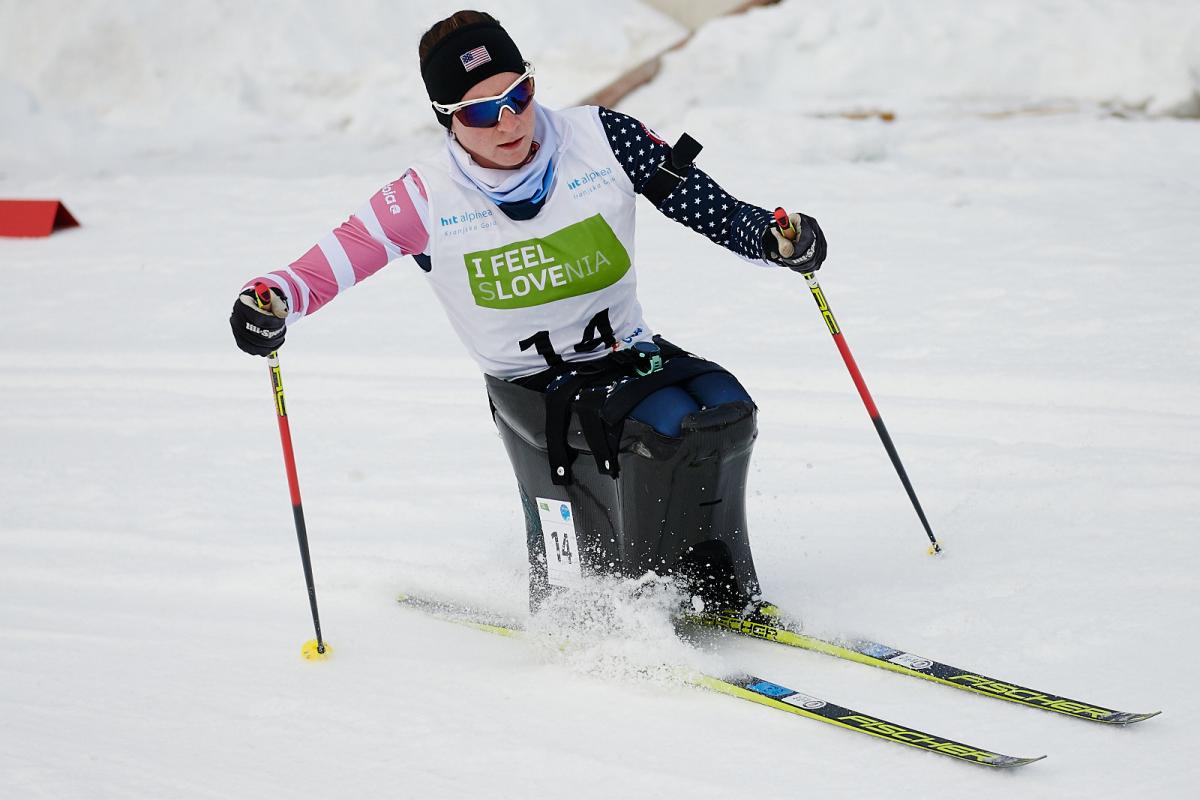 ⒸAdrian Stykowski/World Para Snow Sports
By Lena Smirnova | For World Para Snow Sports
Kendall Gretsch can sum up the expectations she had at her maiden Paralympic Games in PyeongChang with her choice of Games-time hair accessories. 
"I had this hair tie that I wore at the Games. It was silver and it had these little gold polka dots, and I would always tell myself that it was like dreaming of a silver medal with a little shot of gold," said the USA Para Nordic sit skier, who took up the sport only two years before making her Paralympic debut in 2018.
When it came down to the competition, however, she got a lot more than she bargained for - two back-to-back gold medals in the opening races and a place in the history books. With her gold in the biathlon sprint Gretsch became the first female biathlete to win a gold medal for the USA at the Paralympic or Olympic Games.
Gretsch has since lost the silver hair tie, but in its place picked up three Crystal Globes, six World Championships medals and a fresh, confident perspective on the upcoming Beijing 2022 Paralympic Winter Games.
"I think that was the takeaway - set those high expectations and dream big," she said of her sensational debut. "If you don't say it out loud to yourself, like 'hey, this is a possibility', then you're never going to think it's possible or push yourself to do the work that it takes. I think it fired me up to keep training harder and keep working for the next four years."
NORDIC CRUSH
Para Nordic skiing was not a first choice for Gretsch. An accomplished Para triathlete with three world titles in the sport, she was aiming to compete at the Rio 2016 Paralympic Games but then discovered that her class would not be included on the programme. 
Para Nordic seemed like a good cross-training option to Gretsch, but ultimately, this back-up plan ended up turning her life upside down.
The winter sport got Gretsch the ticket to her first Paralympic Games where she won gold medals in the women's sitting biathlon sprint and cross-country long distance. A year later she also won a gold medal, four silver and a bronze at the 2019 World Championships.
"It started, like 'oh, well, I'll try this out now that triathlon isn't an option for me, at least at the Games', but now they're definitely both equal," Gretsch said. "One of the most common questions people ask when I tell them that I do two sports is 'oh, which one is your favourite?' and it's hard to say. It's like picking between children. 
"I really appreciate switching between the two. I'm not a huge fan of riding on a trainer all winter long so I really enjoy being able to switch over to Nordic in the winter and be outside and ski in the mountains."
Gretsch's love for biathlon has only continued to grow since PyeongChang 2018, as has her appreciation for the milestone victory she achieved for her country.
"That was pretty special," she said of becoming USA's first female gold medallist in biathlon. "I was still so new at that point, and since then I've grown in how much I love biathlon and became a fan of the sport. It's definitely become more special to me as I've become more involved in the sport, as a milestone to have been able to accomplish."
Gretsch now trains in both Para Nordic skiing and Para triathlon - her class is included at Tokyo 2020 - while also balancing occasional work as a software consultant.
She switched her focus to Para Nordic skiing in mid-November when she moved to Montana to train with the national team. USA has some of the world's strongest athletes in the sitting classes, and Gretsch benefits from regular training alongside fellow multi-Paralympic medallists Oksana Masters and Daniel Cnossen.
"Because we are training together every day, we're pushing each other to do better, setting a higher standard than you would expect from yourself," Gretsch said. "I wouldn't be where I am now without all of that work, being able to train together as a group."
FROM NOVICE TO HOTSPOT
Even with the national team's contribution to her success, Gretsch's rise in the sport is still remarkable. When she started in 2016, she had no practice in skiing or shooting. 
The secret to her quick progress at the range? Good coaching and a lot of training.
"I never shot a gun before, except for maybe one time. That was not a thing that I did growing up or ever had any experience with, but our development coaches walked me through the process," Gretsch said. "We had an indoor shooting range where we would go and shoot for maybe an hour, two to three times a week. It was a lot of time of building up your muscle memory of shooting and just repetition."
Gretsch faced some challenges in maintaining that shooting form during the long months of the COVID pandemic.
"March until June or so, I didn't have a range that I was able to go to," she explained. "Then I did find an outdoor range where I was able to go for the rest of the summer and fall, but it was pretty far away from where I lived and I was also working this fall, so I didn't have a ton of time to make that drive over there. It was pretty limited training."
But as Gretsch proved at the ongoing World Cup opener in Planica, Slovenia, she did manage to make up for that lost time. She won three silver medals in biathlon races, as well as two silvers and a bronze in the cross-country events.
Now aiming for her second Paralympic Winter Games, in Beijing, Gretsch is eyeing the upcoming competition with a new attitude. No longer flying under the radar, the USA sit skier is eager to show just how much she learned since her history-making debut three years ago.
"It's a little bit crazy looking back and thinking how that all happened. That was kind of the blessing of it being my first Games is that there were no expectations. You could just go and race and not have to stress too much beforehand because you didn't have that kind of self-built or external-built pressure," Gretsch said.
"At that point, I was still trying to figure things out. Having a full four-year cycle of training under my belt, feeling a little bit more experienced, it's going to feel different this time."