Masters and Lekomtsev sweep gold in World Cup races in Slovenia
World Para Nordic Skiing season's opener in Planica closes with Para biathlon individual and sprint races
10 Mar 2021
Imagen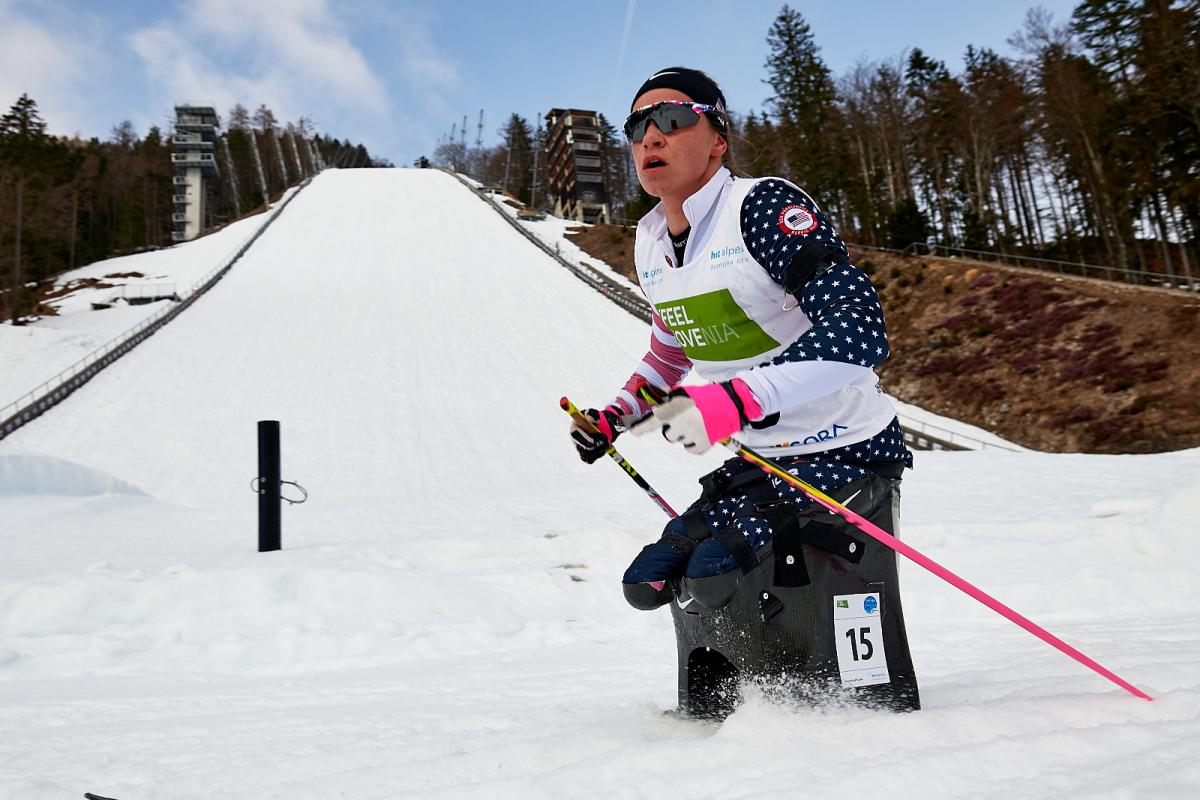 ⒸAdrian Stykowski/World Para Snow Sports
By Lena Smirnova | For World Para Snow Sports
USA's Oksana Masters and Russia's Vladislav Lekomtsev finished the World Para Nordic Skiing World Cup in Planica, Slovenia undefeated as they grabbed double gold in the last two Para biathlon races.
The season's first World Cup, which took place from 3 to 10 March, was made up of three cross-country and three biathlon races. The biathlon individual and sprint events concluded the competition.
Masters and Lekomtsev finished the World Cup with six gold medals after missing only one shot in each of the two final events. 
"When I go to the starting line, I am always focusing on achieving the best result. I always want to show the maximum that I am capable of. This is probably in my blood," Lekomtsev said of his medal sweep in the men's standing class.
"I am happy that I was able to fight for a gold medal in each race," he added. "It's nice to see that all the work we've done is paying off. This gives me even more motivation since the main goal are the Paralympic Games in Beijing."
The Russian skier faced tough competition from France's Benjamin Daviet, a double Paralympic champion in biathlon. 
Daviet trailed Lekomtsev by a mere. 0.5 seconds in the middle-distance race as a result of a missed shot in the final round. Shooting was Daviet's downfall yet again in the individual event, where he missed three shots and fell behind to the third position. In the sprint, he was back up to second place. 
"I have great respect for Benjamin Daviet," Lekomtsev said. "Through his hard work, he is showing who he is. He is a big champion. I remember all the way back in 2013, when I saw him, I understood right away that this guy is capable of a lot and will be a really cool competitor for all of us."
Fellow Russian skier Aleksandr Pronkov took silver in the individual event, while Russia's Ivan Kodlozerov won bronze in the sprint.
In the women's sitting races, Oksana Masters completed her season's only World Cup with a perfect sweep of gold. Both she and her teammate Kendall Gretsch, who took silver in the individual and the sprint, are dual athletes and switching to their summer sports training after the World Cup in Planica in the hopes of qualifying for the Tokyo 2020 Paralympic Games.
Russia'a Marta Zainullina took a bronze medal in the biathlon individual while Germany's Anja Wicker took the bronze in the sprint.
Golden Ukraine
Ukraine's golden roll in the women's standing class was extended to a full set of six races. 
Liudmyla Liashenko finished with a perfect sweep of gold in biathlon despite her shaky shooting at the start of the individual race. Her teammates Yuliia Batenkova-Bauman and Oleksandra Kononova finished second and third, respectively.
"There are mistakes. There is the high altitude that you also can't take lightly. There are things to work on," Kononova said. "The courses here are very good and nice to compete on. The topography doesn't suit everyone, but overall, everything is good."
Liashenko shot clean to claim the gold in the sprint, with Iryna Bui picking up the silver and Kononova wrapping up the podium.
"I will not hide that I was worried when I was preparing for the start. We haven't competed in international competitions for a long time, I think this also affected us. Controlled shooting, desire and patience led to this second place," Bui said. 
"Our class is very strong, and this motivates each of us. We constantly train together because we represent the national team of Ukraine. In my opinion, this has a positive effect on us and our results. We get along really well in real life, but on the course we are fighting and we are rivals."
Russia's sit skier Ivan Golubkov and vision impaired skier Vera Khlyzova also achieved a perfect run in the biathlon events despite losses in the earlier cross-country races.
Khlyzova, who is skiing with guide Natalia Iakimova, missed only one shot across the three biathlon races. Ukraine's Oksana Shyshkova, skiing with guide Andrey Marchenko, and Russia's Iuliia Smirnova, skiing with Roman Tarasov, picked up silvers in the individual and sprint, respectively. 
German pairs Vivian Hoesch and guide Alexander Wilde, and Clara Klug and guide Martin Haertl took the bronze medals.
Last season's biathlon Crystal Globe winner, Golubkov, claimed his fifth consecutive victory in the men's sitting class. While the Russian skier missed one shot in the middle-distance and individual races, fast skiing helped him to overcome his closest rivals, who all shot cleanly. 
Ukraine's Taras Rad took silver in the individual and sprint. His teammate Vasyl Kravchuk and Russia's Aleksandr Davidovich took bronze in the sprint and individual, respectively.
In the men's vision impaired class, Nikolai Polukhin, skiing with Eduard Berezin, and Stanislav Chokhlaev, skiing with Oleg Kolodiichuk, continued swapping gold and silver places. 
The two Russian skiers rotated victories in the cross-country races - Polukhin winning one event and Chokhlaev two - and continued this trend in biathlon. Chokhlaev won the middle-distance and sprint while Polukhin won the individual.
Russia's Vladimir Khairullin, skiing with Dmitrii Gorshkov, made it an all-Russian podium in the individual race by winning the bronze. Ukraine's Iaroslav Reshetynskyi and his guide Kostiantyn Yaremenko added a bronze in the sprint to their bronze in the middle distance.
The next World Cup biathlon races will be held in Vuokatti, Finland on 25 and 26 March.
Full results from the World Cup races in Planica, Slovenia are available on the World Para Nordic Skiing website.