Retired Argentinian Para alpine skier Jean Maggi wants to go to space
First Argentinian winter Paralympian climbed the Himalayas and is now planning to travel to space
05 May 2021
Imagen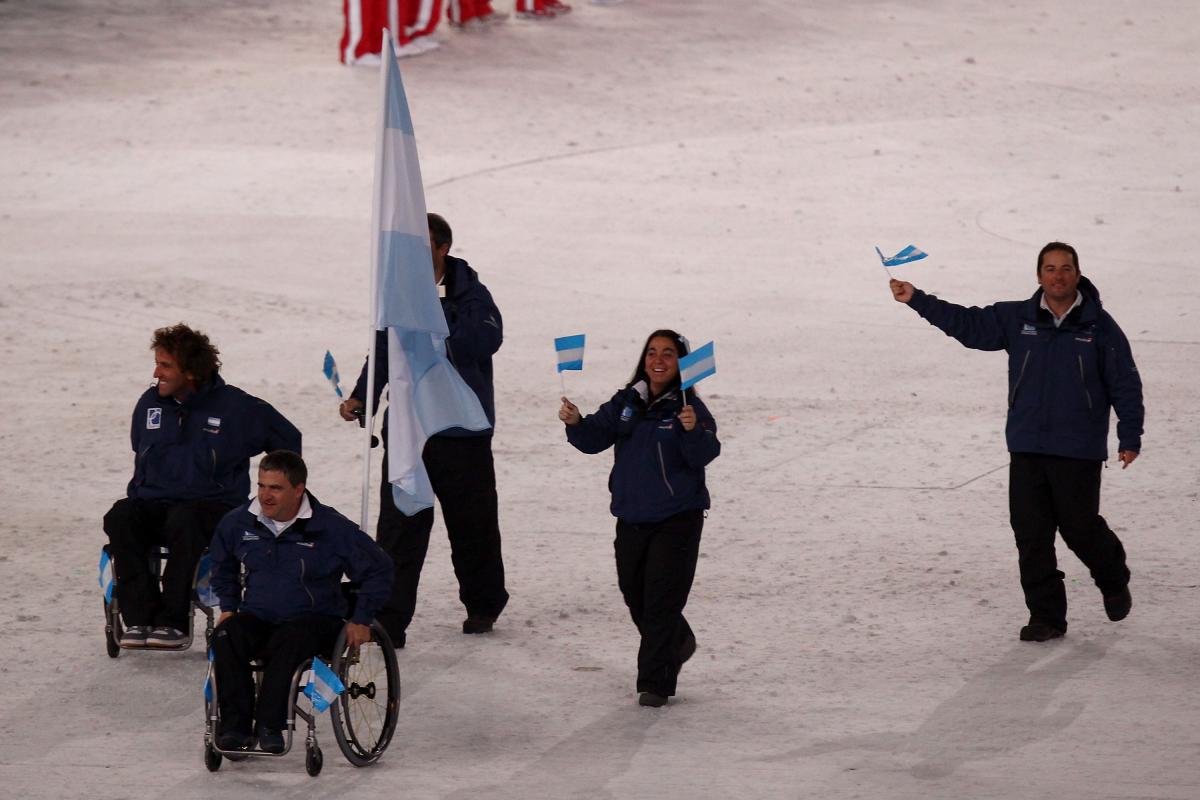 ⒸGetty Images
By Laura Couto | For the IPC
Jean Maggi competed in the Paralympic Winter Games, ran an Iron Man, created a foundation to support children with disabilities through sport, climbed the Himalayas and filmed a documentary for Netflix.
His next mission is space travel.  
This extraordinary life, which could very well be the script for a Steven Spielberg film, began to be written after the Argentinian suffered a heart attack at the age of 37. 
Now recovered from that life-threatening situation, Maggi realised he needed to lead a more active life to strengthen his health. The first solution was sport.
"It took me so long to do Para sport because there was no publicity before, especially in Argentina, where visibility comes from achievements," explained Maggi, who contracted polio as a child.
He tried street racing, wheelchair basketball, wheelchair tennis and equestrian, but it was cycling that gave him the best feelings.
"Sport is magic for anyone, and for people with disabilities it is supreme. It's putting on the cape of a superhero. It connects you with health, cycling made me an adventure hunter.
"If I had started when I was young, as a child, it would have been a different story, but I'm not complaining," said the man who became the first Argentinean to compete in the Winter Paralympics at Vancouver 2010.
"I apply high performance to do extraordinary things; I dream about plans and I go in search of unique challenges."
BEING A PARALYMPIAN

Para alpine skiing was Maggi's gateway to the Paralympic Movement. At the Vancouver 2010 Paralympic Winter Games, he competed in the men's giant slalom sitting, finishing in last place. But his experience was more than a placement, and it set him off to reach greater heights. 
"Argentina had never participated in this event before. I made all the arrangements to do so, although the national leadership told me they didn't have the resources. I got a special invitation and I was the flagbearer of the delegation; I was also joined by (alpine skier) Leonardo Martínez," he recalled. 
"The results were in line with my ability and the duration of my training. My recognition at the Paralympics came four years later, in Sochi, when at the Opening Ceremony, while the national delegation was parading, they mentioned that I had been the first Argentinian representative. Introducing the country to the Winter Games was my medal.
"I found the Paralympic Movement exciting, not only because it is the dream of every athlete, but also because it is very interesting to interact with people with different disabilities. Seeing a person with no arms or a blind person fetch their food tray without asking for help adds a little more value to what you do."
The sporting challenges did not stop there and his adventurous spirit went further. In 2011 he competed in an Ironman. But the best was yet to come.
CLIMBING THE HIMALAYAS

The experience in Vancouver motivated him to go for more. In 2011 he decided to compete in an Ironman, a feat unthinkable just a few years earlier.
His adventurous spirit pushed him to do more and, in 2015, he embarked on a journey to climb the Himalayas on his handbike. Khardung La, India, located 5,600 metres above sea level, is the highest point accessible by bicycle. And that is where Maggi set off for.
"I had no signal, I couldn't communicate with my family and tell them that I was OK.
"The last night they put me oxygen on, I slept for 12 hours and woke up worse, but I was 20km away from where I had dreamed of. As best I could, I made it to the highest point on the planet that can be reached by bike.
"I didn't enjoy anything at that moment, it was all about fighting against the many obstacles that the mountain presents. Today I enjoy seeing the images and the repercussions it had, but I wouldn't do it again."
He described his feat in his book 'La aventura de romper límites' (The adventure of breaking limits), which was later made into a documentary 'El Límite Infinito' (The Infinite Limit), available on Netflix.

DREAMING OUT OF THIS WORLD

In 2016, Maggi decided to create the Jean Maggi Foundation to support children with disabilities through sport.

"Through it, I want to change the misconceptions that accompany society, to change the concept of disability."
Far from being satisfied with all his 'earthly' achievements, Maggi is already planning his next trip.
"I want to make a suborbital flight, which is going to space and back. There are companies that are going to take civilians soon. It's another dream turned into a plan," he explained.
He was recently in the city of Philadelphia, USA, to carry out the necessary tests and simulations to make this other dream a reality. There he visited the NASTAR Center, one of the world's leading aviation and space training, research and education facilities.
"When I was a boy, Armstrong conquered the moon, marking a before and after in world history. He was also awakening the dreams of millions of children, who, after seeing him make his walk, wanted to become astronauts.
"Almost unaware of my disability, my answer was no different from that of other children when asked 'What would you like to be when you grow up?' 'Astronaut!' Decades later, I still have the same dream and I hope to make it come true."