Hear my voice: Macarena Cabrillana opens up about battle with depression
Chilean wheelchair tennis player describes mental health struggles and shares how she has learned to overcome it
28 Mar 2021
Imagen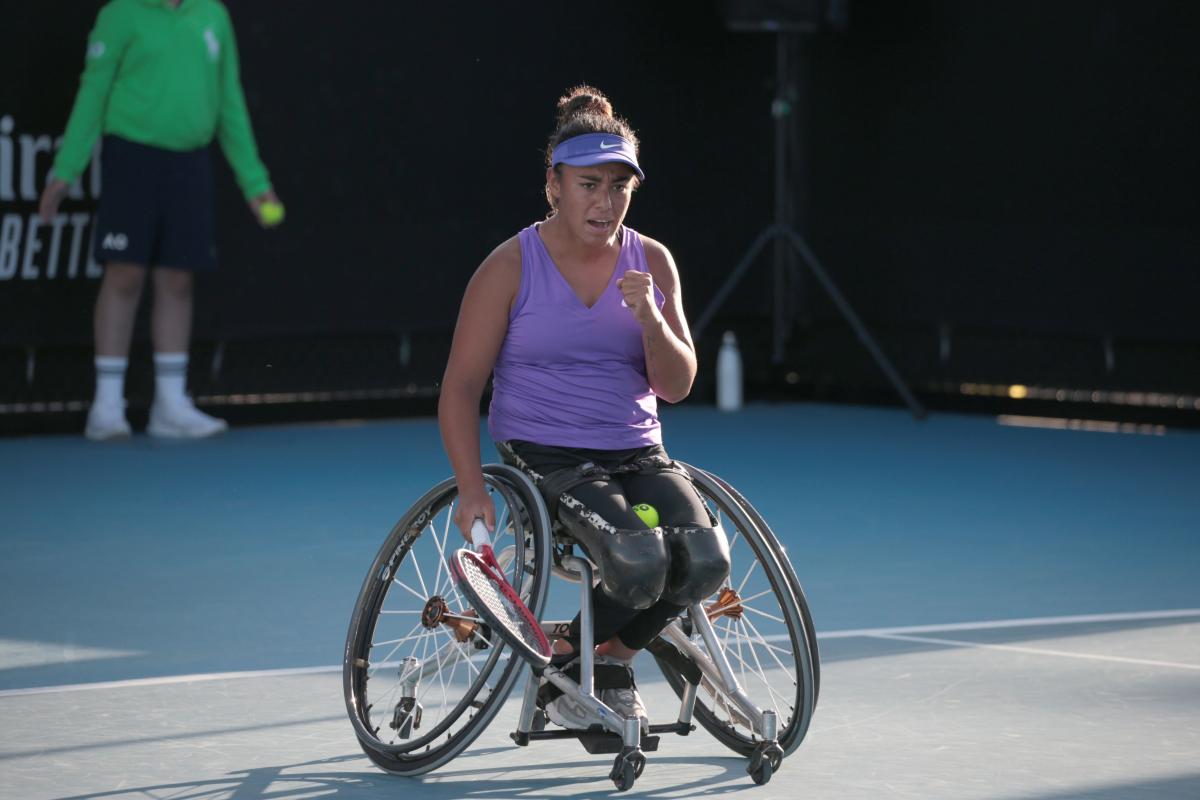 ⒸGerardo Villena
By Macarena Cabrillana
As professional tennis player, experiencing a Grand Slam cannot be compared to anything. It's the most beautiful thing. It's what every tennis player aspires to and it's the best you can get. The world's best are there; you share everything with your colleagues. You train and compete on the same courts as able-bodied tennis players, at the same facilities. It's the perfect world for tennis players. 
It was a dream for me to meet big stars like Rafael Nadal, Serena Williams, Naomi Osaka up close. People I used to follow on TV or social media.  
Although I focused on sport, on what I had to do, I was amazed by every experience, everything I had to live. Not even on TV did I think it was that good. It was fulfilling a dream that you only see in the movies. I feel tremendous pride and satisfaction. Now I'm focused on the fact that I want to do better next time and I think I can do it. 
But it was not at all easy to get to this positive moment. I had to build it step by step. I am very proud of myself after going through some dark times.
Twelve years ago, at 16, there were days that turned into weeks, and weeks that turned into an eternity; I felt sadness, sorrow, for different reasons.
Personal problems, family issues and the idea of not wanting to live any longer do not come at once. You have doubts about what to do, but you are tired and you don't want to live anymore. It gets to be that strong. You can't get up, it's a big challenge. 
However, there is a force that tries to stop you from causing any irreversible damage to yourself. You don't have the courage or the energy to want to do something. I have heard it from many people: they try to hide these symptoms and cover it up with stress or other excuses in order not to take it on. Also, I was very introverted; I didn't tell people what was wrong with me. I tried to hide it, so they wouldn't worry about me. I didn't want to be a problem, but I didn't know how to deal with it... 
It's not about not making an effort. It's a situation where everything is dark. You have dark glasses on and you see everything like that. You can't take them off and you will only see darkness until you get help. 
Today I know that there are solutions; I do not need to let it go this far, I can get help, but I don't blame myself. That day I walked home from school to the flat where I lived with my dad and stepmother. I was alone in the house, thinking in my room, very scared, but I felt that I had to do it, that there was no other solution. It was an impulse. And I tried to commit suicide. For a moment I lost consciousness and when I regained it I was surrounded by people, doctors, ambulances. They took me to the clinic. 
I had depression. Depression is a taboo subject, it is not talked about unfortunately. People feel ashamed to deal with it. Nationally, in Chile, and also regionally in South America, it is not talked about. People do not realise this is just another illness that requires medical, psychological and/or psychiatric treatment and with that you can lead a life like everyone else. There is treatment and it is a more common condition than you think. 
When I was in the clinic, not only my depression had to be treated, but also the rest of the after-effects of my actions. It was difficult at the beginning, the first few weeks there was a lot of uncertainty. I started with rehabilitation in a slow and progressive way with short and small goals. I don't remember being told that I would never walk again, so the purpose was to enter a rehabilitation institute like Teleton. Until then, my relationship with disability was null. 
Arriving there, I was surprised that a lot of people with disabilities were happy. Children, young people, adults. I realised that the disability I had acquired was not a big deal, that it was not going to stop me from doing what I wanted to do. Besides, I had so much support from my family, from professionals that I felt that, after not wanting to live, having a disability was not terrible. 
A few months later, I got to know tennis and that helped me clear my head. I continued with very strong psychological and psychiatric support. I was able to get to know myself, to get into the illness of depression and know how to ask for help. 
The first day I arrived at the Teletón you could see all of them: Robinson Méndez, María Antonieta Ortiz, Francisca Mardones, Francisco Cayulef...The atmosphere I saw, the level of friendship and companionship had a great impact on me. Robinson spent more time outside of Chile than in the country. The game he played...There were so many things that impressed me, that made me fall in love with life.
And tennis in particular is a beautiful, competitive sport that forces you to always keep improving, even if you are number one, because you can always lose the next match. It helps me to keep my head and my body at 100 per cent. It also allows you to make friends from different cultures, travel, and gives you endless opportunities. 
With the pandemic, there are many people who have lost their jobs, gone through difficult situations, many locked up, and that can lead to depression. Sport helps, but there has to be medical and psychological support, that's what everyone should suggest. 
Looking ahead to the future

My goals from now on are to make it into the top 10 and qualify for another Grand Slam. Why is it so important in wheelchair tennis to reach the top 10? Because, unfortunately, for now, there are only eight players in the Grand Slam draw: those who are in the top seven positions in the ranking plus a wild card or special invitation. In general, that quota goes to someone from the country where the Major is played.
In 2020, despite the pandemic, it was a very good year for me. I was able to go to Spain, I played the few tournaments that were held in Europe, including an ITF1 that I won and in which I beat Rio 2016 Paralympic champion Jiske Griffioen of the Netherlands, and world No. 5 Jordanne Whiley of Great Britain. That's when I climbed up the rankings. 
When information about the Australian Open started to be published, my team and I started dreaming and applied for that wild card. While we were waiting for the answer, we were anxious, looking at the email all the time. And finally the confirmation came that I was able to go. I had dreamed about it, but I wasn't sure I was going to be there, and I made it: after so much effort and struggle, I achieved something I could never have imagined; to be the first Chilean wheelchair tennis player to compete in a Grand Slam.
Since that terrible moment many years ago, I feel that I have a debt in this life. My only vision was that of death, but destiny gave me a purpose: to help people who are going through a situation like the one I suffered. 
My goal is that with sharing my experience, I can encourage others to look for support. I am confident that I can make the most of this second chance that life has given me and I have no doubt that I will achieve whatever I set out to do.