Overall titles and last golds handed out in cross-country in Vuokatti
Belarus' Sviatlana Sakhanenka and guide Dzmitry Budzilovich form new power team in women's vision impaired class
24 Mar 2021
Imagen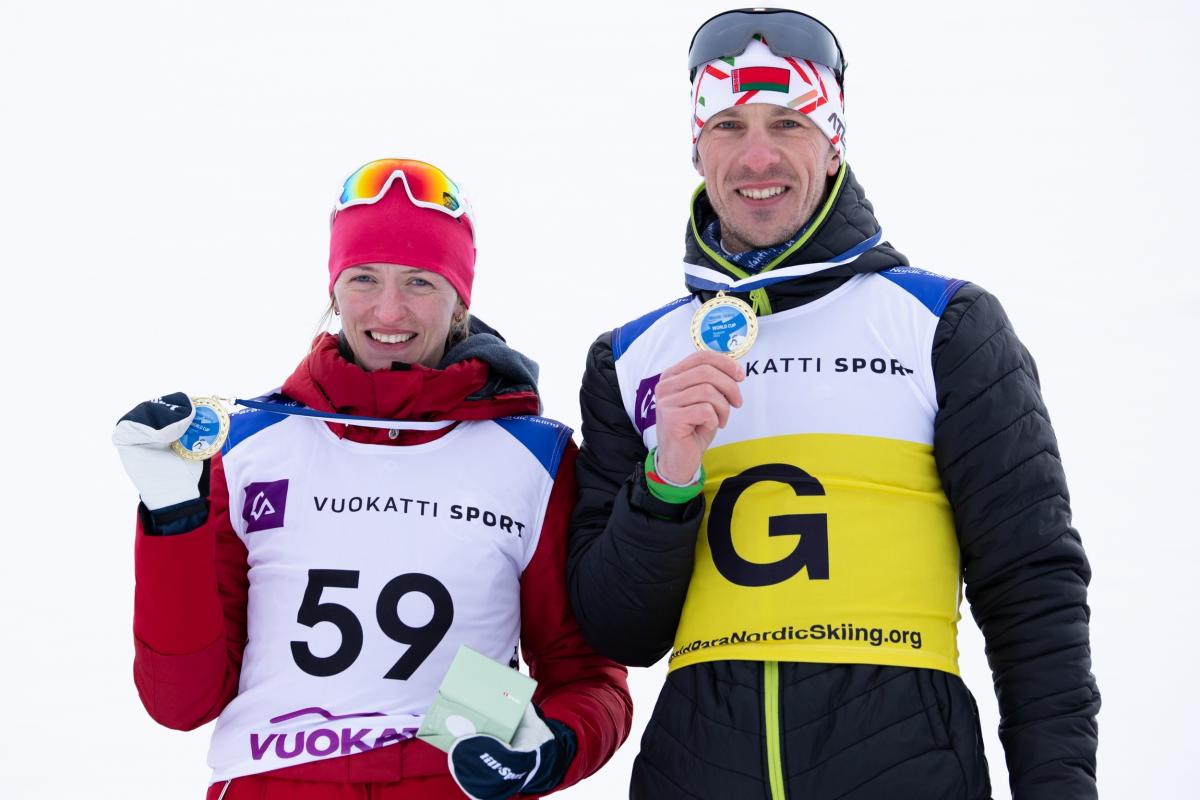 Ⓒ VuokattiSport / Heidi Lehikoinen
By Lena Smirnova | For World Para Snow Sports
A new partnership between nordic skiing Paralympic champions Sviatlana Sakhanenka and guide Dzmitry Budzilovich proved golden for Belarus at the World Cup in Vuokatti, Finland.
Sakhanenka won three gold medals and a bronze at the PyeongChang 2018 Paralympic Winter Games, while Budzilovich helped guide Yury Holub to a gold, two silvers and a bronze. This season the athletes combined forces to form a new power duo in the sport.
The World Cup in Vuokatti, Finland, was their first major quest. Four cross-country races were held at the Finnish ski resort, closing with the long and short distance events this week.
Sakhanenka and Budzilovich won three golds and one silver in Vuokatti, beating out world-class competition from Austria and Russia.
"We started working together with Dima only this season, but it is very comfortable for me to ski with him," Sakhanenka said. "We clicked right away."
Budzilovich agreed: "There are still things to work on, but I think even in this short amount of time, we were able to achieve a lot. We understand each other well and the results are proof of that. Already after the first race we saw that we are in very good shape and we can compete for the highest places on the podium."
The Belarusian pair have not participated in major races for more than a year because of the coronavirus pandemic. Instead, they put their focus on training and these efforts paid off.
"Our expectations from this World Cup stage were to find what shape we are in and compare it to others, to test our preparation and how effective it was, to see how good our competition is," Sakhanenka said. "We can say that we fulfilled our objectives at this competition, although it is very sad that we won't be able to contend for the Globe."
The pair had too few races to reach the overall title. Instead, Austria's Carina Edlinger topped the ranking. She previously won the Crystal Globe every year since the 2016-17 season, with the exception of last season. 
"I have won for the fourth time the overall World Cup, but three times it's always the last race that counts most so I'm quite happy that is the case this time as well," Edlinger said after taking a silver in the final, short distance event.
Gold and titles
Russia's Vladislav Lekomtsev, Marta Zainullina and Ivan Golubkov finished the cross-country races with golden results and the overall titles in the discipline.
Lekomtsev remained undefeated in the men's standing races this season to earn his second consecutive cross-country title.
"I haven't had this happen before. This is the first time in my career and I am very happy with this season," Lekomtsev said of his undefeated streak. "There is very little time left until the [Beijing 2022] Paralympics and there is always something to improve. There is no limit to perfection. Now the season is ending, but already in May I will start targeted training with our team."
His teammate Zainullina also got a perfect golden streak in the cross-country races in Finland. She topped the rankings in the women's sitting class ahead of USA's Oksana Masters, who swept the sitting events at the earlier World Cup in Planica, Slovenia, but missed Vuokatti.
Meanwhile, Ivan Golubkov defended his overall title in the men's sitting class after taking a gold in the short distance race and a silver in the long distance. In the latter, the gold went to Italy's Giuseppe Romele - the only athlete who managed to defeat Golubkov this season. 
"The strategy for the race was to manage my physical and mental strength, but above all, the key was a wonderful training season," Romele said about his season's second gold medal. "I didn't think that I would get this far, but I did. Now it is just the beginning of a new career."
Romele finished second overall - up 10 places from his standing last season.
Scandinavian forces
Like Sakhanenka, Norway's Vilde Nilsen and Sweden's Zebastian Modin only competed at the World Cup in Vuokatti this season. But they made the most of these races, even getting into the Top 3 of the overall cross-country ranking.
Nilsen won all four cross-country races in Vuokatti to finish second overall in the women's standing class, behind Ukraine's Liudmyla Liashenko.
"This year, I'm most happy that I kept my motivation up and I have been training very hard. I'm happy to see the results now, that I've done something right this season," Nilsen said. "I am in incredible shape and I'm feeling very strong now so I'm very happy with all my victories."
Zebastian Modin and his guide Robin Bryntesson took two golds in the men's vision impaired events, including a gold in the short distance. The gold on their last race day was a welcome boost for the Swedish pair after they finished fourth in the 20km race the day before.
"Yesterday was a bit of disappointment, but today was super good. Skis were good, guide was good, the body was good, so I'm happy," Modin said.
"Longer skiing races are not my cup of tea. I also sometimes struggle with my back in those races so I wasn't able to keep my back where I wanted it to be yesterday. These shorter races, it's easier. I think that was the key and the fact that we really wanted to get back on track."
Modin finished third overall in the rankings, behind Russia's Stanislav Chokhlaev and Nikolai Polukhin who were first and second, respectively.
The World Cup in Vuokatti, Finland continues with the biathlon sprint and individual races on 25 and 26 March. Full results from the races and the overall rankings are available on the World Para Nordic Skiing website.