Norway's Vilde Nilsen sweeps gold at her season's first World Cup races
World Cup in Vuokatti starts off with cross-country middle distance and sprint events
21 Mar 2021
Imagen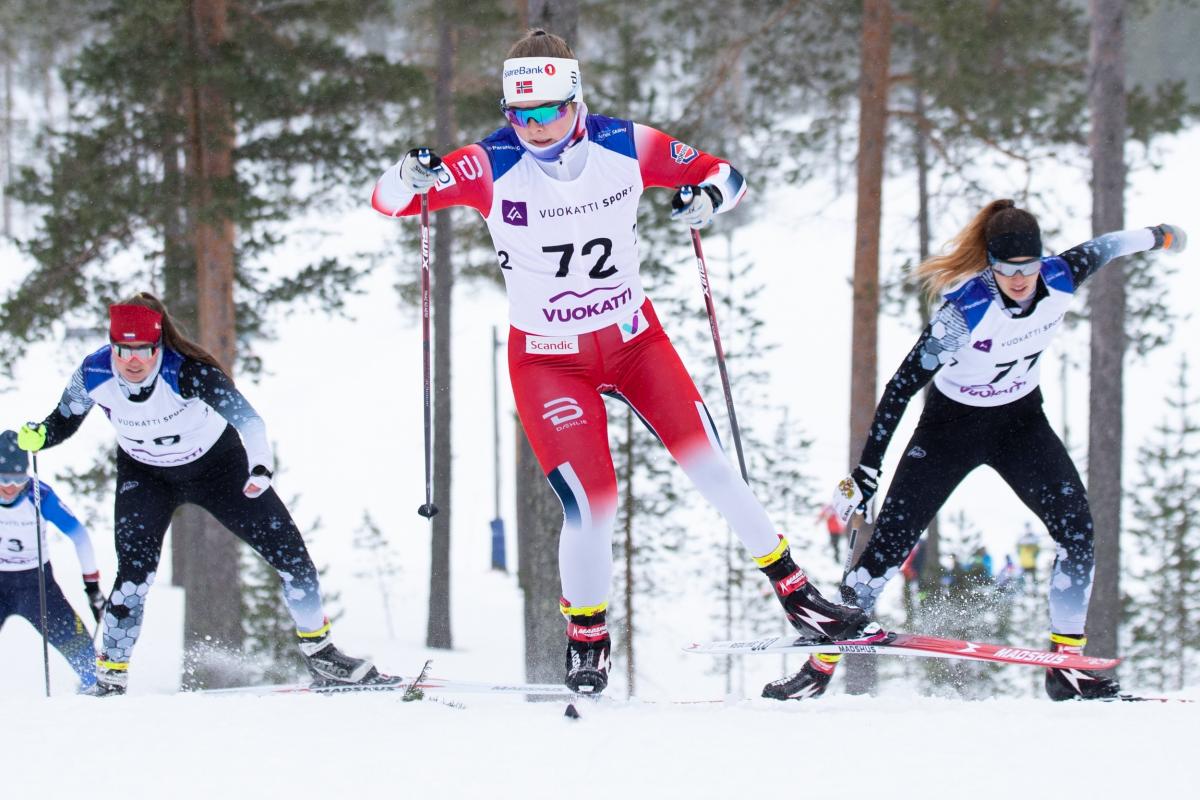 ⒸVuokattiSport/Heidi Lehikoinen
By Lena Smirnova | For World Para Snow Sports
Last season's Crystal Globe winner Vilde Nilsen missed the season's World Cup opener in Slovenia earlier in March. Once she was back on the race course, however, the Norwegian standing skier proved that she is still in top shape and ready to face the biggest test of her career next year.
Nilsen swept the gold medals in the first two World Cup races in Vuokatti, Finland. The competition at the Finnish ski resort kicked off with the cross-country middle distance and sprint, and will continue with two more cross-country and two biathlon races.
Nilsen's victories in Vuokatti broke Ukraine's undefeated streak in the women's standing events. Norway's 20-year-old skiing sensation also managed to hold off triple Paralympic champion Ekaterina Rumyantseva of Russia, who finished with a silver and a bronze.
"It was very hard," Nilsen said after her second victory. "I started out very fast to get to the Russian, but I think that wasn't so clever because I was very stiff in my legs at the top of the hill. Luckily, I did great down the hill and I have a strong upper body that helped to take me to first place, so I'm very happy with that."
The skier's strong start in Vuokatti is an important confidence boost ahead of a busy 2021-22 season, in which Nilsen is slated to compete at the home World Para Snow Sports Championships in Lillehammer, followed shortly by the Paralympic Winter Games in Beijing.
"I'm doing a lot of strength training for my upper body and double pole training both in the summer and winter," Nilsen said. "I've been training a lot with able-bodied persons this year and I'm happy that we made it to this World Cup. It gave me a little taste of what it will be like next year, which is the most important season."
Medal swap
These were also the season's first races for Canada's Brian McKeever and Sweden's Zebastian Modin, who went head-to-head in the men's vision impaired class. The long-time rivals finished the first races with a gold medal each. 
McKeever and his guide Russell Kennedy beat Modin and his guide Robin Bryntesson by 6.5 seconds in the middle-distance, while the Swedes retaliated with a win in the sprint. 
"I tried to win the start with [Russia's Stanislav] Chokhlaev, to be first on the track and just let [Belarus' Yury] Holub and Brian chase us, and then give all we have all the way to the finish line," Modin said of the race strategy that earned him the gold. "I wanted to push all the way because they can come from behind and then it can be difficult to respond to that if you slow down too much, so we wanted to go with a good pace all the way."
McKeever, who is Canada's most-decorated Winter Paralympian in history, has not raced internationally or domestically this season until the World Cup in Finland. 
However, he was able to train on foreign courses and has already spent almost two months in Vuokatti. McKeever first came here for February's 2021 Nordic Junior World Ski Championships to help with ski waxing and watch his nephew, Xavier McKeever, compete.
"It's my first race this year so it's hard to know what kind of shape I'm in," McKeever said after winning gold on the first day. "It was very tight. I was lucky to have Russ here. He's in very good shape, coming off some Top 30s at the World Championships in Oberstdorf. He's very strong right now. The only problem is getting him to slow down a little bit. He made me hurt a few times, but we had a good last lap and we needed that."
In the women's vision impaired, the two gold medals were split between Belarus' Sviatlana Sakhanenka, who won the middle distance race with her guide Dzmitry Budzilovich, and Austria's Carina Edlinger and her guide Daniel Bauer who took gold in the sprint.
Eastern winds
Russian athletes swept the podium in the men's standing races with Vladislav Lekomtsev remaining undefeated this season. 
His teammates Ivan Golubkov and Marta Zainullina also won double gold in the men's and women's sitting races, respectively. This was Golubkov's seventh straight victory this season.
"We aren't used to the cold yet," Golubkov said of racing in the colder Finnish climate after two warm weeks of racing in Slovenia. "I warmed up and it was OK, but I think it will get better in the next races. I was counting on winning today and I managed to do it."
For Zainullina, these were the first gold medals this season. She led a Russian sweep in the middle distance, with Germany's Anja Wicker breaking the ranks by winning a bronze in the sprint.
"It was nice to ski. The track is in good condition here," Zainullina said. "Every race, I am focusing on winning."
Full results from the World Cup races in Vuokatti, Finland are available on the World Para Nordic Skiing website.