Three athletes take a gamble with major changes ahead of World Cup in Vuokatti
Finland hosts season's final competition around 100 skiers from 17 countries
18 Mar 2021
Imagen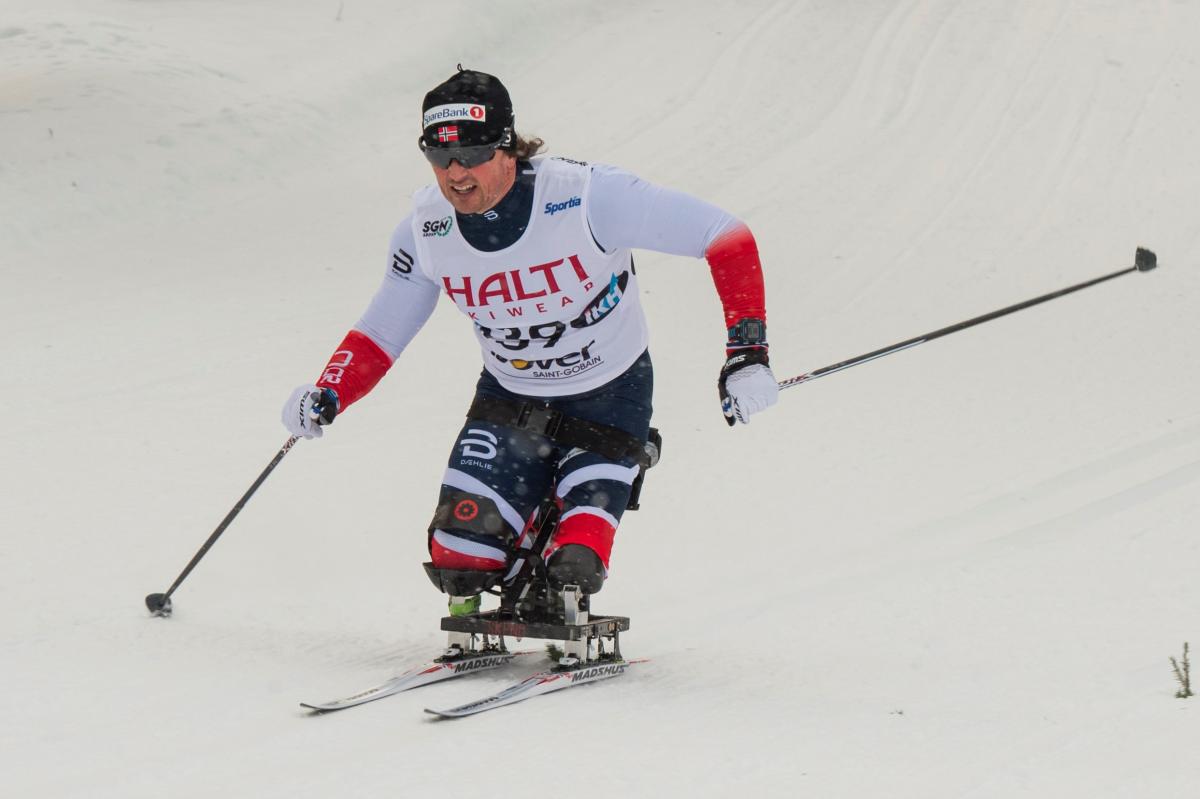 ⒸKimmo Rauatmaa
By Lena Smirnova | For World Para Snow Sports
The upcoming World Cup in Vuokatti, Finland will be one of firsts for three experienced Scandinavian athletes despite their many years in competitive sports.
Norway's Trygve Larsen is making his debut as a standing skier after a decade competing in the men's sitting class. Another Norwegian athlete Andreas Bjoernstad is making his debut in Para Nordic skiing after a successful career in Para swimming, while local Finnish skier Sini Pyy will be competing after switching her skiing position.
Vuokatti, Finland will host four Para cross-country and two Para-biathlon races from 19 to 26 March as part of the season's closing World Cup with around 100 skiers from 17 countries.
Trygve Larsen knows the Vuokatti course better than most, having competed here many times since making his international skiing debut in 2007. While in the past Larsen raced in Vuokatti as a sit skier, at the upcoming World Cup, the world champion and Paralympic bronze medallist will be making his debut in the standing races.
Larsen was inspired to switch to skiing on a prosthetic after watching fellow amputee Alexander Kolyadin win Kazakhstan's first gold medal ever at a Paralympic Winter Games. The Kazakh skier came first in the men's standing sprint classic in PyeongChang three years ago. 
"I've been working on skiing with a new prosthetic so I hope that will give me some faster times and maybe I can start competing against the best soon. My goal is to see where I stand," Larsen said.
"I love being back in Vuokatti. I've been here every year since I've started in cross-country skiing so this is just like coming home," he added. "As a standing [skier], it's a new situation, but the tracks here are perfect so it should be OK."
WATER TO SNOW
Vuokatti will be an even bigger shift for Larsen's teammate, Andreas Bjoernstad, who comes to the World Cup races after competing at the top level in Para swimming for more than five years.
A Paralympic bronze medallist in swimming, Bjoernstad switched to Para Nordic skiing in 2020 after he became allergic to chlorine. The head coach of Norway's Para Nordic team, who is Bjoernstad's former high school teacher, invited him to try out the sport. This week, Bjoernstad is making his World Cup debut in the men's sitting class.
"In swimming we always focus a lot on details. I feel like I've taken that over here as well. I'm adapting to the technique pretty quick, but it's really different because in swimming you have 50 meters back and forth. You know exactly what you get, but here you don't know anything before you're on the starting line," Bjoernstad said.
"Now my goal is just to learn every day. I'm still really new and I don't expect to be even close to the best ones yet so I'm here to learn and try to figure out what I can work on further."
Finnish skier, Sini Pyy, also made big changes ahead of the races in Vuokatti. She switched to a new skiing position - with her knees tucked under her sit ski - after the PyeongChang 2018 Paralympic Winter Games, but in the few years of skiing this way, she realised it put too much strain on her back.
This season Pyy returned to her old skiing position and will be testing it out this week at her first international competition in 2021.
"Now that I'm back in the old position, I'm trying to build that muscle back and build that endurance back because it's a little bit different for my body," Pyy said. "It's just going to be nice to race. I haven't raced in over a year so you don't really know where the others are."
BACK AT THE RACES
For some athletes, the return to racing is a significant change in itself. 
Several teams will be competing at their first World Cup this season in Vuokatti, including medal favourites from Belarus, Sweden, Norway and Great Britain, as well as some female Russian skiers who missed the World Cup held in Planica, Slovenia earlier this month.
"It's the only World Cup we have and it's probably one of the best courses, so I'm really excited," said Great Britain's sit skier Scott Meenagh. 
"For me it's about being able to take all the hard training I've done this summer and try to turn that into a credible performance within the World Cup. It would be really nice to see where we stand against the rest of the world so close to the Paralympic Games next year and come away with some ideas of what we're going to have to work on in the next year," he added.
Meenagh's main competition in the men's sitting class will be Russia's Ivan Golubkov and Aleksandr Davidovich, Germany's Martin Fleig, Ukraine's Taras Rad and this month's surprising World Cup winner Giuseppe Romele of Italy.
Russian athletes are expected to excel in the women's sitting and men's standing classes too. The latter features Crystal Globe winner Vladislav Lekomtsev who remains undefeated this season.
 
Skiers from Russia are also among the favourites in the men's and women's vision impaired classes, but in Vuokatti their quest for gold will be more difficult than at the World Cup in Slovenia due to the arrival of Belarusian skiers Yury Holub and Sviatlana Sakhanenka.
Sweden's Zebastian Modin will also be a tough rival in the cross-country races of the men's vision impaired class. Like Paralympic champions Holub and Sakhanenka, Modin missed the earlier races in Slovenia and will be trying to make up for lost time.
Another major addition to the Vuokatti races is Norway's Vilde Nilsen. Last season's cross-country Crystal Globe winner will try to break Ukraine's dominance in the women's standing class. The Ukrainian skiers Liudmyla Liashenko, Oleksandra Kononova, Iryna Bui and Yuliia Batenkova-Bauman, together swept all medals in the standing races so far.
Live results from the races in Vuokatti, Finland are available on the World Para Nordic Skiing website.