Childhood present leads Anna Panferova into global spotlight
World champion Carina Edlinger interviews Russian vision impaired athlete about her meteoric rise to the podium in Para Nordic skiing
04 Jun 2021
Imagen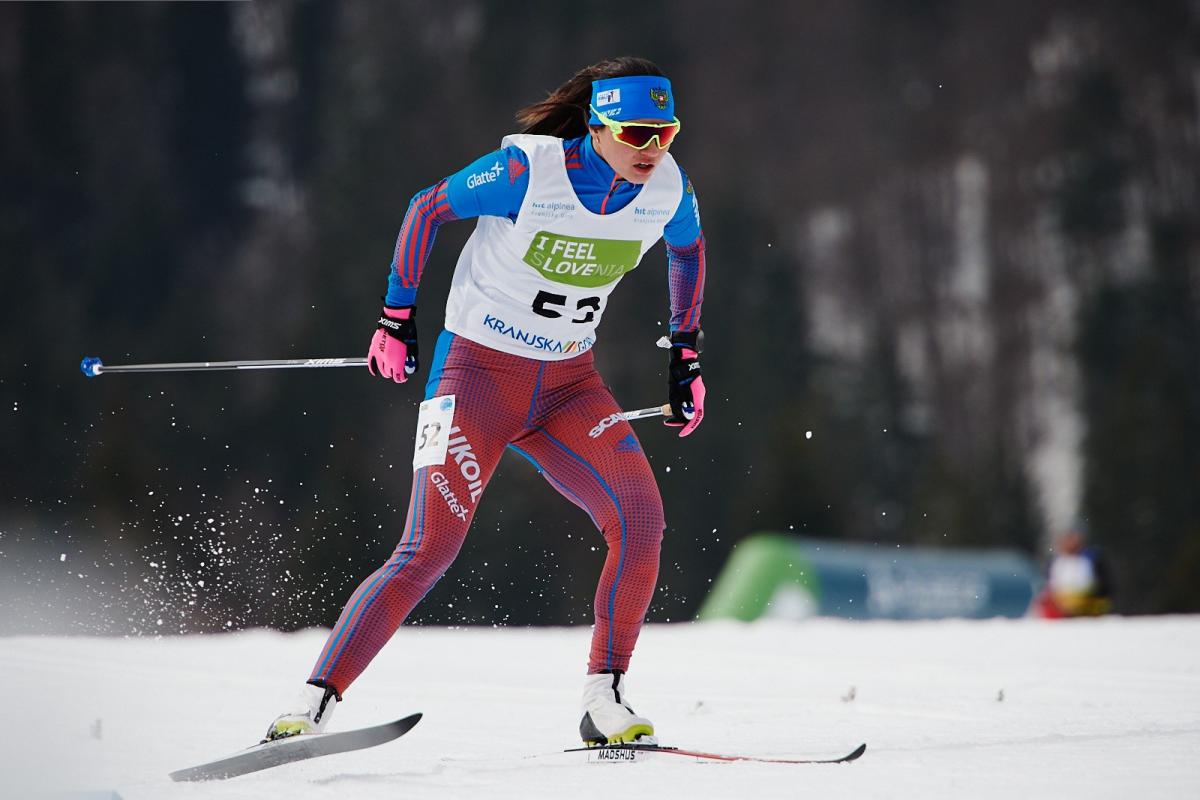 ⒸAdrian Stykowski/World Para Snow Sports
By Carina Edlinger | For World Para Snow Sports
A present from Santa Claus can brighten up a dark winter day. It can also change a life.
This was the case for Russia's Anna Panferova, who received her first set of skis as a five-year-old girl growing up in a small village in the Moscow region. Seventeen years later, she is one of the world's best vision impaired skiers.
"My parents gave me my first skis for New Year, and they told me that they were Santa Clause's present. And I fell in love with skiing," Panferova said.
The young skier caused a sensation during her first international season in 2019-20, finishing second overall in the Para cross-country and Para biathlon rankings. The following season Panferova was once again second overall in Para cross country.
Panferova's next targets are her first World Para Snow Sports Championships and Paralympic Winter Games, both set to take place next season.
Small girl, big dreams
Panferova joined a children's skiing school when she was in first grade. Thanks to a generous sponsor, she and her teammates even got an opportunity to travel to regional and international competitions, including FIS races in Finland and training camps in Austria.
The young Russian skier got her first taste of international racing and claimed her first FIS points in Finland in 2015. But with her eyesight deteriorating, she soon had to abandon able-bodied competitions.
"I have had problems with eyesight since childhood. This is genetic disease," Panferova said. 
"Studying in primary school was very difficult for me. When I was in secondary school, I began studying at home. When I got worse and worse, I was not allowed to do any sport. The doctors forbade it. My parents supported me because they were worried about my health. At the age of 16 I left sport."
But when one day her coach called and invited her to try Para Nordic Skiing, Panferova jumped at the opportunity.
Coming into Para sports was a completely different experience.
"It was very difficult for me to compete then," Panferova said of able-bodied racing. "I realised that I was missing a lot. I could not do all the work as my illness progressed. I understood that it would be very difficult for me to compete with [able-bodied] athletes.
"When I came to Para sport, I realised that it is easier for me here because I have a guide here and he is my eyes on the track. It is much easier," she added. "When you run alone, you don't see the edge of the track, everything merges into one, you don't see where the snowdrift is and where the ski track is, and the guide leads all this along the correct trajectory."
Overnight sensation
Panferova made her international debut in Para Nordic Skiing at a World Cup opener in December 2019 and immediately attracted attention. She won three gold and two silver medals with her guide Vladimir Berezin in the five individual races they competed in.
Her results in biathlon were particularly impressive - Panferova missed only one shot during the 2019-20 season, in the final round of the season's last biathlon race.
She finished the season second overall in the biathlon rankings despite missing one of the three World Cup stages.
"The 2019-2020 season was my first at the international level, and I gained a lot of experience," Panferova said. "I absolutely did not expect that I would be able to perform so well. For me it was a great happiness. And I was very happy with my shooting because I had never shot so well in training."
The following season was less smooth for Panferova who, along with other skiers, had to deal with the repercussions of the coronavirus pandemic, including the postponement of the Lillehammer 2021 World Para Snow Sports Championships.
"Last season it was very difficult. We did our work, but we did not understand at all what we were preparing for, whether the competition would take place or not. In every possible way, we set ourselves up for positive thoughts, and we continued to train," she said.
When Panferova finally made it onto the World Cup tracks in March, she collected four silver and two bronze medals to finish the season second overall in Para cross country.
"In the 2020/2021 season, the competition has grown very much and this is very cool, it has become much more interesting and harder to compete," Panferova said. "Now I understand what I was missing in the preparation that year, what needs to be added and what needs to be removed."
The young skier is now focused on her next big objectives - the World Para Snow Sports Championships, rescheduled to 8 to 23 January 2022, and her first Paralympic Winter Games.
The January competition will be the first time that Para Alpine Skiing, Para Nordic Skiing and Para Snowboard World Championships are hosted at the same time in the same city. 
That special event will not be the only highlight next season. The Paralympic Games in Beijing will be held 40 days later, making the Chinese capital the first city to host both Summer and Winter Games. 
"I see the Paralympic Games as a huge celebration for the whole world. Getting to the Paralympic Games is a dream for me," Panferova said. "It is a great experience and happiness to be there. It's a completely different level. I think it will be an unreal atmosphere because it's such a celebration. It's a great honour for me to perform there."
* Carina Edlinger is an Austrian Para Nordic skiing world champion and Paralympic medallist who studies journalism. She interviewed Anna Panferova for World Para Snow Sports.