World Para Snow Sports and Ecoaims sign Para biathlon agreement
Para biathlon shooting and target systems provider to help with equipment, training and sports development until 2024
25 May 2021
Imagen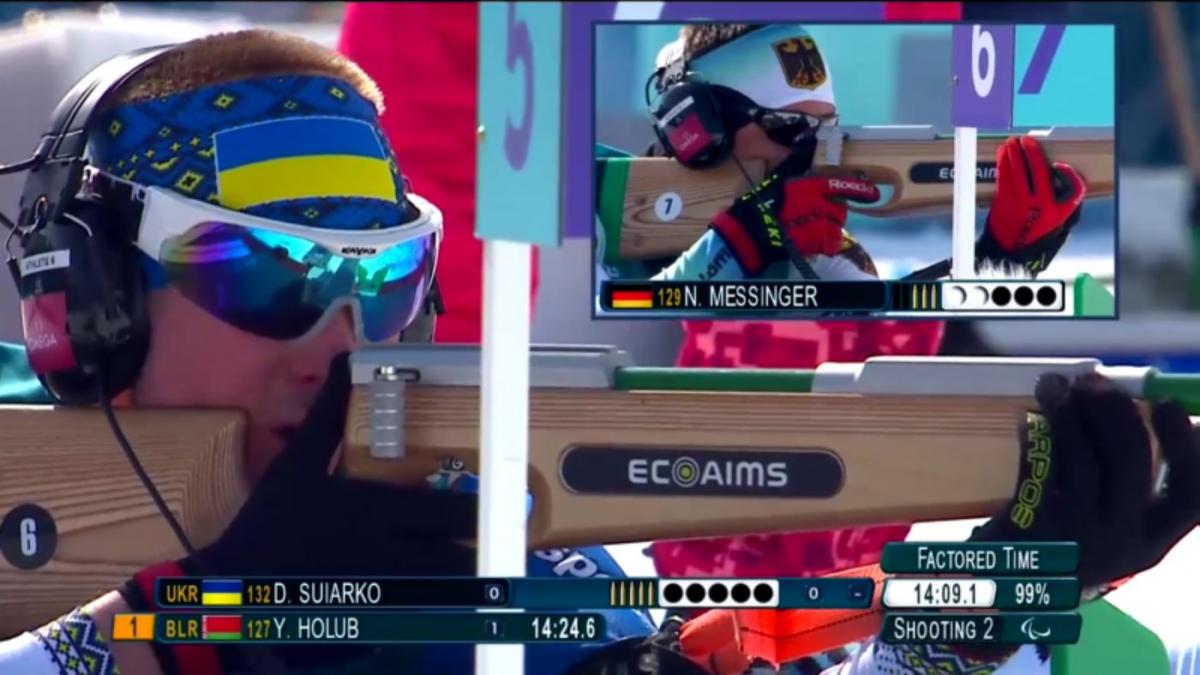 ⒸIPC
By World Para Snow Sports and Ecoaims
World Para Snow Sports and Ecoaims, a Finland-based vision impaired biathlon shooting systems provider, have signed a sponsorship and supply agreement. 
As part of the agreement signed in May, the company will equip World Para Snow Sports Championships with fully automatic systems, and also assist in referee training and sports development until 2024.
Ecoaims is a long-time partner of World Para Nordic Skiing and their unique blind shooting systems has been used in all Paralympic Winter Games since 2002 Salt Lake City, USA. Ecoaims is a family-owned company, that belongs to the group of KURVINEN Family Companies. 
One of their companies, Suomen Biathlon Ltd., provides biathlon target systems which are used at the Winter Games as well as International Biathlon Union competitions. 
The company has developed and manufactured electronic air rifle target systems for athletes with vision and physical impairments since 2000. These are the only systems accepted by the International Paralympic Committee and used at the Paralympic Winter Games.
The recently signed agreement ensures that the World Para Snow Sports Championships, to be held in Lillehammer, Norway from 8 to 23 January 2022, will be equipped with an Ecoaims fully automatic range similar to the standard used at the Paralympic Games. It will facilitate live streaming making it easier to display results in real-time to multiple media outlets including television. 
This vision impaired biathlon shooting system will then be used at the 2023 World Para Snow Sports Championships in Ostersund, Sweden and the 2024 World Championships which will have the host city announced at a later stage.
Increase international representation
Ecoaims will also help to train Para Biathlon International referees, either on site before and during competitions or directly at their factory near the Kontiolahti Biathlon stadium in Finland.
In addition to the support related to major competitions, Ecoaims will provide four biathlon shooting systems for vision impaired athletes and another four systems for athletes with physical impairments. These systems will be sent to countries that are not yet represented at international Para Nordic competitions with the aim to increase development to the sport in those regions. 
A rotation schedule will be set up so that athletes from as many countries as possible can have the opportunity to train and compete with these Ecoaims shooting systems.
"We are extremely happy to share the good news with our sport community as the partnership with Ecoaims represents an important step in the development of Para biathlon," Christian Holtz, World Para Sports Managing Director, said.
"While it benefits our high-performance athletes at major championships, the agreement will also provide a great support to development projects and initiatives to bring more athletes and countries to Para biathlon," Holtz added.
Marko Kurvinen, owner of Ecoaims, said:
"It has been a pleasure working with World Para Nordic Skiing so closely over the past two decades. Now we look forward to new opportunities this agreement will bring for both Ecoaims and the sport in the coming years."