From water to snow, Giuseppe Romele is on track to Paralympic debut
Italian Para swimmer-turned-skier has his sights set on Beijing 2022 and will be one of the World Cup medallists in action at season's first event in Canmore
02 Dec 2021
Imagen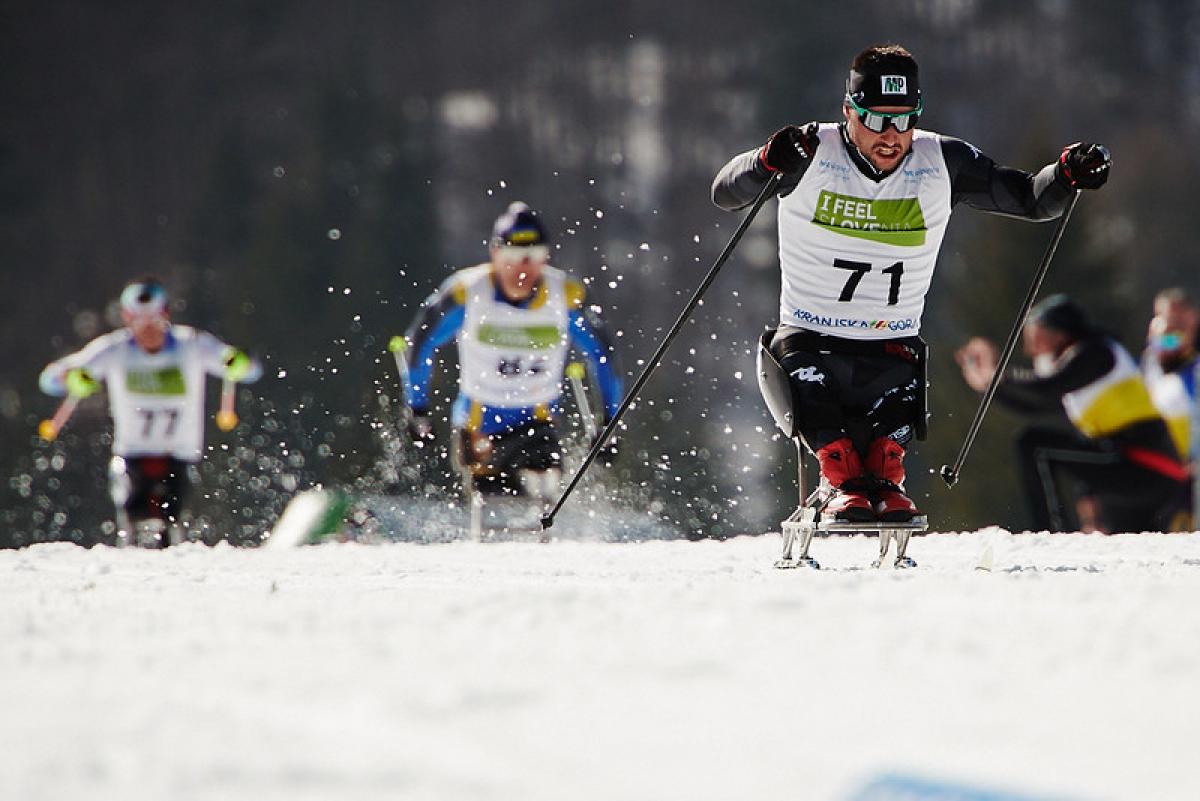 ⒸAdrian Stykowski/World Para Snow Sports
By Lena Smirnova | For World Para Snow Sports
When Para swimmer Giuseppe Romele was kept off the Italian team ahead of the Rio 2016 Paralympic Games he was so disappointed, he almost lost his passion for sport. 
Six years later he has a chance to put that disappointment behind him and finally call himself a Paralympian. Now competing on snow rather than in the pool, the Para cross-country skier is coming off a breakout season and is on track to make his Paralympic debut at Beijing 2022. 
Water to snow
Born with bilateral femoral hypoplasia, which limited the development of his lower limbs, Romele took up Para athletics as a teenager. He competed in the throwing disciplines at the junior national championships, and later changed to Para swimming. 
His specialty was the 100m breaststroke, where he became national champion and consistently finished in the top 10 at international competitions. He was second in Italy in the 200m individual medley and also had good results in the 400m freestyle.
Going into the Paralympic year, however, Romele was ruled out of contention to compete in Para swimming. 
"I was in the Paralympic national team for four years and I was eighth in the world rankings in the 100m," Romele said. "Unfortunately, in 2016, I was not included in the national selection for the Rio de Janeiro Paralympics."
Taking his focus off Para swimming, Romele tried out wheelchair racing and participated in the Berlin Marathon twice, in 2018 and 2019, finishing in the top 20 on both occasions. 
At the same time, he started training in Para cross-country skiing and quickly found his stride in the new sport.
"In the winter period I started gradually and I noticed that I felt very comfortable on the sit ski," Romele said. 
"I like the challenge of it since it is a very tough discipline," he continued, before adding with a laugh. "But I don't like when it is too cold."
With his natural talent for cross-country skiing, Romele soon earned his place on the national team and started devoting most of his time to the winter sport.
"I also have a passion for cars and motorcycles because I am a car mechanic, but only in my free time," Romele said. "When I started skiing I decided to just be a Nordic athlete and quit my job."
Coming on the World Cup circuit in December 2018, Romele truly came into the spotlight in spring 2021 when he won two gold medals in the men's sitting class and become the only athlete who managed to defeat top contender, multiple Crystal Globe winner Ivan Golubkov of Russia, that season. 
Romele was 12th in the cross-country ranking the previous, 2019-20 season, but with the two gold and four silver medals that he won in March - his career's first at a World Cup level - the Italian sit skier finished the season second overall in cross-country.
These results came as a surprise even to Romele himself.
"At the first World Cup race in Slovenia 2021, I absolutely did not believe I would achieve such a result," he said. "Then after doing the other races I realised that I was in excellent condition. However, I still don't believe what I did! For me, this is the starting point for a new goal."
A new goal
The upcoming winter season will be Romele's biggest one yet. The Italian athlete will start his World Cup racing in December and also compete at his first World Para Snow Sports Championships, in Lillehammer, in January 2022.
His ultimate goal is to race at the Beijing 2022 Paralympic Winter Games in March, which would mean that six years after being denied the chance to take part in Rio 2016 as a Para swimmer, Romele would finally get to be called a Paralympian.
"Being able to participate in the next Winter Paralympics means that the transition from the water has been successful. As I always say, from water to snow!" Romele said.
The training for the 2021-22 season was accordingly tough. Romele estimated that he trained about 1,500 hours last season and skied about 850km from November to April. This season the training hours are adding up even more.
"There was a lot of work done off the snow," Romele said. "The preparation was very intense from a mental and physical point of view because I trained for many hours. Unfortunately, due to professional secrecy, I cannot say what I did."
Romele's road to Beijing 2022 begins in Canmore, Canada which is hosting the first World Cup of the season from 4-12 December.
Live results from the World Cup will be available on the World Para Nordic Skiing website.