Lillehammer 2021: Arendz and Ulset erase borders with shared mission
World champion Carina Edlinger interviews Canadian and Norwegian skiers about their long-time friendship and common goals for the future of the sport
10 Sep 2021
Imagen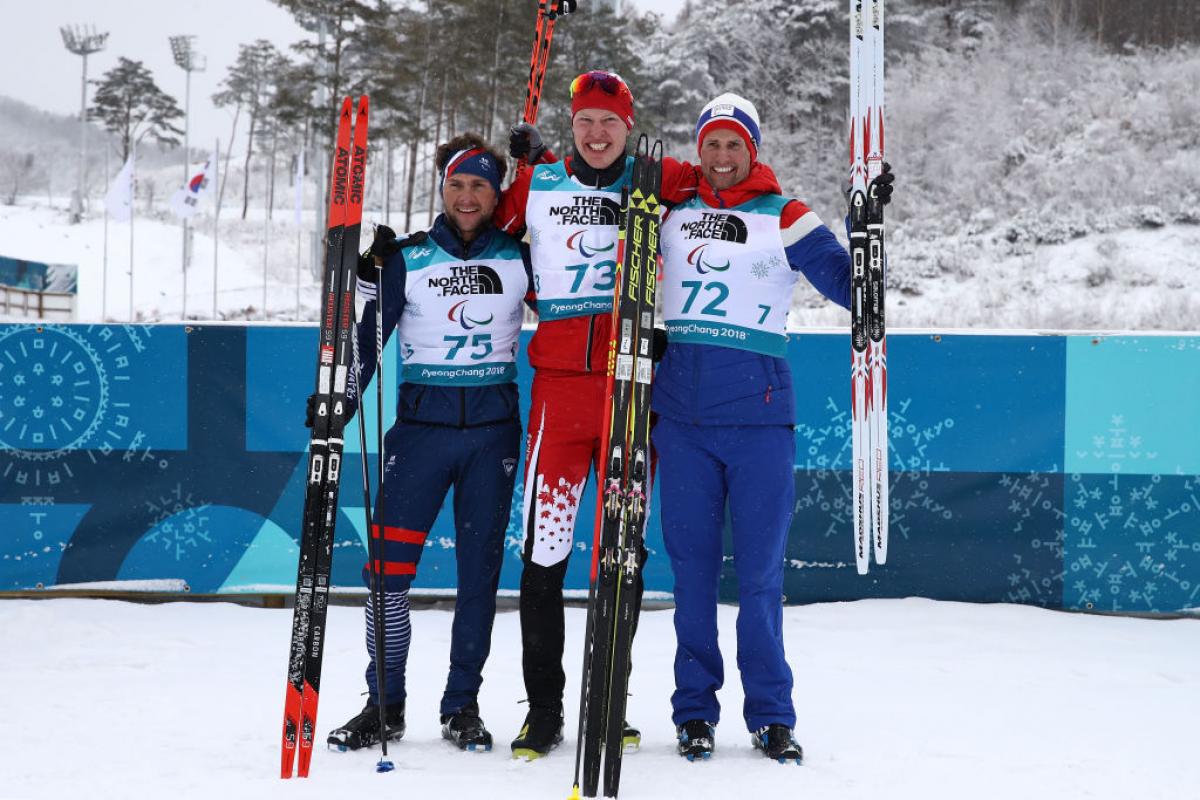 ⒸChung Sung-Jun/Getty Images
By Carina Edlinger* | For World Para Snow Sports
Canada's Mark Arendz and Norway's Nils-Erik Ulset are among the biggest rivals on the Para Nordic ski tracks, but this long-time rivalry has not made them antagonists. 
On the contrary, they have become great friends, proving that pushing each others' limits on the sports arena can also forge a strong friendship. 
"Since my first World Cup in January 2007, Nils-Erik Ulset has been a consistent and fierce competitor of mine and a close friend. Together we make each other stronger, whether that is on the course or the range," Arendz said. 
"We share a common goal to make our sport better. We have formed a powerful friendship through that."
Arendz is a Paralympic and three-time world champion. He celebrated these milestone moments alongside Ulset who has competed at the top level since 2002 and won 13 Paralympic medals during his career, including three gold.
"We have finished one-two on countless occasions, World Cups, World Championships, overall [rankings], or the Paralympic Games," Arendz said. "We celebrate each others' successes, and that was from our first race together."
"I remember Mark from his early days and it quickly became clear to me that he would become one tough competitor one day," Ulset added. "That was an advantage for me because I could learn from his progress and try to use that to stay ahead."
Season apart
Ulset has focused on Para biathlon races for several years now and is one of the few Para Nordic skiers who focus on just one sport. 
The triple Paralympic champion gets helpful tips from Norway's multi-world champions Ole Einar Bjorndalen and Lars Berger. As a long-time Lillehammer resident, Ulset will also get the opportunity to compete at a World Championships on his home turf next year.
Lillehammer, Norway is hosting the World Para Snow Sports Championships from 8 to 23 January 2022. The competition was initially scheduled for February 2021, but was postponed due to the coronavirus pandemic.
"I was disappointed at first, but at the same time I had been struggling with an injury for quite some time when I got the news and not been able to train how or as much as I wanted, so it was also kind of a relief," Ulset said.
Arendz and Ulset were both absent from the World Cup circuit during the shortened 2020-21 season. Unable to travel abroad, it was the first year since competing together on the Para Nordic scene that the two friends went their separate ways. 
Both found it difficult to train without knowing what level the other athletes were at and what they needed to change to be competitive at the upcoming World Championships and Beijing 2022 Paralympic Winter Games. However, the months away from the circuit also had an upside.
"The past year has been the most prolonged period where I have not competed internationally since I started at 16 years old. I feel that I have matured a lot as an athlete from this break," Arendz said. 
"It allowed me to focus on my training and other aspects of my life, [that] usually fall to the wayside when I am focused on competing on a more regular basis. I had to learn how to get the competitive performance from myself instead of relying on others to spark that focus while competing."
Challenge: 2022
Simulating race conditions, where competitions are held back-to-back or a few days apart, was a challenge for the two friends. Getting back into race mode when next season starts after being away for more than 22 months will be an even bigger challenge. 
To prepare for this, Ulset took part in Norway's Para cross-country championships during the winter. 
"I like competing because it tells me what level I am on, if I am doing the right thing in training," Ulset said. "Not competing kind of makes me wonder and just guess. At the same time, I have had more time to work on what I know are my weaknesses and try to improve them."
Arendz and Ulset are both focusing on the Para biathlon events at the World Para Snow Sports Championships and the Paralympic Games. Ulset favours the biathlon sprint while Arendz sees the relay as a medal opportunity as well. 
After racing head-to-head at Beijing 2022 the two friends will likely set off in different directions. Ulset is planning to retire following his fifth Paralympic Games and more than two decades in top-level sports.
"Sadly I will not be participating in Milano Cortina [2026 Paralympic Winter Games]," he said. "It is a beautiful place, but the Games in Beijing are where my career ends." 
Arendz, on the other hand, is open to making the 2026 event his fifth Paralympic Games. 

* Carina Edlinger is an Austrian Para Nordic skiing world champion and Paralympic medallist who studies journalism. She interviewed Mark Arendz and Nils-Erik Ulset for World Para Snow Sports.