Cheongju 2018: Chul Park hopes results transfer to Tokyo
South Korean shooter has renewed confidence for 2020 Paralympics
18 May 2018
Imagen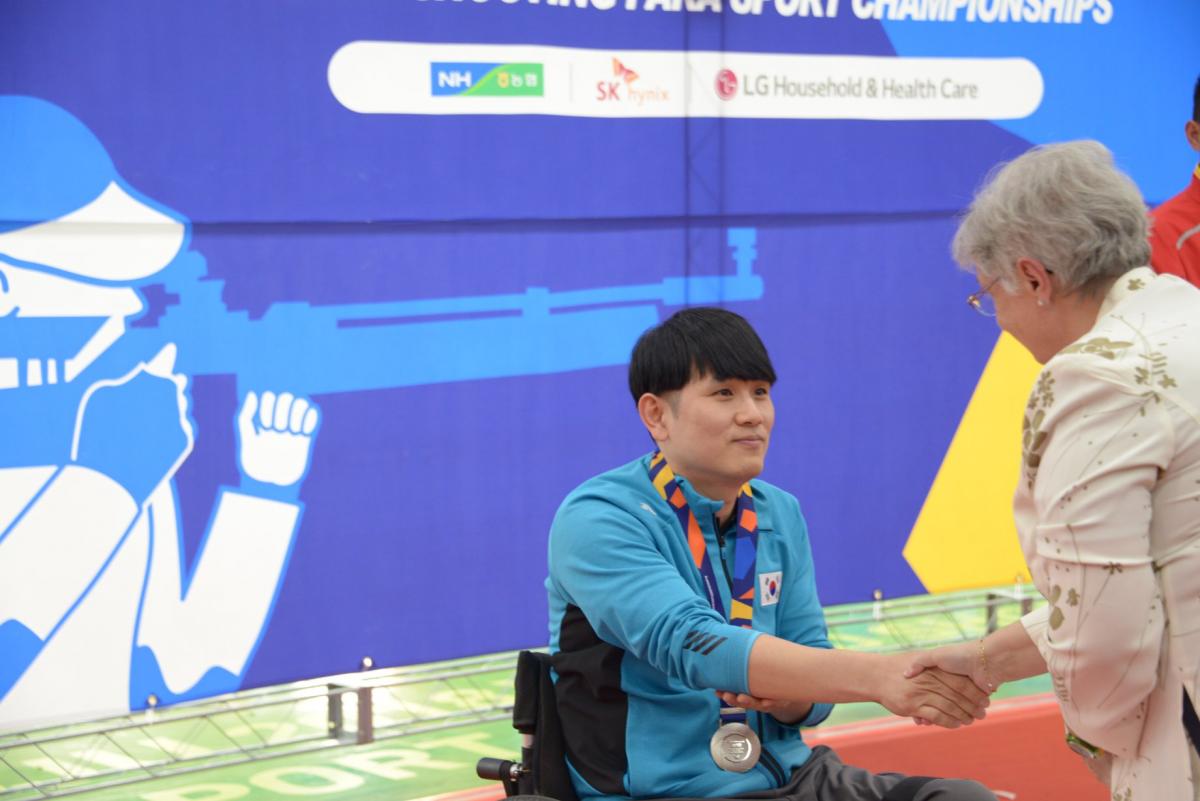 ⒸCheongju 2018
By EJ Monica Kim | For the IPC
"I can confidently say that I prepared for Cheongju 2018 with my best effort. That's why I'm satisfied with all my results, and this time I heartily congratulated my competitors who shot better than me."
South Korea's Chul Park saw his hard work pay off at the 2018 World Shooting Para Sport Championships, and that has motivated him to keep pushing toward the next Paralympic Games.
Park won two silver medals in the P3 (mixed 25m pistol SH1) and the non-Paralympic event P5 (men's 10m air pistol standard SH1) at his home Championships in Cheongju that concluded on 11 May.
Along with his teammates, he also added one silver and one gold in the P1 (men's 10m air pistol SH1) and the P5 team events, respectively.
"I can confidently say that I prepared for Cheongju 2018 with my best effort," he said. "That's why I'm satisfied with all my results, and this time I heartily congratulated my competitors who shot better than me."
Although he finished fifth in his main event P4 (mixed 50m pistol SH1), Park knows he still has time before Tokyo 2020 to improve. Besides, he saw he did just that in the P3.
"I don't usually have a good start each season because of pressure," he said. "However although the P3 was my first match of this year, I won a [silver] medal. It was surprising."
Not only has his tactics improved, but so has his performance under pressure, especially on home range.
He remembered that his first Paralympic Games in Rio de Janeiro, Brazil, was stressful because of the pressure.
"I had never received such attention of media since I took up the sport in 2013, except the time before Rio 2016," said Park, who had a motorbike accident in 2007.
"I had no idea of how big the event was, so I didn't know what to do ahead of it. Consequently I lacked the preparation more than ever, and of course I couldn't show my usual performance at all."
Cheongju 2018 was the first step for athletes to gain quota slots for their countries toward the Tokyo 2020 Paralympics.
He hopes Tokyo 2020 will be a better experience than his first Games at Rio 2016, where he missed the podium in three pistol events.
"After finishing all three events [P1, P3, P4] in Rio de Janeiro, I burst out crying," he said. "I'm glad that I cried at that time, because it helped me to sort out all my thoughts completely."
After Rio 2016, he was busy with the National Para Games once he returned home. He swept five medals, and furthermore was named the Most Valuable Player at the biggest national event.
It was a redeeming feeling.
"It was a good business, and thanks to good results following the failure, I was able to be recovered mentally."
"I never forget all precious memories of the Opening Ceremony in Rio," Park said. "I felt quite privileged as one of Para athletes. Therefore I would like to be part of it once again."
For more on Cheongju 2018, including highlights and complete results, visit the official website.