Cheongju 2018: Lyne Tremblay's emotional reunion
Archer-turned-shooter reunites with former coach after many years
24 May 2018
Imagen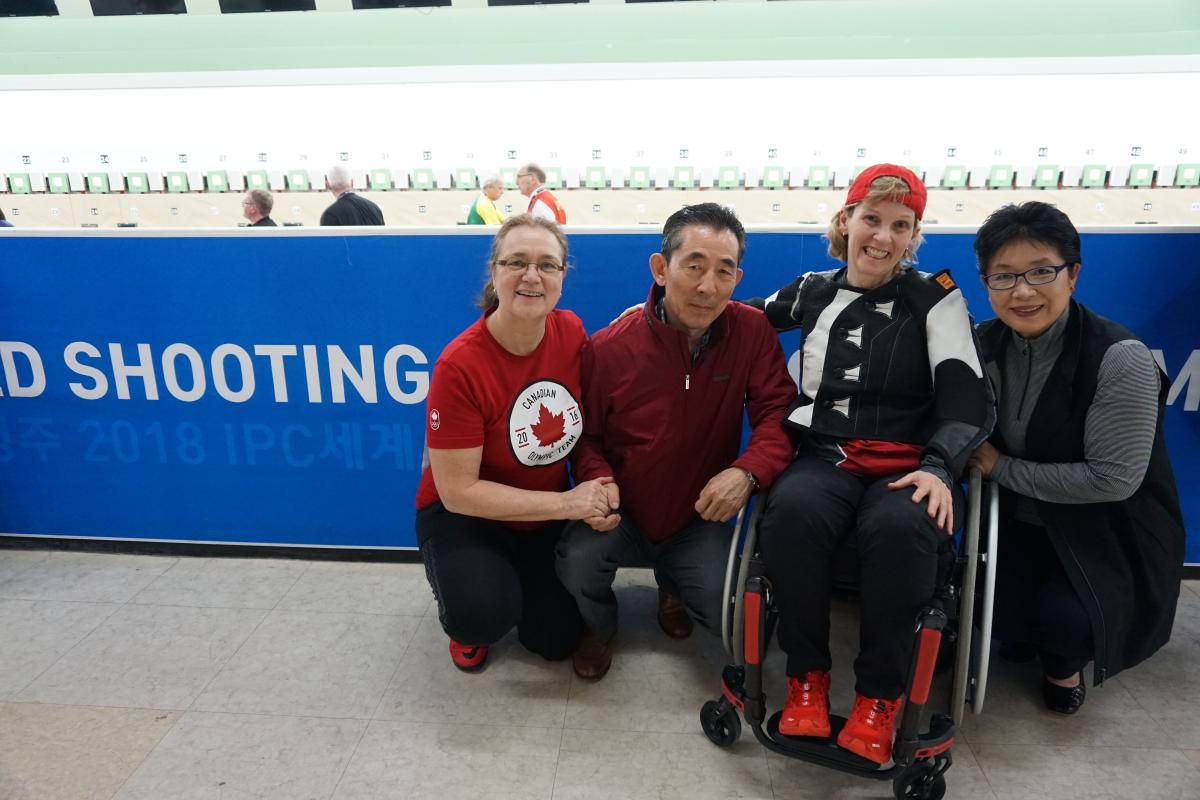 ⒸEJ Monica Kim
By EJ Monica Kim | For the IPC
"I had never imagined that I would be able to see him again. It was one of the best gifts in my life. This man is like my spiritual father. His philosophy is humanism. The favourite moment in my life was when I trained with him."
After she gave up Para archery, Lyne Tremblay did not know when - or if - she would ever see her coach, the man she calls her "spiritual father," again.
But the Canadian got a special visit while competing at the 2018 World Shooting Para Sport Championships held in early May in Cheongju, South Korea.
Kim Hyung-Tak surprised her after she finished the R4 (mixed 10m air rifle standing SH2) qualification round.
"What a good good day," she said emotionally. "I had never imagined that I would be able to see him again. It was one of the best gifts in my life."
"This man is like my spiritual father. His [sporting] philosophy is humanism. The favourite moment in my life was when I trained with him," she said.
Kim was the first able-bodied archery coach in South Korea and well-renowned in the country. He was the head coach of the national women's team at Los Angeles 1984 Olympic Games, and led South Korean archers to their first Olympic gold and bronze medals.
The two first met at a seminar in Canada, and Tremblay began training with him in 2009.
Tremblay, 55, was an able-bodied marathoner, cyclist and sea kayaker for the Canadian national teams. After being paralysed in 1999 following a brain illness, she first tried Para alpine skiing before taking up archery.
In 2009 she began training with Kim at his archery school in Goesan County, South Korea.
"South Korea is the strongest [able-bodied] archery team in the world. Mr. Kim established his own school, and invite athletes from many different countries," she continued.
"Some people asked why he didn't keep secret tips of archery skills for his country, but he said that he wants to develop the sport itself around the world, not only archers. He hopes that everyone gets better. We need more coaches like him."
Changing course
Despite a Paralympic debut with her favourite coach at London 2012, her progressive illness prevented her from continuing the sport. It gradually became harder for her to shoot the bow.
"I needed a little bit of time to make a decision to quit Para archery, because it meant that I had to quit him too. I knew that I've never met any other coaches like him again."
In 2014, she transferred her archery skills to shooting. She explained that archery is more physically demanding while mentality is more important in shooting.
"I think that similarities between [the] two sports are that you need to have a harmony between your spirit and your body and to have your own [shot] sequences," she said.
Since she switched to shooting, Tremblay only kept up with Kim via social media, which made their reunion in Cheongju even more special.
Kim even gave Tremblay some tips for when she competes.
"He told me that it is more important to control my heartbeat in this sport than in archery, so he explained how to control it: hypnosis. Following day I followed his advice, and received a better result in my second competition," Tremblay said.
Kim added: "Lyne is strong minded. She always set a clear goal and put effort for it. I felt her positive and energetic vibes.
"I teach archery skills to Para archers, but at the same time I can learn more life lessons from them when I see them working so hard."
Tremblay competed in the R4 and R5 (mixed 10m air rifle prone SH2 but did not make it to the finals. However, remembering the trainings from her former archery coach, Tremblay is focusing on improving toward Tokyo 2020.
"I changed all my equipment last September, so I worked on adapting it. At this event I could know where I am in the world," she said.
"Each competition is just like one of points in the line, not the end point. I learnt what to improve, so I'll become better at next competition.
"My goal is Tokyo 2020. If I follow my plan and make progress, I think that I have a good chance to go there. I'll just take my time to learn everything."
For more information on Cheongju 2018 visit the official website.