Cheongju 2019: Setback no worry for Iraq's wheelchair fencer Ammar Ali 
Rio 2016 silver medallist has different perspective about missing podium at World Championships
26 Sep 2019
Imagen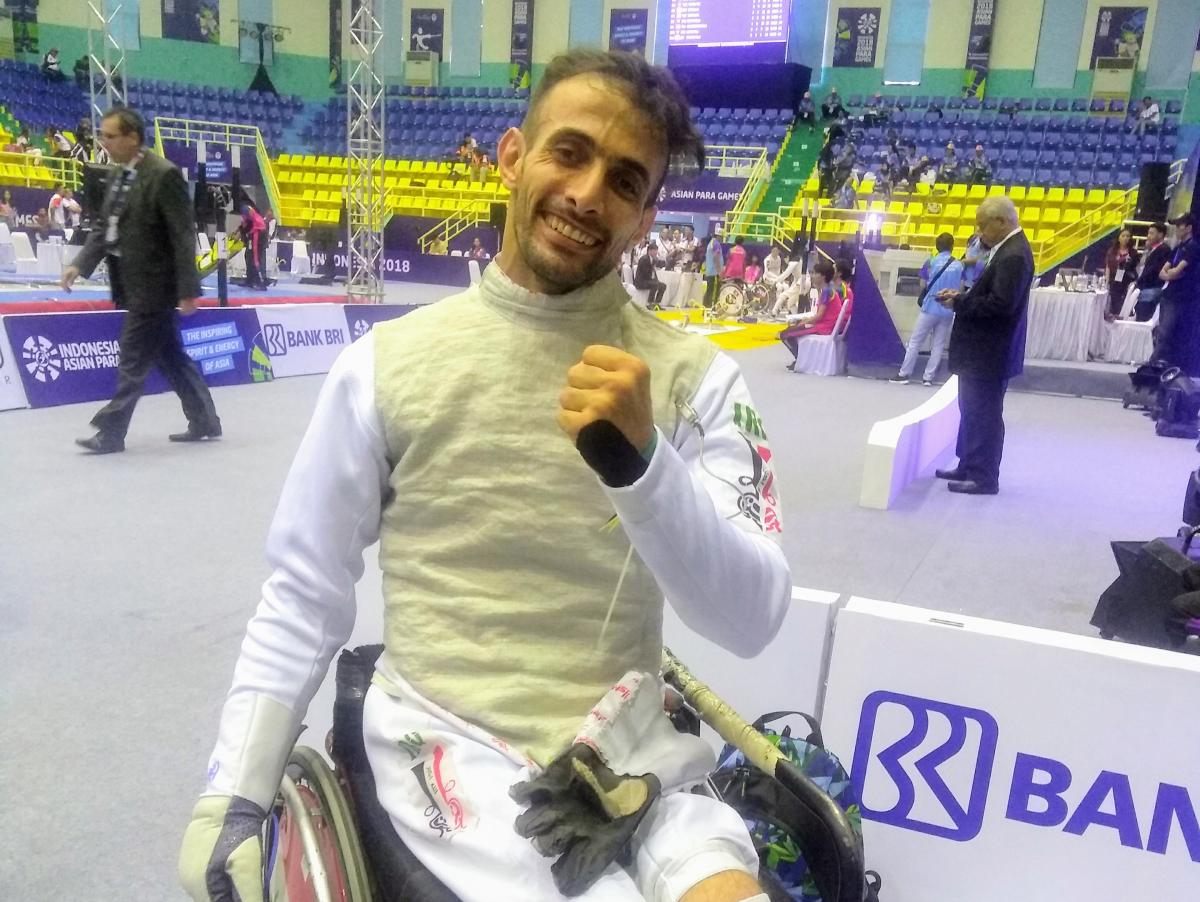 ⒸAsian Paralympic Committee
By Amp Media | For the IPC
Iraq's Paralympic silver medallist Ammar Ali can look at his eighth place finish at last week's 2019 Wheelchair Fencing World Championships in two ways. 
He could be disappointed by not meeting expectations.  
Or the 33-year-old can look at how far he has come, despite not making the Worlds podium in Cheongju, South Korea.
"It's only sport," said a subdued Ali one day after his quarter final loss.
"But it changed my life. Thanks to sport, I can face a lot of terrible things that happened in my life," added Ali, who hails from the war-torn city of Bagdad.
"We went to work every morning, but we never knew whether we would make it back alive at night.  
"I worked as a carpenter in construction work, making ceilings. It was a good job and I made good money for my age.
"One day a friend of mine came by my house to pick me up on our way to the construction site. When we got out on the main street a bomb blast threw us to the ground," revealed Ali, recalling that dark disappointing day.
Ali's doomed day
"It was chaos all around us. Nobody took care of the wounded on the streets, because everybody was afraid of a second blast.
"My friend, who was less badly injured then me, because my body had been between him and the blast, managed to stop a car that took us to the nearest hospital," said Ali, whose memory following the blast is vague.
"In the hospital they gave me painkillers and they did a lot of surgery to my stomach, because that's where I had a big visible wound. But the doctors did not pay attention to my back. 
"They made a mistake and only found out that my spinal cord was damaged four or five days later. By then, they had moved me around a lot and my legs were paralysed."
After the bombing, Ali about one-and-a-half years to find new purpose in life.  
"That day destroyed my life. I did a lot of physiotherapy to try and get my legs moving, but it wouldn't happen. 
"I was depressed for a long time, until someone came along at the hospital where I was doing physiotherapy. He was a coach and told me about sport for disabled people. I never knew that it existed before," recalled Ali.
Fit for fencing
Because of his physiology - being tall with long arms - Ali was introduced to wheelchair fencing. 
"I didn't know anything about fencing either. Before my injury I played football, not at a high level, just for fun.
"They took me to a club for wheelchair fencing and I started training. I found interest in the sport quickly, but it's a difficult sport and it takes a lot of study to understand it well.
"Only after a couple of months I got a grasp of what this sport demands. You need to be very smart. Fencing is almost like a mind sport," said Ali.
Path to the Paralympics
Four years after Ali picked up the sport, he went to the Paralympic Games at London 2012, He finished sixth place in the epee B category. 
Three years later, he won the world title in Eger, Hungary, to secure a spot at the his second Paralympics at Rio 2016. He was a favourite, only to lose the final.
The disappointment of his silver medal did not take away his passion for fencing. 
"For me, fencing is such a lot of things at the same time. It's not easy to live as a disabled person in Bagdad. Fencing offers an escape," he explained.
Despite the horror and the uncertainties of living in Bagdad over the past decades, Ali never considered moving someplace else.
"I'm not the only one for whom it's not safe. There's a million people in Bagdad, what should we do? We must live our lives and try to change the miserable life around us."
And life has become better in Bagdad, asserts Ali.
"Since IS [Islamic State] have gone, it's gotten better. Bagdad is a good place to live now. Sometimes small things still happen, but it's not like back in the days. It's good now."
When he is not abroad for international competitions, Ali continues to work as a carpenter.
"It's not in construction work anymore, but I have a small workshop. My brother still works in construction and sometimes I make doors for him," said Ali quickly adding that, "Fencing comes first."
"Back in Bagdad, I spend most of my time training. All athletes have the same goal, an Olympic or a Paralympic title. The fact that I lost the final in Rio, is an extra motivation. If I win gold in Tokyo, I might retire."
Retirement as an active fencer does not mean leaving the sport though.
"I need to stay involved with fencing in Iraq. I learned such a lot about the sport and we have many young kids who like wheelchair fencing. They need someone to guide and coach them. There are not many qualified coaches for wheelchair fencing in Iraq."