Chikara Ito heads strong Japan team at 2018 Asian Open
Record numbers turn out for taekwondo tournament in Vietnam
23 May 2018
Imagen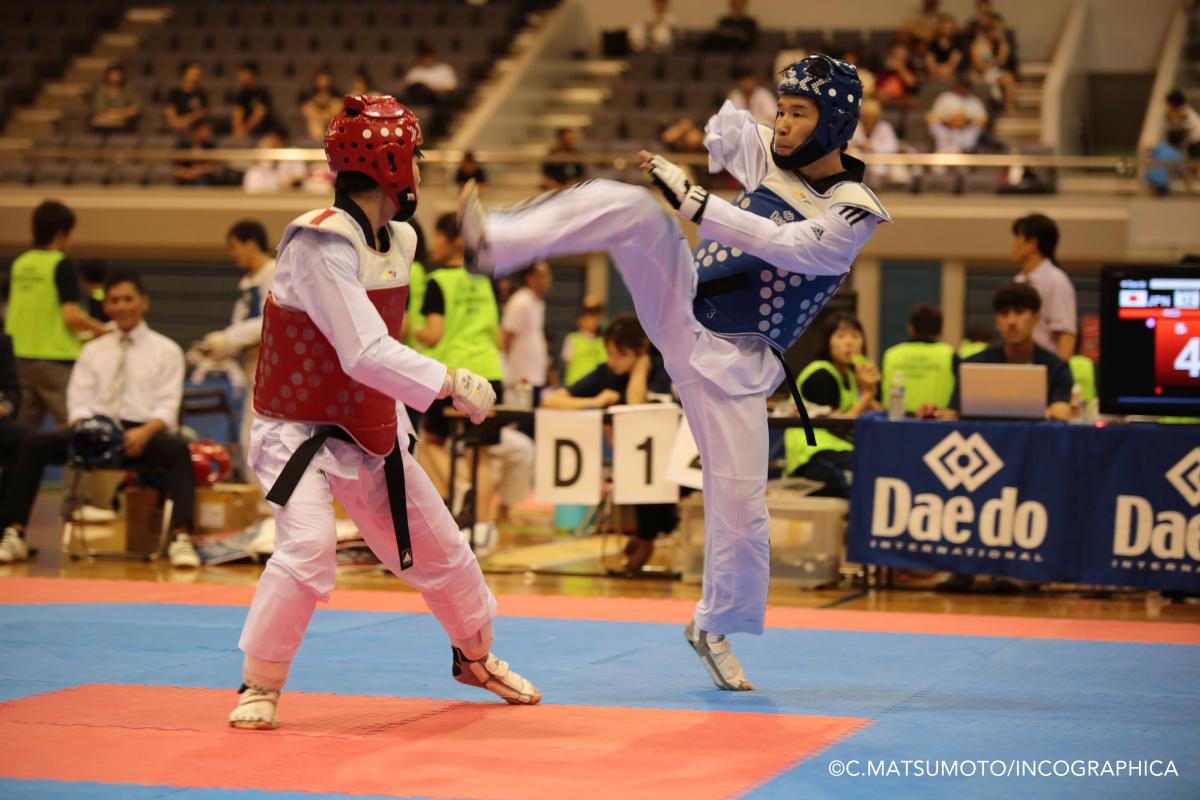 ⒸChikara Ito
By Lee Reaney | For the IPC
"For a half year I have been training with the Olympic team to strengthen my physical and technical aspects. I feel the pressure, but I'm proud to be able to fight. I will do my best as I have more support."
When Para taekwondo makes its Paralympic debut in Tokyo in 2020, there are few fighters that will face as much pressure as Japan's Chikara Ito. The No. 10-ranked fighter is in Vietnam for the Asian Open on Thursday (24 May) with the goal of winning a medal.
Ito stormed onto the Para taekwondo scene in 2016 – less than one year after picking up the sport when he lost an arm in a work accident. Nicknamed 'The Pioneer', he has blazed a new path for Japan ever since.
He won bronze at the 2016 Oceania Open and then won Japan's first Para taekwondo gold medal at the 2017 US Open.
Top-ranked Mongolians look to get back on track
If he hopes to top the podium in Vietnam, Ito will have to get past Mongolia's No. 1-ranked Bolor-Erdene Ganbat (up to 61 kg K44). Ganbat has won all three previous Asian Open events but will be looking for payback after losing to Russia's Daniil Sidorov* at last year's IWAS Games – his first-ever loss.
"The first fighter I want to beat is Ganbat", Ito explains. "I am looking forward to fighting him because I know how much I can threaten him since we last fought two years ago."
Mongolia's other No. 1-ranked world champion Enkhtuya Khurelbaatar (up to 49kg K44) is hoping to defend the Asian titles she won in 2016 and 2017. She was also upset at last year's IWAS Games, when she dropped a decision to Turkey's Meryem Betual Cavdar, who has jumped from No. 10 to No. 2 since the win.
Other No. 1-ranked fighters competing in Vietnam this week include Iran's Mahdi Pourrahnama (up to 75kg), Croatia's Ivan Mikulic (over 75kg), and Great Britain's Amy Truesdale (over 58kg).
World champion Truesdale also hopes to avenge a surprise loss to Morocco's No. 2-ranked Rajae Akermach at the African Open in Morocco in March.
No. 1-ranked fighters from the K43 division competing in Vietnam include France's Bopha Kong (up to 61kg), Ukraine's Anton Shvets (up to 75kg) and Vika Marchuk (up to 49kg), and Kazakhstan's Nurlan Dombayev (over 75kg).
Record Numbers at Asian Open
Continuing a trend that has seen the growth of the sport explode in recent years, the 2018 Asian Open will have a record number of participants.
There are 120 fighters from 28 countries registered to compete, 33 percent more than 2017.
Traditional powerhouse countries like Iran (11), Russia (10), and Turkey (9) are all sending large contingents of fighters. They will be joined by fighters from China and Pakistan for the first time.
Japan is also ramping up its Para taekwondo credentials two years before the sport makes its debut at the Tokyo 2020 Paralympic Games. The country is sending six fighters to Vietnam, a record number.
Chikara Ito – Japan's Para taekwondo 'pioneer'
Ito takes his training seriously. Finding it difficult to find competitors to fight in his home of Hakkaido, he moved his young family to Tokyo last year to improve his training options.
He now trains three times a week in taekwondo, with physical training scheduled for his off days. He trains at several gyms to learn different styles and even competes with able-bodied university students to ensure he stays sharp.
It's all in preparation for his ultimate goal of representing his country at home in 2020.
"For a half year I have been training with the Olympic team to strengthen my physical and technical aspects", says Ito. "I feel the pressure, but I'm proud to be able to fight. I will do my best as I have more support."
As host nation, Japan a designated spot in three divisions at the 2020 Paralympic Games. At world No. 10, Ito is currently Japan's top-ranked Para taekwondo athlete. He hopes to be ranked in the top six by year's end.
"My dream is to win the 2020 Paralympic Games and help taekwondo become the most famous sport in Japan."
*Editor's note: The International Paralympic Committee suspended the Russia Paralympic Committee on 7 August 2016 for its inability to fulfil its IPC membership responsibilities and obligations, in particular its obligation to comply with the IPC Anti-Doping Code and the World Anti-Doping Code (to which it is also a signatory). As a result of the suspension, Russian athletes cannot enter IPC sanctioned events or competitions, including the Paralympic Games. For more information, click here.