Morocco surge in taekwondo rankings
Rajae Akermach's win over Amy Truesdale in African Open boosts her rankings
13 Apr 2018
Imagen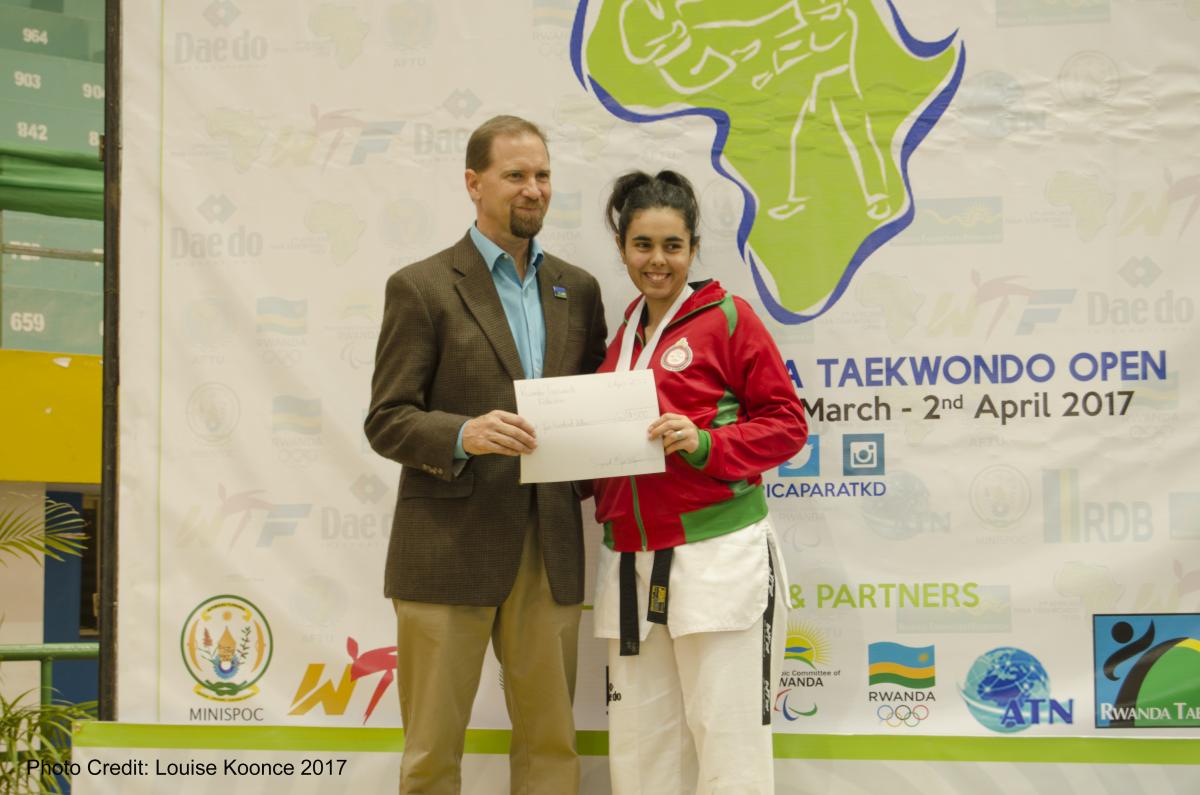 ⒸWTF
By Lee Reaney and the IPC
Morocco's Rajae Akermach took advantage of her home competition at the African Open, as she moved up the Para taekwondo world rankings for April.
At the competition in Agadir, Akermach finally bested Great Britain's world champion Amy Truesdale – who went undefeated in 2017 – in a thrilling finale to close the women's over 58 K44 gap by nearly 30 points.
Akermach's compatriot Rachid Ismaili Alaoui (men's up to 75 K44) used his gold medal to move to No. 3 in the rankings.
Meanwhile, Morocco's 2009 world champion Abdennour El Fedayni (men's up to 61 K41) remains No. 2 after falling in a hard-fought finale to Ethiopia's Mekonnen Grima, who moved to world No. 5.
One of the biggest climbers in this month's rankings was Niger's Ismael Oumarou Gouzae (men's up to 75 K44), who jumped 11 positions to No. 17 after his breakout performance in Morocco. The young fighter used an unusual style to get past the No. 3, No. 4, and No. 11-ranked fighters in the world on his way to a silver medal.
"Coach asks me to move like a snake," Gouzae said about his fighting style. "I'm over the moon [about my result], I don't even know what to say."
Turkey targeting Tokyo 2020
Turkey's No. 5-ranked Gamze Gurdal knocked off the No. 2 and No. 3-ranked fighters in the world on her way to gold to close the gap in the up to 58 K44 division.
Compatriot Mahmut Bozteke topped all comers in the competitive men's up to 61 K44 division to solidify his No. 2 ranking.
Meryem Betul Cavdar is still ranked No. 2 after falling to Russia's No. 9-ranked Anna Poddubskaia* by a golden point in the women's up to 49 K44 final.
"Taekwondo is the second-most important sport in Turkey after football," Turkish head coach Ilhan Askin said. "Our goals are always high. We want to qualify fighters in all six divisions [at the 2020 Paralympic Games]."
Best of the rest
France's No. 1-ranked Bopha Kong topped Spain's No. 2-ranked Alejandro Vidal Alvarez to increase his lead in the men's up to 61 K43 rankings, while the USA's No. 3-ranked Evan Medell held on to beat Croatia's No. 1-ranked Ivan Mikulic and close the gap in the men's over 75 K44 group.
Den Budsabong gave Thailand a moment to remember in the country's first international tournament by getting past Iran's No. 15-ranked Mohammedreza Shabani in the men's up to 75 K42 group. He enters the world rankings at No. 12.
The African Open saw host Morocco collect 15 medals, including four golds, in a tournament that saw nearly 100 fighters from 27 countries. Cameroon, Central African Republic, Thailand, and Tunisia all made their debuts.
The complete rankings can be found on World Taekwondo's website.
*Editor's note: The International Paralympic Committee suspended the Russian Paralympic Committee on 7 August 2016 for its inability to fulfil its IPC membership responsibilities and obligations, in particular its obligation to comply with the IPC Anti-Doping Code and the World Anti-Doping Code (to which it is also a signatory). As a result of the suspension, Russian athletes cannot enter IPC sanctioned events or competitions, including the Paralympic Games.