Jean Claude Niringiyimana targets taekwondo top five
Rwandan aspires to emulate movie star namesake Jean Claude Van Damme
30 Mar 2018
Imagen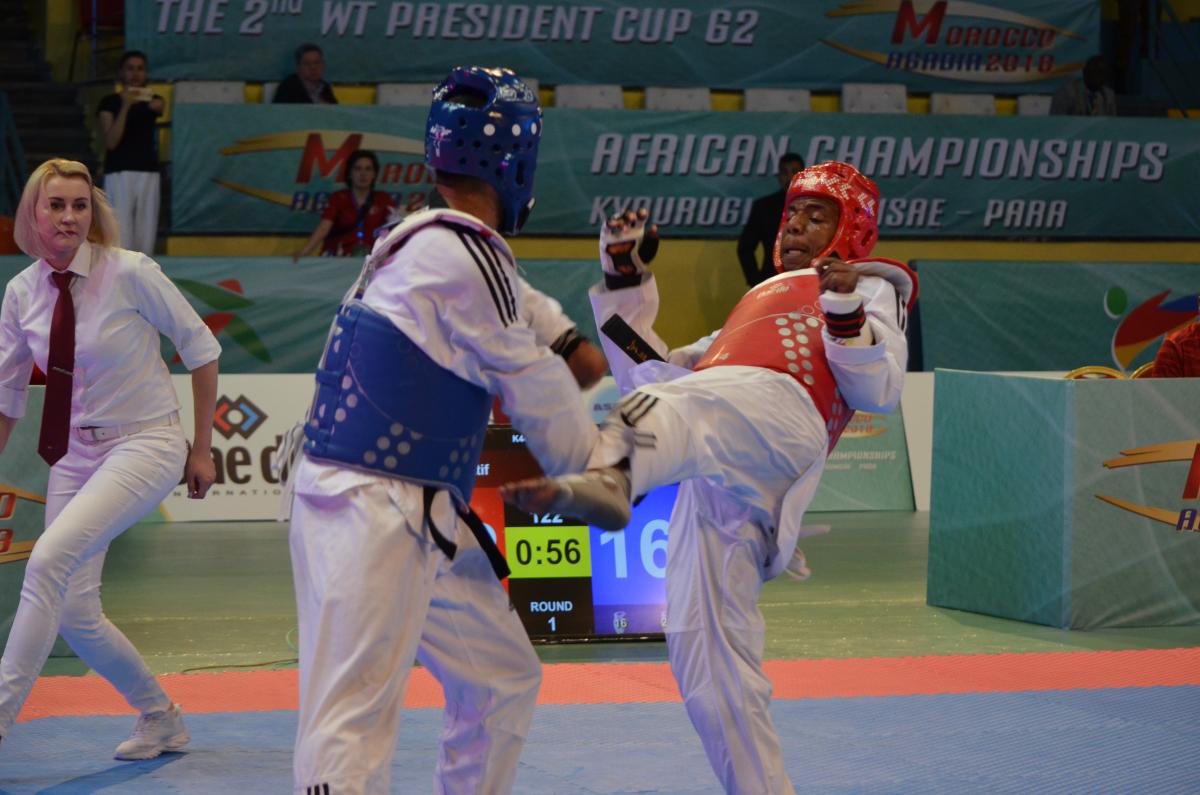 ⒸWorld Taekwondo
By Lee Reaney | For the IPC
After 2017 saw Jean Claude Niringiyimana emerge as one of Africa's top Para taekwondo fighters, the Rwandan hopes to take the next step in 2018 by moving into the top five in the world.
Niringiyimana put the up to 61 kg K44 division on notice after finishing as Africa's top fighter at the African Open at home in Kigali. He followed that up with an impressive quarter-final showing at last year's World Championships.
"I'm very thankful for the support of my country and my teammates," he said. "When you have teammates, you have a family."
While his emergence as one of Africa's top fighters was recent, he has been competing against able-bodied fighters since 2014. He heard about Para sport in 2016, when Rwanda was named host of the 2017 African Championships and was recruited by the national team.
With the support of the Rwandan federation, Niringiyimana spends up to 30 hours a week training on his own or with his able-bodied brethren at his club.
"I want to be top five"
Rwanda's top-ranked fighter finished 2017 as the world No.13. His goal is to be in the world's top five by the end of this year. The top four fighters in his division at the end of 2019 will automatically qualify for Para taekwondo's Paralympic debut in Tokyo in 2020.
"This is the thing I value the most in my life (qualifying for Tokyo 2020)," Niringiyimana said. "It will be a big memory for me and for my family. It's been my dream since I first started practicing sports."
He credits the sport with already changing his life.
"Para taekwondo has really given a lot to me. I've discovered other countries and met different people from many countries. I've made so many friends," he said. "It has also given me the hope of winning at the world level and the ability to teach others how to develop their skills."
"I'm very thankful my parents named me Jean Claude. He's the reason I started martial arts," said Niringiyimana, referring to Belgian superstar Jean Claude Van Damme. "My dream is to meet him face-to-face and shake his hand."
Competition getting tougher
Niringiyimana's first step in moving up the rankings was at the African Open on 28 March in Agadir, Morocco. The event has attracted 97 fighters from 27 countries.
He will have to fight harder after losing in the 16th round-bout to Morocco's Ayoub Adouchi 8-4.
Morocco led the way with 22 athletes competing in front of the home crowd in Agadir. The team was led by long-time captain Abdennour Elfedayni (men's up-to-61 kg K41), his division's first world champion in 2009, and world No.2 Rajae Akermach (women's over-58 kg K44).
"Para taekwondo is growing very rapidly in Africa," said African Taekwondo Union President Ahmed Fouly. "It's the biggest continental Para championship ever."