China make come-back as Estonia, Latvia impress in Wheelchair Curling
China have now won three games after a slow start
Estonia and Latvia take major scalps on day three
07 Mar 2022
Imagen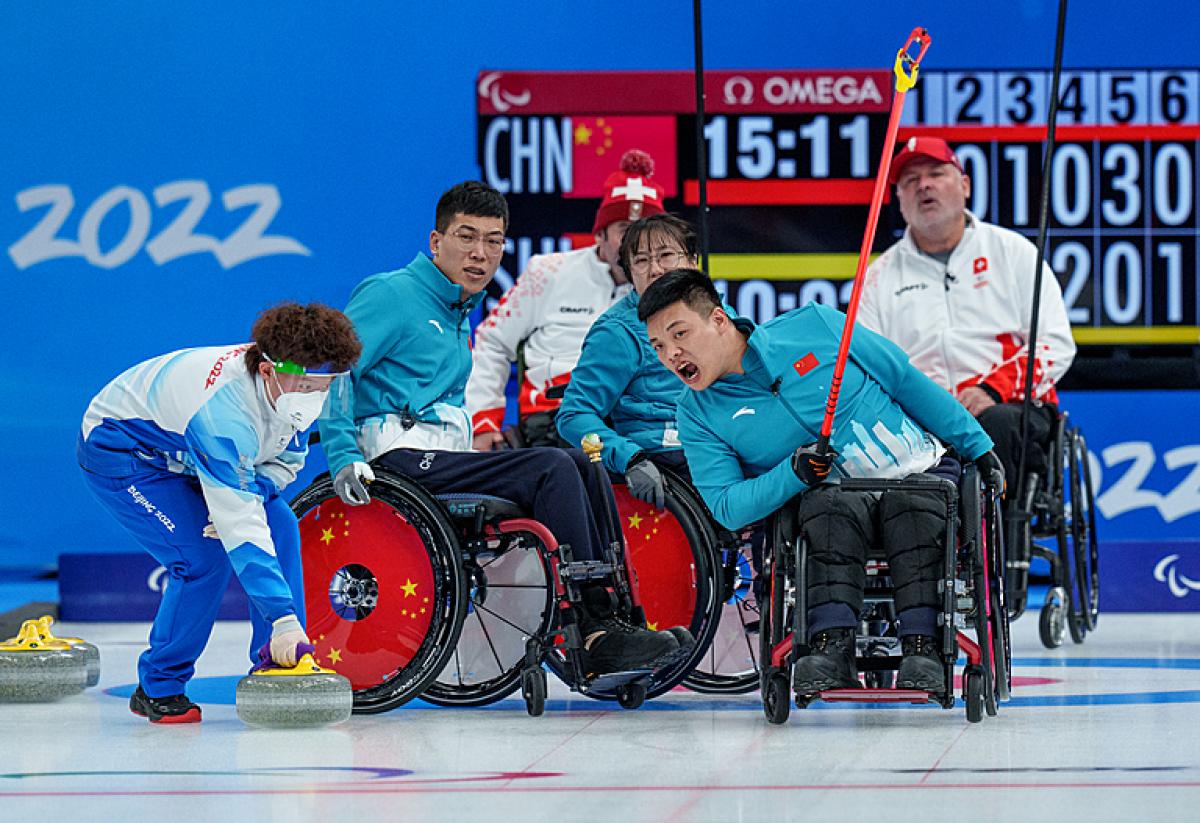 ⒸOIS Photos/Joe Toth
By World Curling and the IPC
Chinese wheelchair curlers ended the third day of round-robin play with their third victory at the National Aquatics Centre on Monday (7 March), gaining momentum after a slow start.
Heading into day three, the hosts and defending champions had lost their opening two games against Canada and Sweden but had shown signs of a comeback by easing past Estonia. On Monday they won two more games for a well-needed boost.
Estonia also enjoyed a great day on the ice. Chalking their first Paralympic victory, over Latvia, they went on to beat PyeongChang 2018 silver medallists Norway.
Latvia did however overcome World Championships runners-up Sweden to lift their own spirits.
Estonia rising?
Norway capitalized on their last-stone advantage in the first end against Estonia, scoring two, but the Paralympic debutants had other ideas about how game would end.
Playing the third end, and leading by 2-1, Norway's Jostein Stordahl came up short with his last draw attempt, giving up a steal of two.
In the fourth, Stordahl missed his target with his raise attempt, giving up a single steal. The teams went into the break with a 4-2 score, Estonia leading.
In the fifth end, Norway had a chance to score three points, but Stordahl's last take-out attempt completely missed the targeted Estonian shot stone and Norway gave up another single steal.
In the sixth end, Stordahl's raise attempt was unsuccessful and Norway gave up a steal of three points.
Estonia was leading the game by 8-2 going into the seventh end. In that end, Norway scored a single and then conceded defeat final a final score of 8-3.
Estonia's first game of the day delivered them their first ever victory at a Paralympic Games with a 6-5 win over Latvia. Ⓒ OIS Photos/Bob Martin
After the game, a delighted Estonian lead Katlin Riidebach said, "I don't want to be mean, but I'm very happy. Because in the last years we have always lost our games with Latvia. And here, at the Paralympic Games, we got our win and this is awesome. We were equally strong and it's an awesome feeling."
Speaking in general about her Paralympic experience, she added, "This is extraordinary, there are so many emotions. I'm very happy to be here."
Estonia now have two wins and two losses in the competition, whilst the team delivered Norway their first loss. 
Latvia unsettle Sweden
Despite a perfect clearing by Ronny Persson earlier in the first end, Sweden's skip Viljo Pettersson-Dahl was facing three Latvian stones when he played his last. His draw attempt wrecked on their own guard, giving up a steal of three.
In the second end, Pettersson-Dahl could not execute on his double take-out attempt with his last stone, and Sweden gave up another point.
Sweden got on the board with two points in the third end after two precise draws by Pettersson-Dahl.
Latvia was leading the game by 5-4 when they played the sixth end. In that end, Latvia scored three, and went up 8-4.
In the seventh end, Sweden scored three points right back with precise draw play, and reduced their deficit to a single point.
In the eighth end, Latvian skip Polina Rozkova had an open take-out to win the game, which she executed perfectly, scoring one point. The final score was 9-7 in Latvia's favour.
After the game, Rozkova said, "I don't know how to feel yet, because I need to relax. So I need 15 minutes! Of course it was a great job, and we are happy with the result, but I'm a little bit empty with emotions."
"Every win is important and my opinion is every shot is important. The important thing [in the sixth end] was to take it out and if we will be lucky, we will get three," she added.
Latvia head into day four with three wins and two losses.
China continue winning run
After a slow start, China registered their second and third wins on Monday against South Korea and then Switzerland.
In their game against South Korea, China stole two points in the opening end when Korean skip Go Seungnam rolled out of the house after removing one of the three Chinese counters.
In the second end, China skip Wang Haitao was unsuccessful with both of his difficult take-out attempts, and gave Korea a chance to score four points.
However, as Korean skip Go was heavy with his last draw, they needed to settle for three points.
China scored a single in the third and stole a single in the fourth when Go was heavy with his final stole.
The teams went into the break with a 4-3 score, China leading.
Ⓒ OIS Photos/Joe Toth
In the fifth end, South Korea had a chance for two points after a missed take-out attempt by Wang, but Go was light with his last stone and needed to settle for one.
The teams were tied at 4-4 when they played the sixth end. South Korea made a couple of crucial misses in that end, and China capitalized on them, scoring five. After this, Korea conceded defeat with a 9-4 final result, China winning.
After the game, Chinese third player Chen Jianxin said, "At the beginning of the game we were in a fantastic state, but when it came to the second end I made a small mistake so it gave the Korean team a chance to catch up. But after the second end we managed to balance the game in a way that was very close. The sixth end [when we got five] was the big moment. The home crowd is more motivating than pressure."
China ended the day with a 7-4 win over Sweden.
Canada's undefeated run ends
Three-time Paralympic champions Canada overcame the USA in their morning game, but suffered their first loss against Sweden in the evening session.
In the North American battle, Canada put two points on the board in the first end. After blanking the second end, the USA picked up a single in the third.
In the fourth, Canada scored three points due to their exemplary draw play. The teams went into the break with a 5-1 half-time score, Canada leading.
In the fifth end, American skip Matthew Thums was heavy with his last draw facing three Canadian counters, giving up a steal of two.
Canada was leading 7-2 going into the seventh end. In that end, they gave up a steal of two as Canadian fourth player Jon Thurston was not successful with his promotion take-out attempt.
Eventually, Canada ran the USA out of stones in the eighth. The final score was 7-4.
In their evening game against Sweden, Canada lost 6-3. The USA overcame Norway 6-5.
Ups and downs for Great Britain
The British started their first game of the day against Switzerland in an excellent manner, putting four points on the board in the first end. They could have scored even five, but their fourth player Gregor Ewan was heavy with his last draw attempt.
In the second, Swiss skip Laurent Kneubuehl was unsuccessful with his attempted double take-out, giving up a steal of one and giving a 5-0 lead to Great Britain.
The Brits kept the pressure on in the third, and filled the house with yellow stones. Kneubuehl was facing five of them throwing his last. As his promotion double take-out attempt didn't work out well, Switzerland gave up a big steal of give. After three ends, Britain was leading 10-0.
Switzerland put their first point on the board in the fifth, making the score 11-1, Britain leading.
Great Britain scored another big end in the sixth, putting four more points on the board, after which Switzerland conceded with a 15-1 final score.
After their victory, British second player David Melrose said, "We all performed at the same level and it helps so much when you're trying and get that consistency throughout the game. If we all perform, we know what we can do and what our capabilities are."
"I'd be happy at this point if somebody had said that I had one loss to this point, that would be grand. So we got to kind of build up again and get back into the groove again for the second game we play this afternoon," he added.
Unfortunately for Great Britain, Slovakia proved to be too strong in the evening session with the Brits falling 7-3.