Day 2 review: Rising stars shine at Beijing 2022
China move to the top of the medals table after adding their first golds in Para Alpine Skiing and Para Cross-Country
Sweden take on China in an exciting wheelchair curling rematch
Dramatic end to Italy v Slovakia in Para Ice Hockey
06 Mar 2022
Imagen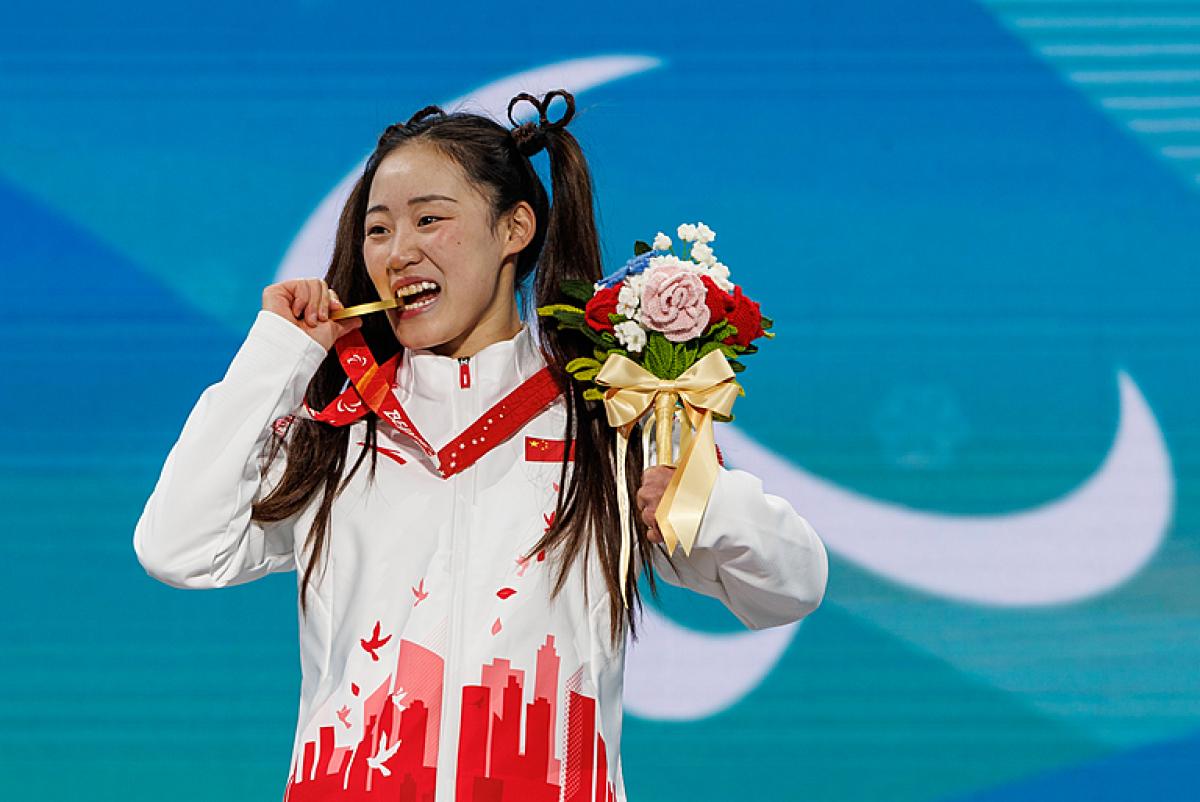 ⒸOIS/Simon Bruty
By OIS and the IPC
A sea of new faces stepped onto the podiums in Para Alpine Skiing and Para Cross-Country Skiing at the Beijing 2022 Winter Paralympic Games on Sunday (6 March).
These included a slew of Chinese athletes who grabbed four golds medals to make history for the hosts and end day two atop the medals table.
Beijing 2022 is the third consecutive time a Summer or Winter Paralympics has been held in Asia, following on from PyeongChang 2018 and Tokyo 2020.
The benefits to Para sport in the region are being keenly felt in Beijing with China and Japan ending day two with a combined 20 medals, placing them first and third in the medals table respectively..
Zhang hits warp speed in super-G
Hotly tipped as a skier who could challenge the likes of France's eight-time Paralympic champion Marie Bochet, China's Mengqui Zhang lived up to expectations in the women's super-G standing on Sunday.
Beating defending title-holder Bochet by 1.43 seconds, Zhang secured China's first ever gold in the sport. 
"I am so excited and I am so happy. Finally, I harvest," the 19-year-old said, laughing.
The gold adds to Zhang's downhill silver from Saturday, whilst Bochet was relieved to get on the board:
"So happy to be here and to make another race today. A bit exciting and maybe a bit scared. Happy with my skis and the silver medal."
"I think the Games will start today," Bochet said, also laughing.
Canada's Alana Ramsey repeated her performance from PyeongChang 2018 to take bronze.
Jingyi Liang was the second Chinese gold medallist choosing the biggest stage of them all to win his maiden major international medal in the men's standing.
Finishing just 0.24 seconds ahead of Austrian world champion Markus Salcher, Liang became the first men's gold medallist for China on the slopes.
"It exceeded my expectations. I have never thought about whether I could win a gold medal," Liang said. "I just presume it would be nice if I performed at a normal level.
"I am super excited now. I added another gold medal for China."
Canada's Alexis Guimond was third, securing his first Paralympic medal in speed events.
Winning her second consecutive gold and adding to a great day for Para Alpine Skiing in Asia, Japan's Momoka Muraoka once again interrupted the form of German Anna-Lena Forster in the women's sitting.
Coming into Beijing 2022 Forster had just grabbed four world titles and was the skier to beat.
But Muraoka utilised her winning momentum from the downhill 24 hours before to just edge Forster to gold by 0.11 seconds.
Despite her win Muraoka felt she had more left to give: "When I look back on the race today, I feel like I could have done more, but I got the gold medal so it is the fact that I'm also really happy."
Japan's Momoka Muraoka now has two Paralympic golds from Beijing 2022. Ⓒ Beijing 2022
Wenjing Zhang got her hands on bronze for China.
Having missed out on downhill gold, Norway's Jesper Pedersen returned to the National Alpine Skiing Centre with a renewed determination in the men's sitting.
Laying down the run of his life, Pedersen held his nerve after seeing some other sit-skiers lose control on the course.
"Being able to take home the Paralympic gold medal is just a dream come true from the last four years, so it's amazing to be able to be on the top again after Korea.
"Today was really good. Yesterday [in the downhill] was really good as well with the silver medal. Today I managed to beat Corey Peters [of New Zealand] by not so much, so I'm happy to be back on the top."
Pedersen and Peters swapped places on the podium from the downhill as Peters took silver.
Having made his debut at Salt Lake City 2002, Japan's Taiki Morii secured his third Paralympic super-G medal with bronze.
Stepping out of the shade cast by her now 10-time Paralympic champion teammate Henrieta Farkasova, Slovakia's Alexandra Rexova heralded the beginning of a potential new era in the women's vision impaired.
After Farkasova did not finish, Rexova and guide Eva Trajcikova skied into the gap to claim gold.
Rexova is just 16-years-old. 
"I can't believe we did it today. I'm very happy," the teenager said. "It's great that we are here together [with Farkasova]. She is our idol. She is an unbelievable athlete, so we are happy to follow her steps."
Great Britain's Menna Fitzpatrick finished with silver, guided by Gary Smith. China's Daqing Zhu was third to conclude another great day for the hosts.
Neil Simpson etched his name into the history books in the men's vision impaired, becoming the first British male skier to win a gold medal in alpine skiing at either the Paralympics or Olympics.
"We went into today with a clear game plan and it worked out pretty well," Simpson said. "I still can't put it into words quite yet. It's been quite a turnover the last couple of years with everything going on. I still can't believe it."
Guided by his brother Andrew, Simpson cleared the course just 0.40 seconds faster than PyeongChang 2018 silver medallist Giacomo Bertagnolli and guide Andrea Ravelli of Italy.
Austria's Johannes Aigner, guided by Matteo Fleischmann, added bronze to his downhill gold.
Golden double for the hosts in Para Cross-Country Skiing
Four years ago China's Peng Zheng was 15.8 seconds away from bagging a Paralympic medal as he finished fourth in the men's cross-country long distance sitting.
Missing out on a podium place at PyeongChang 2018 motivated Zheng to focus on his weaknesses. All the hard work paid off as the 29-year-old claimed gold in the first races at the National Biathlon Centre, 14.6 seconds ahead of teammate Zhongwu Mao in second.
"I am super excited. It is a dream come true," Zheng said. "Back in PyeongChang, I wasn't strong mentally or physically.
"Now, with four more years of training, I am in better physical condition."
China's Peng Zhen bounced-back from disappointment to win gold at his home Paralympics. Ⓒ Fred Lee/Getty Images
Canada's Collin Cameron took the bronze, trailing more than four minutes behind as Zheng and Mao secured China's first Paralympic medals in the sport.
The women's long distance sitting provided another show of strength from the Chinese as Honggiong Yang finished first ahead of US favourite Oksana Masters, to the delight of onlookers at the National Biathlon Centre.
"I can't believe it. This is so surreal," Yang said. "I actually felt worn out in the second half of the race, but then I heard them [the audience] cheering for me. With that in the background, the more I skied, the more powerful I felt.
"With this medal we've proved that team China has unlimited potential in winter sports."
Panpan Li gave the home nation a fourth Para cross-country medal of the day as she finished third.
Para snowboard gets underway
A series of world and Paralympic champions are safely through to the quarter-finals of the Para Snowboard-Cross after qualification on Sunday.
Finland's Matti Suur-Hamari is the defending title holder in the men's SB-LL2 as well as the Worlds gold medallist. The USA's Keith Gabel is the silver medallist from PyeongChang 2018. Both men will race in the next stage.
In the men's SB-LL1, Tyler Turner is on course to claim Canada's first Para snowboard medal having qualified for the quarter-finals. The world champion could face Paralympic gold medallist Mike Schultz of the USA in the later stages if all goes to plan for both riders.
France's Maxime Montaggioni arrived in Beijing as the world title holder in the men's SB-UL and secured himself a quarter-finals place. China's Li Lija has finished on the World Cup podium previously and has also progressed in the competition.
France's Maxime Montaggioni was one of the qualifiers on Sunday. Ⓒ OIS Photos/Chloe Knott
In the women's SB-LL2 the Netherlands' Lisa Bunschoten and Canada's Lisa Dejong – also in the running to win her country's first medal – advanced comfortably to Monday's races.
Rematch shows Sweden have what it takes
Sweden showed their strength against defending Paralympic and world champions China in the wheelchair curling round-robin in a replay of the gold medal game from the 2021 World Championships.
In their morning game, the Swedes blanked the first end and got forced to a single in the second.
They took a commanding 4-0 lead after China's skip Wang Haitao was heavy on his last draw, sliding past two Swedish stones for a steal of two points.
With another well played end by Sweden in the sixth, China faced a challenging raise take-out where they just missed, and gave up another steal for a 5-0 score.
The Chinese clustered their stones in the four-foot ring throughout the seventh end, hoping for a Swedish miss to enable a big score, but with a perfect freeze by third Ronny Persson, this would be a challenge. China made a freeze right back, but this meant they could only score one point to make it 5-1.
In the eighth end, Sweden ran China out of stones to win, 5-1.
Sweden's win against the defending champions will give them a boost. Ⓒ Getty Images
"It feels very good today!" said Sweden's lead, Kristina Ulander. "We did a good job and stayed focused on all stones."
China did however go on to win their second game of the day, beating debutants Estonia 9-3.
Canada, who are looking to regain their Paralympic title after losing it to China in 2018, are still unbeaten after three games. 
The USA, Switzerland and Latvia registered their first wins on Sunday with four days of round robin games yet to play.
Drama on the ice
Italy and Slovakia both admitted to training all year for their Group B match-up in the Para Ice Hockey and the spectacle was more than worthy of such attention — even if it did prove too much for the nerves of several of the victorious Italians. 
After 45 minutes of non-stop action and five minutes of sudden-death overtime — including a first-ever Paralympic goal for Slovakia and a late third-period Italy equaliser — it all came down to the first penalty shootout of Beijing 2022.
Even the regulation three shots per side were not enough to separate the two teams, ranked seventh (Italy) and eighth (Slovakia) in the world.
"I was crying at the end from the tension," Italy defenceman Andrea Macri said. 
He was not the only one who struggled to hold it together when 24-year-old Nils Larch stepped up to take the fourth penalty for Italy with the whole stadium aware a successful strike would secure victory.
A casual-looking Larch knocked it in with the calmness of a man who later simply said, "I just like to take penalty shootouts."
Italy reached an important win against Slovakia. Ⓒ OIS Photos/Joe Toth
The USA have no thoughts of going home yet, either. The three-time defending champions secured their semi-final spot with an ominously good performance against the PyeongChang 2018 Paralympic bronze medallists South Korea.
A first period hat-trick from Jack Wallace set them on the way to a 9-1 victory. The bad news for their next opponents is they now have three days of practice, with no games scheduled. 
In the final game of the day China made it two wins from two, beating Czech Republic 5-2.