China's Para Nordic team makes an entrance as Paralympic champions grab gold
Holub, Sakhanenka, and Shyts take two golds each for Belarus in cross-country races at the Vuokatti Europa Cup with Para biathlon action still to come
19 Dec 2021
Imagen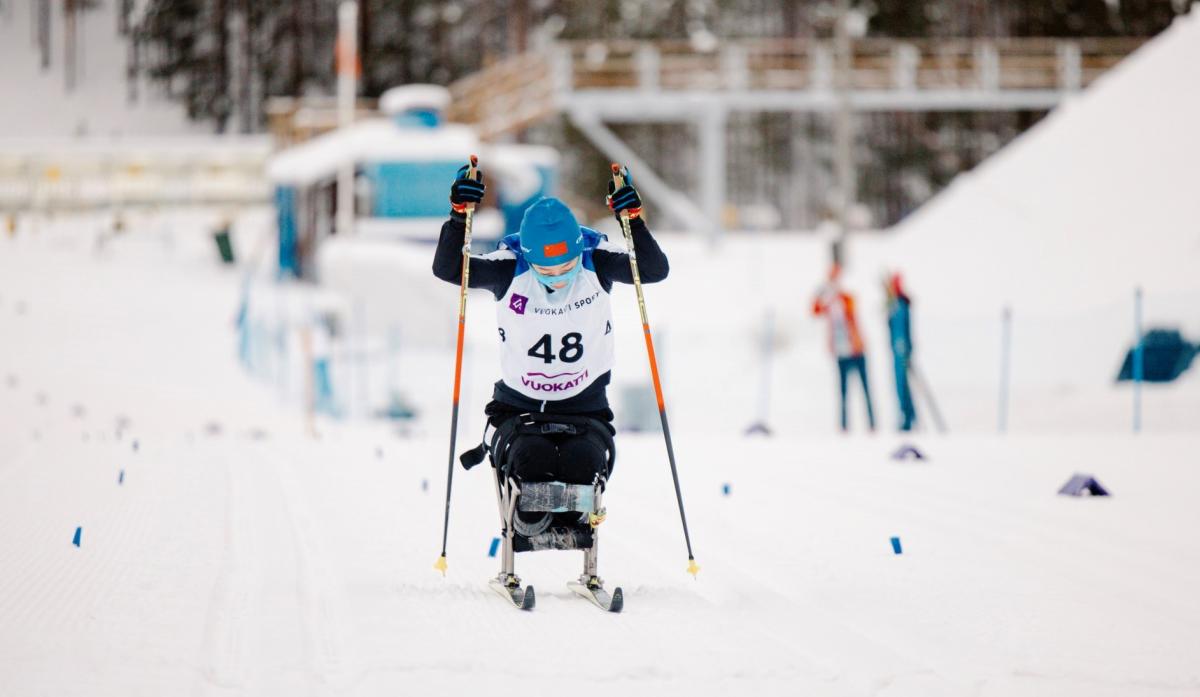 ⒸVuokatti Sport/Loru Creative
By Lena Smirnova | For World Para Snow Sports
Chinese athletes have returned to the World Para Nordic Skiing scene after a lengthy absence, making a triumphant comeback at the Europa Cup in Vuokatti, Finland this week.
Last seen during the 2018-19 season, China's Para Nordic team has since more than doubled in number and also become competitive with the world's best. Its skiers won medals in all but one of the cross-country races, which opened the competition in Vuokatti, collecting a total of 12 medals.
Sit skiers Liu Mengtao and Shan Yilin were especially successful, each winning silver medals in the short and middle-distance events of their respective classes.
CHINA'S WELL-RECEIVED COMPETITIVENESS
China's instant success at the Europa Cup took many athletes aback.
"They are a big team," said Brazil's Cristian Ribera, who won gold in the men's short-distance race ahead of Liu on the first day, but lost to him on the second day in the middle distance.
"They don't participate often in competitions so it's a big surprise and the guys were very strong. I'm happy to compete with them."
Belarus' Valiantsina Shyts, who took back-to-back gold medals in the women's sitting races, also welcomed the strong competition from China.
"These are probably the first big races for them and they are getting these kinds of results. That is really cool," Shyts said. "The competition level is very strong. This is good. Strong competition is always good."
The Belarusian cross-country specialist felt the growth in competitiveness during her two races in Vuokatti. On the first day, Shyts was 8.9 seconds ahead of Shan Yilin, but in the middle-distance race, Shan shrunk that gap to 1.6 seconds.
All the same, this was not enough to dampen Shyts' celebratory mood.
"I was not expecting this at all because before I was better in the sprint and definitely not the middle or long distance," Shyts said of her middle-distance gold. "This is a first for me."
BELARUSIAN DOUBLES
While Shyts swept the women's sitting cross-country events in Vuokatti, her teammates Yury Holub and Sviatlana Sakhanenka achieved the same feats in the men's and women's vision impaired races.
For Sakhanenka and Holub's former guide Dzmitry Budzilovich, this is the second season of skiing together and their first major competition of the 2021-22 season. As the pair's double gold suggests, the new partnership is working smoothly.
"We have already connected so well. It is very comfortable for us to work together," Sakhanenka said. "We have shared goals that we are aiming for and we understand each other twice as well. Everything is fantastic."
Aside from a good connection, the duo benefitted from their thorough knowledge of the Vuokatti ski course.
"We have been coming here for more than 10 years so we know every turn, we know every tree branch," Budzilovich said. "We can ski this course with our eyes closed."
AT HOME IN VUOKATTI
While many athletes, including those from Belarus and Russia, have trained extensively in Vuokatti during the pre-season, it is not likely that any of them know the course as well as Finland's vision-impaired skier Inkki Inola and his guide Arttu Kaario.
The pair have been training in Vuokatti for a decade and return to the track almost every month for at least one week. Their summer camps are also held in Vuokatti.
Using that knowledge of the course to their advantage, Inola and Kaario brought the host nation a silver in the short-distance race, Finland's only medal at the Europa Cup so far.
"This is my first medal at the Europa or World Cup. I can't believe what I have done, and I feel so good that I got it," Inola said.
"We can learn from these competitions and that's good. We see where the other skiers are and we see the gap from us to the top, so it's good to have races like this against such tough opponents."
UKRAINE'S SWEEP
Russia's Ivan Tsaplin also made the most of his knowledge of the course when he took gold in the men's standing middle-distance event. That knowledge became even more useful when the skier's vision was obstructed in the final laps of the 12.5km race.
"I took my glasses off in the second lap because I couldn't see anymore. It was dark. And then closer to the fifth lap, I am skiing and my eye starts to hurt. Probably from too much cold air," Tsaplin said.
A timely shout from his coach seems to have saved the day for the young skier, who has not competed internationally since early 2020 and finished just two seconds off the podium in the earlier short-distance race.
"On my last lap, when I was going up the first climb, they shouted that I am trailing by five seconds. I scaled up my efforts as much as I could, rested a bit on the descent," Tsaplin said.
"But on the climb by the finish, I went all out. And my coach was shouting, 'you are already winning', and so, here I am."
In the women's standing class, it was double gold for Ukraine's Oleksandra Kononova.
The four-time Paralympic champion led a Ukrainian sweep in the short-distance race with teammates Liudmyla Liashenko and Yuliia Batenkova-Bauman joining her on the podium.
In the middle-distance race, however, Liashenko was pushed down to fourth place as China's Zhao Zhiqing took the bronze.
The Europa Cup in Vuokatti continues with the Para biathlon sprint and individual races on 20-21 December.
Full results from the cross-country races are available on the World Para Nordic Skiing website.