Book author Oksana Masters transitions back to winter with four gold in Canmore
Brittany Hudak takes Canada's golden tally at home World Cup to eight as biathlon sprint and middle-distance events wrap up season-opener competition
13 Dec 2021
Imagen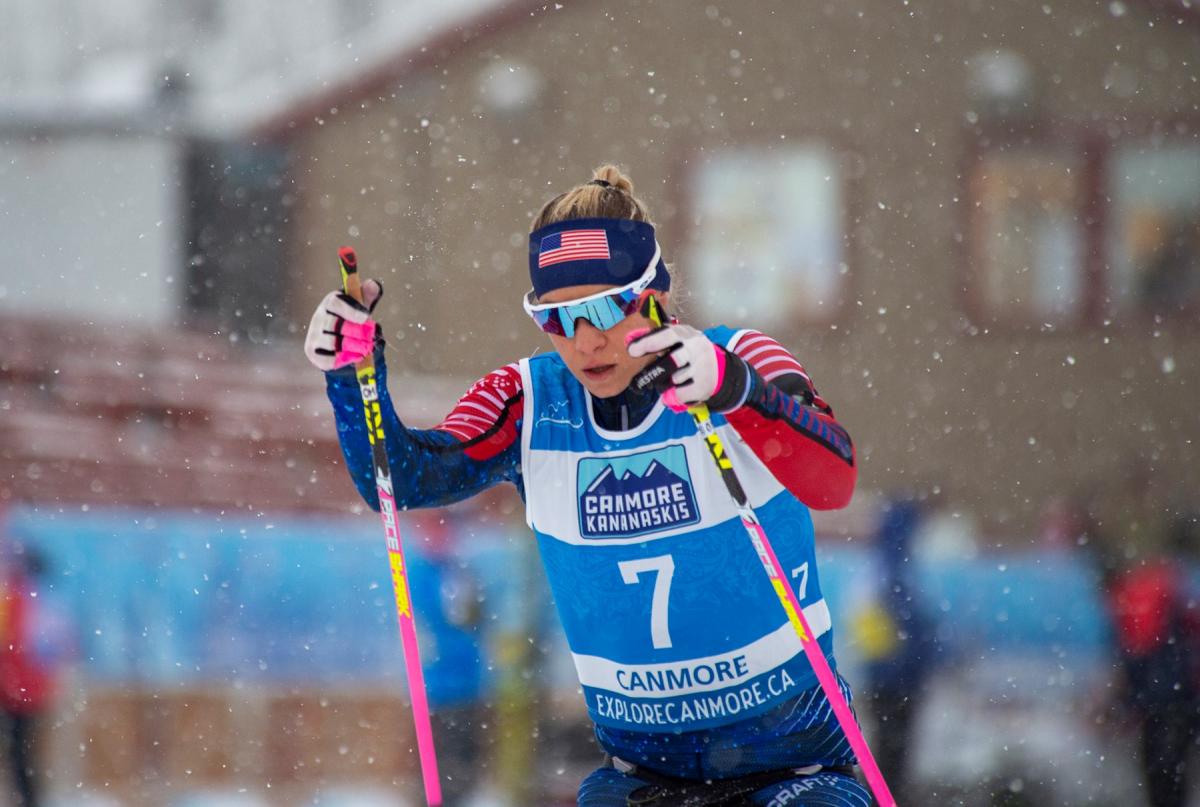 ⒸPam Doyle / Alberta World Cup Society
By Lena Smirnova | For World Para Snow Sports
A fourth gold medal in six races crowned Oksana Master's first major Para Nordic Skiing competition since winning two gold in Para cycling at the Tokyo 2020 Paralympic Games.
USA's dual athlete swept the women's sitting cross-country events in Canmore, Canada, which hosted the 2021-22 World Cup season opener, and also picked up a gold and two silver medals in biathlon.
This triumphant return back to snow made Masters one of the biggest winners at the six-day competition, along with athletes from Canada and Russia.
"These were amazing World Cup trails to race on. It always feels good to get back to that perfect World Cup grooming that sometimes at training you don't get and it gives you exciting feels every time," Masters said. "I'm just so excited that the official Paralympic Winter Games season is starting here in Canmore."
WRITING A GOLDEN TALE
The biathlon sprint and middle-distance events wrapped up the World Cup in Canmore. 
Masters took gold in the sprint despite missing shots during both of her turns at the range. Her four missed shots in the middle-distance, however, were harder to make up for as her teammate, Paralympic biathlon champion Kendall Gretsch shot clean to take the gold. 
Gretsch also won gold in the biathlon individual and silver in the sprint, while Russia's Natalia Kocherova took bronze medals in all three biathlon races.
Aside from marking her return to winter sports, Masters was celebrating a personal milestone in Canmore. The competition coincided with the skier's announcement about the release of her first book, The Hard Parts, in July 2022.
"I'm so excited and anxious and nervous for people to know some deeper, intimate parts about my story that I recently started sharing for the first time," Masters said. "It was really cool to sit back and look at the journey of where I came from to where I am."
Danila Britik wrote his own golden tale in Canmore when he claimed his first ever World Cup victory in the men's sitting class. 
The Russian skier was second to his teammate, multiple Crystal Globe winner Ivan Golubkov, in the sprint after missing three shots. Britik cleaned up these mistakes on the final day of competition and shot clean to earn his career's first gold while Golubkov collected the bronze.
O CANADA
Canada's Collin Cameron took the silver in the final men's sitting race at Canmore after a clean shooting streak, helping to take the host nation's total tally of medals to 17. 
His teammates Brittany Hudak and Emily Young also reached the podium on the final day of competition. Hudak bounced back from finishing fourth in the first women's standing biathlon race on Thursday to collect two gold medals in biathlon over the weekend. 
Emily Young shared the podium with Hudak in the middle-distance race when she took the silver, while Poland's Iweta Faron won her first World Cup medal - a bronze in the sprint - since January 2020.
The Russian team emerged as the top winner in the biathlon events, collecting 35 medals in the three races as well as 12 out of 18 gold medals. 
Russian women swept the vision impaired events with youngster Vera Khlyzova taking three gold. Stanislav Chokhlaev and his guide Oleg Kolodiichuk also took three gold in the men's vision impaired biathlon and led two Russian sweeps in the individual and middle-distance races. 
It was a harder battle for Vladislav Lekomtsev in the men's standing class. The Russian skier lost his nearly two-year winning streak when France's Benjamin Daviet beat him in the individual event. However, he managed to come back strong in the following two events, winning both after missing only one shot, and leading a Russian sweep on the final day of competition.
Daviet took silver in the sprint, but shaky shooting in the final laps of the middle-distance race cost him a medal as he finished fourth.
"I was really pleased with my first biathlon race where I was shooting 20/20 considering that conditions were a little complicated," Daviet said of his biathlon performance in Canmore. "There was quite a lot of wind. One minute the wind was blowing right to left and then left to right. It wasn't easy at all and so I'm really confident about my shooting. And on the skis it's coming little by little. 
"I know that we weren't aiming for big performances in December because we have a complicated season, one that is going to be long with the World Championships in January in Norway at Lillehammer and the [Paralympic Winter] Games in March in Beijing. So we were not aiming for the first races of December."
Full results from the World Cup in Canmore are available on the World Para Nordic Skiing website.
Recordings of the live streams from the biathlon races in Canmore are available on the World Para Snow Sports Facebook page and Paralympic Games YouTube account.