Sports fanatic Luc Percival finds his calling in Para sports photography
The France-based photographer is the heart and soul of Para sports events for over a decade and has developed a personal connection with some athletes
09 Oct 2021
Imagen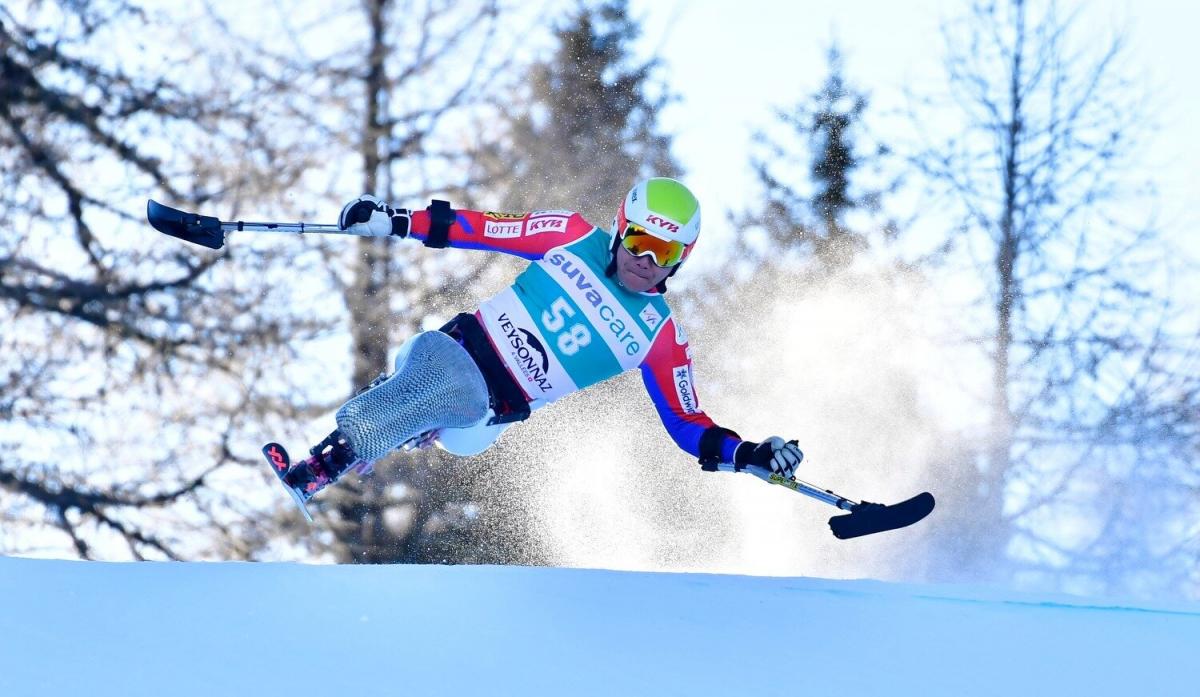 ⒸLuc Percival
By Lena Smirnova | For World Para Snow Sports
It takes a Para alpine skier or Para snowboarder less than one minute to finish a run. Para Nordic skiers take around one hour for a long-distance race. Para sports photographer Luc Percival is on the snow up to eight hours straight to capture those precious moments on film.
In more than a decade of covering Para sports, the English-born, France-based photographer has done it all.
He had to move out of the way as out-of-control sit skiers came barrelling towards him on an alpine course, froze his knees at a Para Nordic competition, and gave a rousing speech to an eight-time Paralympic champion during a gondola ride.
Now we put the spotlight on the man behind the memorable photos from the World Para Snow Sports competitions.
Man on a mission
A sports fanatic, once a competitive rock climber and triathlete, Percival was always drawn to sports photography. But he did not immediately realise that it was Para sports that captured his imagination the most.
He first covered Para sports at a Para cycling competition in 2010 at the local velodrome in Le Mans. A few Para cycling races later, Percival discovered that he had found his calling.
"I did not realise at the time that it wasn't the cycling that I have fallen for, it was actually the Para sports that I have fallen for," he said.
"Then I switched my focus from cycling to looking at all the different aspects of Para sports and went to London 2012 [Paralympic Games]. I came back from London with my eyes popping out of my skull and tens of thousands of photos."
Upon his return home to Le Mans, Percival told his wife that he was going to spend more time on the road, travelling to as many Para sport competitions as possible.
He spent the next year crisscrossing Europe, photographing wheelchair tennis, Para athletics, and Para Snow Sports, among other competitions.
"I was absolutely all over the place, and it didn't matter at the time that I wasn't really making any money. I just loved doing it," Percival said.
"For somebody who spends a lot of time being frightened of doing certain things and seeing certain things through, to see people who don't present any excuses whatsoever and just get on with stuff really carried me along. I could not make an excuse for not turning up to competition because they weren't making any excuses."
A day in the life
A photographer's working day at a Para Snow Sports competition can be a real grind.
Percival typically gets up at five in the morning. After breakfast, he goes up the hill with the coaches for the jury inspection.
Then he skis the course on his own about four times to look for good photo positions. He takes pictures when the athletes are inspecting the course, and continues to go up and down until he finds a safe position he likes.
"By the time the competition starts, I have probably skied the hill half a dozen times with 15 kilos of camera gear on my back," Percival said. "And then you're on the hill. And you wait. You have the start lists with you and you just hope everything runs on time."
One run could last up to two hours. To maintain his energy levels, Percival snacks on chocolate bars. On the colder days, he can also be seen dancing to stay warm.
After the medal ceremonies, Percival returns to the hotel to select the best images, edit and submit them.
"Your day starts at 5:00 am and at 11:00 pm is probably when I switch my lights off," Percival reckoned.
"It's tiring. Carrying the gear all day, holding six kilos of camera in the cold is hard because your muscles freeze up. You're not moving around very much."
The work hours are just as long at Para Nordic competitions, but Percival enjoys more freedom to move around. Here he walks around big sections of the course, instead of skiing it.
On the downside, there is the additional challenge of trying to find a safe place to photograph biathlon where he will not distract the athletes or get hit by stray bullets.
The Nordic races are also longer and often a lot colder.
In his time as a sports photographer, Percival has devised ways to deal with the elements: layers, heat packs, and the occasional course-side dance. But this formula is not always fool-proof, as Percival painfully discovered while covering competition in Vuokatti, Finland.
"I had not realised I had been kneeling in the snow and it was -12. When I stood up, my legs were bent because my knees had actually frozen solid," he said.
However cold or tired he may get during the day, Percival always goes to bed grateful.
"If you are a clock watcher, it's not for you. You do not want to be there. You got to be passionate about it, you got to want to be there, you got to like being on a hill. You got to be able to tolerate cold, discomfort and enjoy every moment of being out there even if you are frozen and you can't bend your fingers," he said.
"The worst days that I had in terms of the weather, those are the pictures you remember because they're the ones that are the hardest earned."
Gondola messiah
As an official photographer at many Para Snow Sports events, Percival has developed a more personal connection with some athletes. That includes occasionally being their confidante.
He particularly remembers one conversation with Para alpine skier Marie Bochet during the 2019-20 season when the Paralympic champion was going through an uncharacteristic winless streak.
While sharing a gondola ride with Bochet, Percival mentioned his 12-year-old daughter Emilie, who adores the French skier and has a poster of her on the bedroom wall.
"I said, you know, Emilie is your biggest fan and what she is going to do today is sit on your shoulder and tell you to go for it down that hill and not worry about anything," Percival said.
"And it worked. Emilie sat there on her shoulder that day Marie got her gold."
Percival also enjoys sharing light-hearted moments with the athletes, for example, when he filmed Dutch sit skier Barbara van Bergen warming up before a race in Switzerland.
"The funny bit was not being able to keep up with her when she was going 'slow'. It was me screaming all the way down the course," Percival said.
These are the picture-perfect memories that keep drawing Percival back to Para sports again and again, despite the long days, frozen limbs, and heavy photography gear.
"It's not just about taking pictures," he said. "For me, it's very much about putting those guys at the forefront of people's minds with images to say, look, you can do whatever you want and you can be the best you can be if you try and you don't give up. We are all just ordinary people capable of doing quite extraordinary things if we choose to," concluded Percival.