Mac Marcoux makes history with his blind faith
Paralympic champion and his guide Tristan Rodgers become first vision impaired pairing to tackle three iconic freeski lines in Canada
29 May 2021
Imagen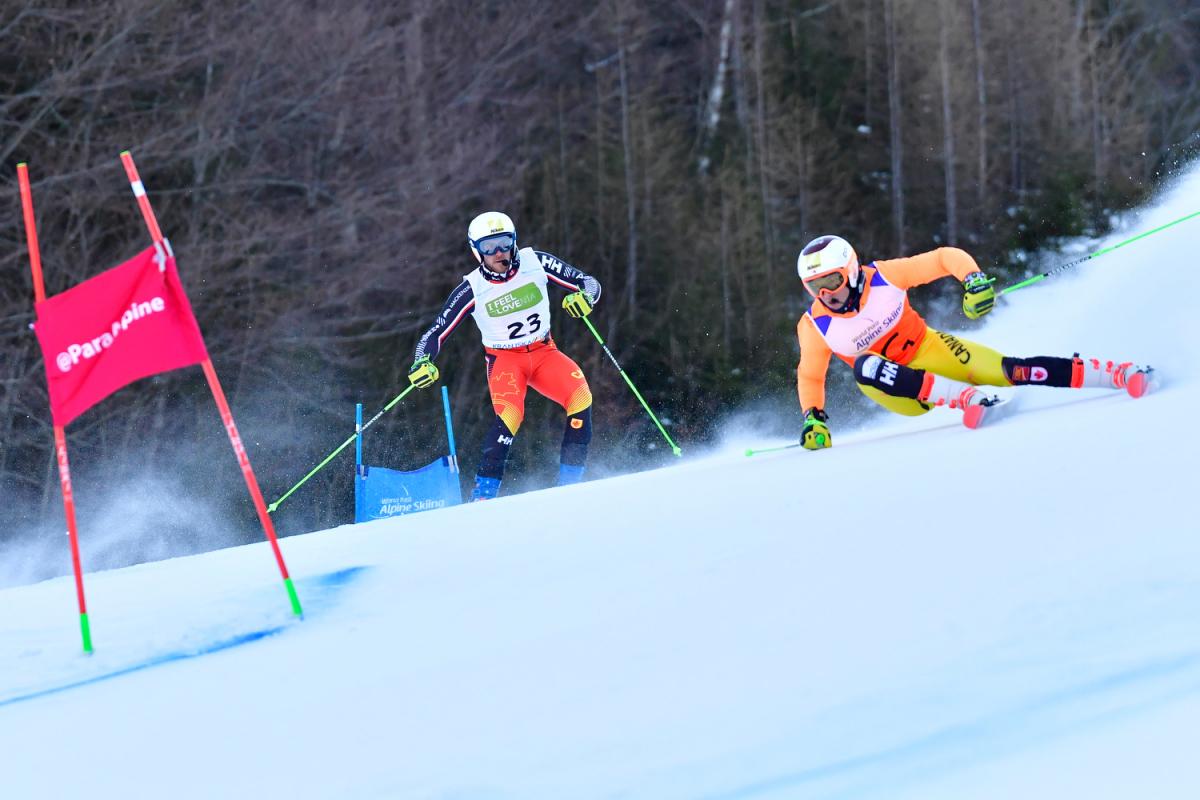 ⒸLuc Percival
By Lena Smirnova | For World Para Snow Sports
The coronavirus pandemic has left many athletes struggling to fill the hours. 
But for two-time Paralympic champion Mac Marcoux, getting home after a last-minute race cancellation meant more work that ever before. Just of a different kind.
The Canadian Para Alpine skier spent five weeks chopping wood in a sheltered community in northern Ontario to supply two family homes as well as family friends and neighbours with firewood for the following winter.
And that's not the only productive task he managed to accomplish. 
While the global pandemic prevented Marcoux from taking part in international competitions this year, he used his time well, training, taking care of a lingering injury, being named Canada's Snowsport Athlete of the Year, and releasing a video that made history for vision impaired skiers. 
Acing plan C
Marcoux was on the road with fellow Canadian skiers for the World Cup in Hafjell, Norway when news of COVID struck. After one training session, and a cup of coffee on the hill, the team went back to Canada. 
"It was definitely the farthest I've ever gone for one morning of skiing," Marcoux said of the March 2020 trip. "We skied one morning and then we were told we had to leave so we turned around and wheeled out."
For Marcoux this meant heading back to his home in Ontario. While this remote community does have power supply, local households still rely mostly on firewood for heat so when Marcoux returned, he was quickly put in charge of the spring woodcutting campaign.
"It's a lot more than just splitting," he said. "You're cutting trees and you're hauling them out of the bush and then you're cutting it up and then you have to split it and take it home and put it in your own shed. You touch the same piece of wood a lot.
"The family puts me to work whenever I'm home. I don't spend as much time as I used to at home so when I am there, they take advantage of it!"
Chopping wood was just one of the physical activities that Marcoux undertook in the first four months of the pandemic. Since he lives far out of town, the skier already had a well-equipped gym set up in his garage and was able to follow his usual training regime while at home.
Weekly zoom calls with other Team Canada members helped to keep motivation high.
The Canadian skiers were training together again in Whistler by July, but in September Marcoux took a step back to deal with a lingering knee injury that he sustained in 2015. He was back to training on snow six weeks after the surgery although it was still unclear how the season would turn out with the COVID situation in flux around the world.
"The team had a general plan, but by the time we came around to January, we were already on plan C or D," Marcoux said. "The biggest thing was creating a really productive training environment at home so that even if we weren't going to make it to races, we would have as high a performance setting as possible. At the end of the season it turned to work out the best."
Even without international races in 2020-2021, Marcoux managed to finish the season on a high note. In April he was named the 2021 recipient of the John Semmelink Memorial Award, which is the highest recognition given to Canadian snow sports athletes. 
"It's such a huge honour. I couldn't be more stoked," Marcoux said. "With the craziness of this season, it's really cool to be honoured in such a way to continue to stay motivated."
Freeskiing pioneers
Next season promises to be a busy one for Marcoux. He is set to compete at the Lillehammer 2021 World Para Snow Sports Championships in January and the Beijing 2022 Paralympic Winter Games in March.
But the Para Alpine circuit is not the only thing that Marcoux has as his target. 
The double Paralympian is also eager to blaze a path in freeskiing. In 2020, Marcoux became the first vision impaired athlete to complete the three most iconic freeski lines at the Whistler Blackcomb resort. This feat was documented in a short film called Blind Faith. 
Filmed over 10 days in early spring 2020 and released in January 2021, the documentary shows Marcoux and his guide Tristan Rodgers navigating the steep backcountry slopes of the ski resort that hosted the 2010 Paralympic Winter Games. 
World Para Snow Sports will show Blind Faith on 31 May on the World Para Snow Sports Facebook page.
As opposed to ski racing, freeskiing does not have safety crews or nets, increasing the risk factor, which is further multiplied when two people drop into a single line simultaneously.
"The most challenging part about skiing those lines as a pair was we had no idea how to go about it," Rodgers said.
"Mac has so much experience in the race course, he knows exactly what kind of information he needs to perform, but had never taken that experience outside of the B-net. We were pretty much improvising and figuring it out on the go. I'd never skied any of those lines either, the first time was with Mac behind me, which made it even more spicy." 
The fact that no legally blind person has done freeskiing at this level before made Marcoux, who is also a pioneer in mountain biking and snowmobiling, even more eager to try it.
"The fun part is the unknown," Marcoux said. "I find myself doing a lot of sports that I was told not to do because I was blind or that I was a little bit discouraged into jumping in with two feet and pursuing because it's something that hasn't been really done before so my goal moving forward as an athlete, as we wind down after the Games, is to take more time to pursue these sports and hopefully get some other kids [involved]. 
"I want to show people that even though it hasn't really been done before, if it's something you're passionate about, there's always a way to get it done."
For now the crowning jewel in their freeski experience remains "The Coffin" - a straight, double-black diamond line with a rock-lined chute. It took the pair several tries to complete.
"When we stomped the Coffin I felt really relieved that we wouldn't have to go back in there," Rodgers said. "There isn't much room for error and it's quite intimidating. It's funny because looking back a year later I'd love to go back and ski it even faster with Mac."