Jakub Krako's new approach to sport after becoming a father
Slovakia's five-time Paralympic champion alpine skier making every minute away from son and daughter worth it
28 Feb 2021
Imagen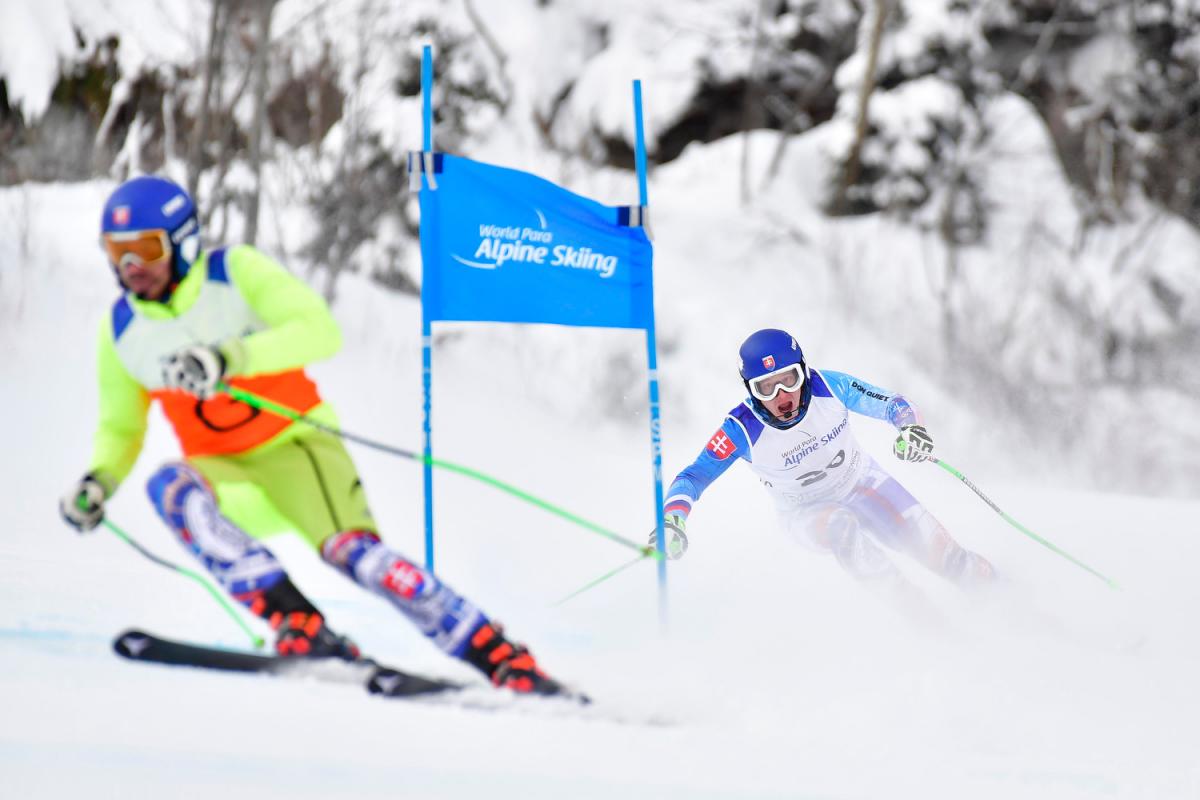 ⒸLuc Percival for World Para Snow Sports
By Lena Smirnova | For World Para Snow Sports
Jakub Krako travelled 50,000 kilometres in 2018 in his quest for Paralympic Games medals and World Cup victories. While there were no Paralympic medals on the line since then, the Slovak Para alpine skier made sure even more than before that every one of those kilometres counted.
There are two good reasons for this: the athlete's son Leo, born in February 2018, and daughter Sarlota, who was born in January 2020.
"I try to be with them as much as possible and enjoy every moment," said the five-time Paralympic champion. "It is really difficult for me to leave them because I have to train. Therefore, I try to do my best in training, so the time I spend on skis without my family is not wasted." 
Another life
Krako has never been one to lack ambition. After almost two decades in the sport, the vision impaired skier has amassed an impressive collection of medals that include five Paralympic golds and silvers, two world titles, and countless World Cup podiums. 
But now the multi-champion is adjusting to a new title - that of a father. 
His son Leo was born shortly before Krako left to compete at the PyeongChang 2018 Paralympic Winter Games. His daughter also came into the world during the skiing season. 
"The most difficult thing about combining the roles of athlete and father is not training hard and being with family, but recovery. Honestly, I miss sleeping. Really, a lot. But Leonard and Sarlota's smiles are the biggest reward for me," Krako said.
Krako's frequent travelling for training and competitions often keeps him away from witnessing his children's rapid growth in person. While he was racing at the 2019 World Para Alpine Skiing Championships, for example, Leo was learning to take his first steps.
The skier makes video calls to check up on his family when he is away from home, but when some moments still pass him by, Krako prefers to look at the situation philosophically. 
"This is my job and a lot of men have to go for their jobs to the office and spend a lot of time there," he said. "When I come back to Slovakia, I spend a lot of time with them so perhaps I miss a lot of things now, but when I come back, I will get it back for me and for my family."
Settling down 
Last season, Krako spent more time with his family than he expected because he got injured while training in Austria in November 2019. The skier ruptured an anterior cruciate ligament and lateral ligament and had to undergo three knee surgeries, followed by rehabilitation, instead of racing on the World Cup slopes with fellow athletes.
In a way, his recovery period was less impacted by the arrival of the COVID-19 pandemic as Krako was already staying home and doing rehabilitation. 
He started easing back into training in the snow indoors in mid-2020, and wand took part in two World Cup stages during the 2020-21 season alongside guide Branislav Brozman. The pair took seven silver medals in eight races, including four in the technical disciplines and three in the speed disciplines.
"I just enjoyed Christmas with my family and in the new year I started to get back. Pain, tears and sweat were my daily routine. But now I feel stronger," Krako said.
While the 2019-20 season was a calm one for Krako, in a more typical season he would be on the road for a significant part of the year. In 2018, the distance he travelled tallied up to 50,000 kilometres. Half of that was travel to far-off destinations like Canada and South Korea, with another 25,000 kilometres travelled by car. 
"It's pretty difficult," Krako said. "Skiing as a sport is always in the most beautiful areas because we are in the mountains and in the snow, but we have to travel a lot and it's very difficult for the body and for the mind."
While the constant travel is nothing new for Krako after two decades in the sport, it has become more difficult with a family waiting for him at home. 
Now 30 years old, the Para alpine racer is settling down more into family life. He recently built a new house in provincial Bojnice and moved there from the capital Bratislava where he and his wife Andrejka lived before. 
As his lifestyle evolves, the question of how long he will continue to travel for skiing continues to be at the top of the athlete's thoughts. And there is still no definite answer.
"When I was in Vancouver [2010 Paralympic Games], I thought that I had a pretty good success and it would be really difficult to repeat it, so I thought, 'OK, Sochi [2014] is the next level and after it I can stop.' After Sochi, my guide told me, 'OK, try just one year'," Krako said. 
"Next fight was in PyeongChang and I said to Brani [Branislav Brozman], 'OK, I can stop after PyeongChang, I have a family.' I can't say now if I will stop because the next cycle is here and I take it from Paralympics to Paralympics. After it, I have to talk with my wife, to see if she will let me go race."