'Forced friendship' leads to milestone moment for Marcoux
Canadian VI skier celebrates 50th World Cup podium with help of guide Tristan Rodgers
05 Feb 2020
Imagen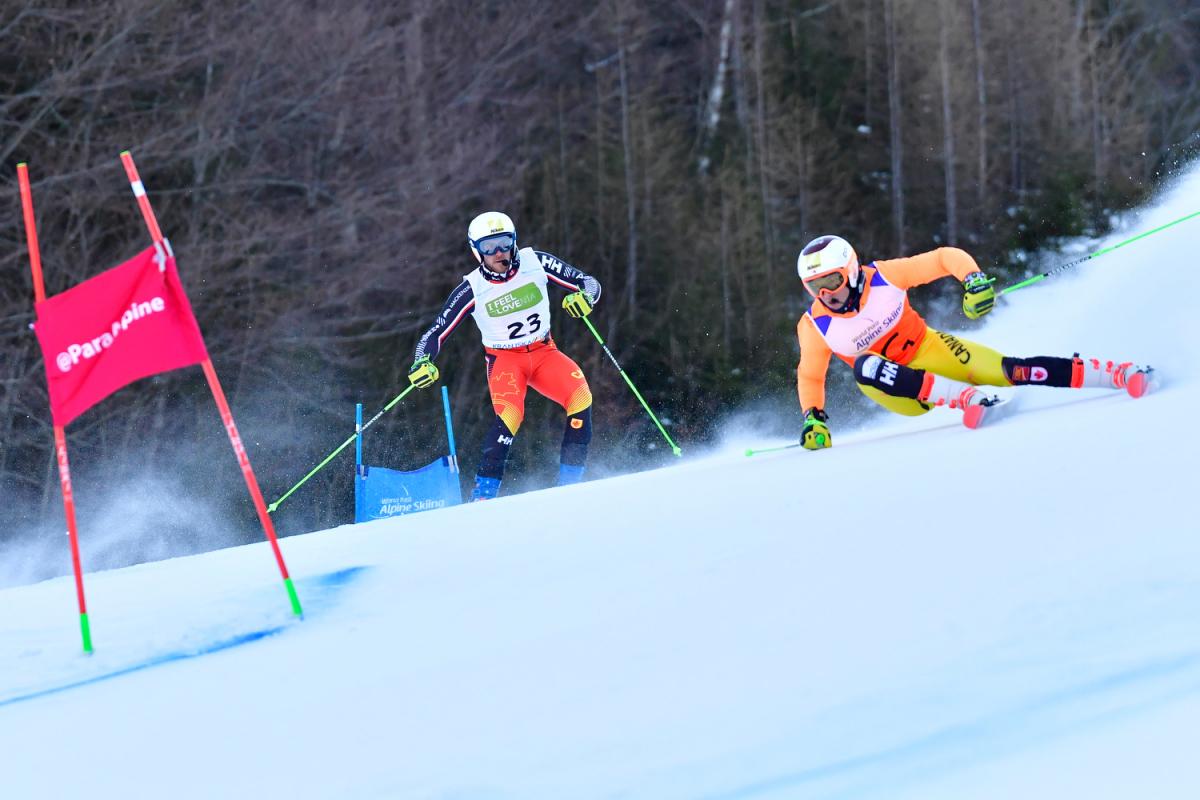 ⒸLuc Percival
By Lena Smirnova | For World Para Alpine Skiing
Mac Marcoux's return to the World Para Alpine Skiing World Cup after a year of battling with a back injury has been nothing short of perfect with a golden sweep in all his eight races at the competition stops in January.
In the midst of this golden blitz, the Canadian skier also celebrated a personal milestone. His second giant slalom victory in Kranjska Gora, Slovenia marked his career's 50th World Cup podium.
"We were sitting down just before awards and we got an email from our boss back in Canada, and he's like, 'hey, just want to FYI, today was your 50th podium'. It's crazy," Marcoux said.
"I spent all afternoon just looking back on the last seven years and so many memories, so many good friends, so many good times on the circuit. I couldn't be more grateful for the opportunities that have come up through skiing and super excited to try to put some more on there."
Golden anniversary
Marcoux first came onto the World Cup circuit in 2013 at the age of 15 with his older brother, Billy Joe, serving as his guide. The siblings got three podiums in their first season, as well as a silver in giant slalom at the 2013 World Para Alpine Skiing Championships in La Molina, Spain.
Switching guides when Billy Joe got injured, Marcoux won gold and two bronze medals at the Sochi 2014 Paralympic Winter Games with Robin Femy and added another gold and bronze at PyeongChang 2018 with Jack Leitch.
Since June 2019, Marcoux is working with a new guide, Tristan Rodgers. The duo has been undefeated so far this season despite Marcoux missing all of last season due to a back injury.
"We are fighting as hard as we can. For Tristan and I getting races under our belt has been the main priority and the results have been so awesome," Marcoux said.
"It's definitely a grind every day and I know there's a couple of people right on our tails that really want it so we're working really hard trying to stay up on top."
When the milestone of the 50th World Cup podium hit, it came as a surprise to the 22-year-old skier. He does not keep a medals tally and only learned of his accomplishment thanks to the diligent counting by Alpine Canada. 
"The things I'd be most grateful for is the amount of support that we've received not only from our family and friends, but my community at home and Canada as a whole," Marcoux said of the lead-up to this anniversary medal.
"It's been so special to be able to represent Canada for the last seven years and I think that's what really stuck with me through the whole time."
My funny friend and me
For Tristan Rodgers, who previously competed in able-bodied races, this is the first season on the World Para Alpine Skiing World Cup.
"As a kid, we all dream of racing at the World Cup," Rodgers said. "Unfortunately, I wasn't fast enough to make it as an able-bodied skier so to have this chance to still be exposed to these mountains and to this field is incredible. I'm super fortunate that I had this opportunity to participate. It's given me a new perspective on the sport."
Marcoux and Rodgers live in different cities in Ontario, but come together in the summer at the Whistler ski resort where they train five days a week to prepare for the winter races.
When not winning gold medals together, the pair can often be seen pranking each other or inventing fun games on the slopes.
"It's a 'forced friendship' that turned out to be awesome. We have a lot of fun together," Marcoux said. "All summer we hang out, ride bikes together, and in winter we get to ski together so it's just a blast."
"It's a good thing we don't hate each other," Rodgers added.
The pair will sit out the World Cup in Juzhno-Sakhalinsk, Russia in February to race in the national championships and prepare for the two final World Cups in March. There the goal, as always, will be to take their skiing to the limit.
"We're always trying to get as close as we can together as he would be on his own. We're really trying to push each other that way," Marcoux said of skiing with Rodgers.
"We're constantly just nicking at each others' heels trying to see if we can go faster."