Brett Botelho makes life-changing decision with eye on Beijing 2022
USA Para snowboarder returns to the snow just four months after his second surgery determined to follow his Paralympic dream
24 Sep 2021
Imagen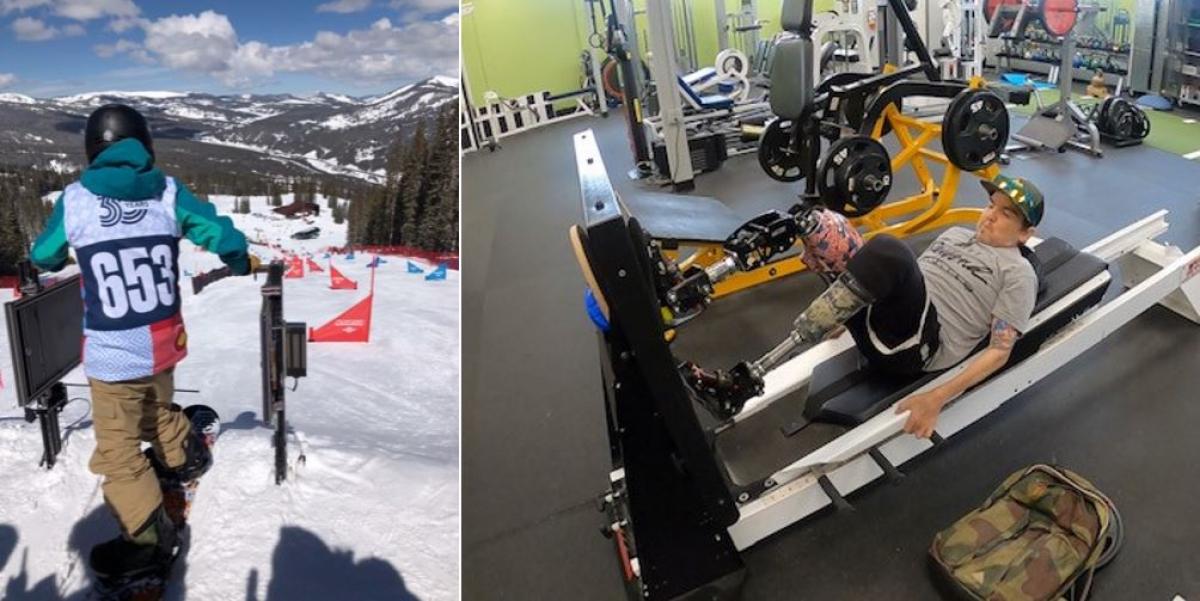 ⒸBrett Botelho
By Lena Smirnova | For World Para Snow Sports
Years of skiing with knee pain. The most painful surgery to date. Six months of rehabilitation. All for two and a half hours on a snowboard.
Brett Botelho's short snowboarding trip at the start of last season ultimately lead to re-injury and forced him to undergo a second leg amputation. But while recent months were a daily struggle for the USA rider, he proved there was no obstacle big enough to keep him off the snow. 
In April, just four months after the surgery, Botelho was on a snowboard again and determined to get back on track to qualifying for the Beijing 2022 Paralympic Winter Games. 
Storm and mountain
Botelho's life journey can be traced through his numerous tattoos. There is a Bible verse that got him through all his surgeries, an amputee ribbon he got after his left leg was amputated below the knee in 2014, and a storm brewing over a mountain.
"I feel like my whole life has been a storm, but below the storm is what brings me peace, which is the mountains," Botelho explained. "Every time I was on a mountain, I was just so thankful."
Diagnosed with a chronic auto-immune disorder at age nine, Botelho was paralysed from the neck down when he was 10 and 13, for about a year each time, and has undergone a total of 18 surgeries. It was these experiences that later made him seize every opportunity to move.
"I sat on the bench for all those years. If I can physically get up and do it, I'm going to," Botelho said. "Whether it's four hours on the mountain or a half hour on the mountain, I'm improving and I'm doing something that completely puts me at ease and makes everything go away."
But the passion for sports came at a cost. His right knee, which Botelho first injured while in high school, kept getting worse the more time he spent in the mountains. By 2019, it got so bad he spent the season riding on a cocktail of painkillers.
"I was on every pain medicine that I was allowed to be on, getting my knee drained maybe every two weeks," Botelho said. "What kept me going was the fact that I was seeing results. I was definitely becoming a better rider.
"That January, February and March, man, I almost felt like I was unstoppable even though I was probably an eight or a nine [on the pain scale] every time I was on the mountain."
Despite the knee problems, the 2019-20 season was Botelho's most successful to date. He won the national championship and finished first in the national ranking in his division.
As COVID-19 cut the season short, Botelho underwent a full reconstruction of his right femur. Six months later, on November 10, he was back on snow with his teammates from Adaptive Action Sports. But here things went wrong.
"We went up and did three, four runs down the course that we had set up. Knee felt pretty stable," Botelho said. "When I was in the office, I was like, 'Wait a second. Now that my adrenaline is coming down, is this hurting a little more than it should?' And then, by that night, I couldn't walk."
Speaking with his surgeon later, Botelho learned that the green light he got to go snowboarding was premature - his knee was only 50 percent healed. He had two choices then: to repeat the rehabilitation process with a high likelihood that his knee issues would continue, or to have another leg amputated.
Botelho chose the second option and, less than a month after his ill-fated trip and six years to the day since his left leg was amputated, he was back in the surgery room.
"Six years ago, I had my left leg done and that was probably the best decision of my life, so I still have great relationships with the people that made my prosthetic," Botelho said. "We agreed that after it's said and done, I will be better, faster, stronger."
Uphill climb
Botelho spent six months after his surgery in Florida, shuttling from his hotel to the prosthetics facility where he learned to walk for the tenth time in his life.
Through it all, Botelho's thoughts - and surroundings - were all about snowboarding. There was a snow globe with a miniature snowboarder by his bed, a snowboard-themed background on his phone, and a board in his room.
"You don't see that in Florida. People come in, they got their roller blades or their bikes, their skateboards and I'm like, 'I have this snowboard'. 'Wait, where do you snowboard?'," he said.
Botelho was determined to go riding at least once before the season ends. But a series of setbacks kept pushing that day back.
By April, he was done waiting and went out to Colorado for two days of light riding. There he quickly discovered the extra challenge of riding without his right knee.
"[Before] on my right leg, even though I wore the brace, I still had my knee, I still had my foot. Now it's all mechanical, so I have to work from my knee up and use my quads and hamstrings, hips and glutes."
But the challenge is one Botelho is confident he will overcome. Summer was planned for fine-tuning his walking and training in the gym, with the ultimate goal to qualify for Beijing 2022. 
If he succeeds, these would be his first Paralympics. 
"Everything I've been working for the past seven years comes down to this season," Botelho said. "It's definitely doable. I know that it is. And taking my legs out of the picture as far as knowing that I don't have to worry about any more ankle surgery or knee surgeries or anything like that, that changes the picture a lot for me."