Athletes eager to make history in Vuokatti
Qualification on the line as skiers head into last competition before World Championships, including newcomers from Azerbaijan and Iceland
16 Dec 2021
Imagen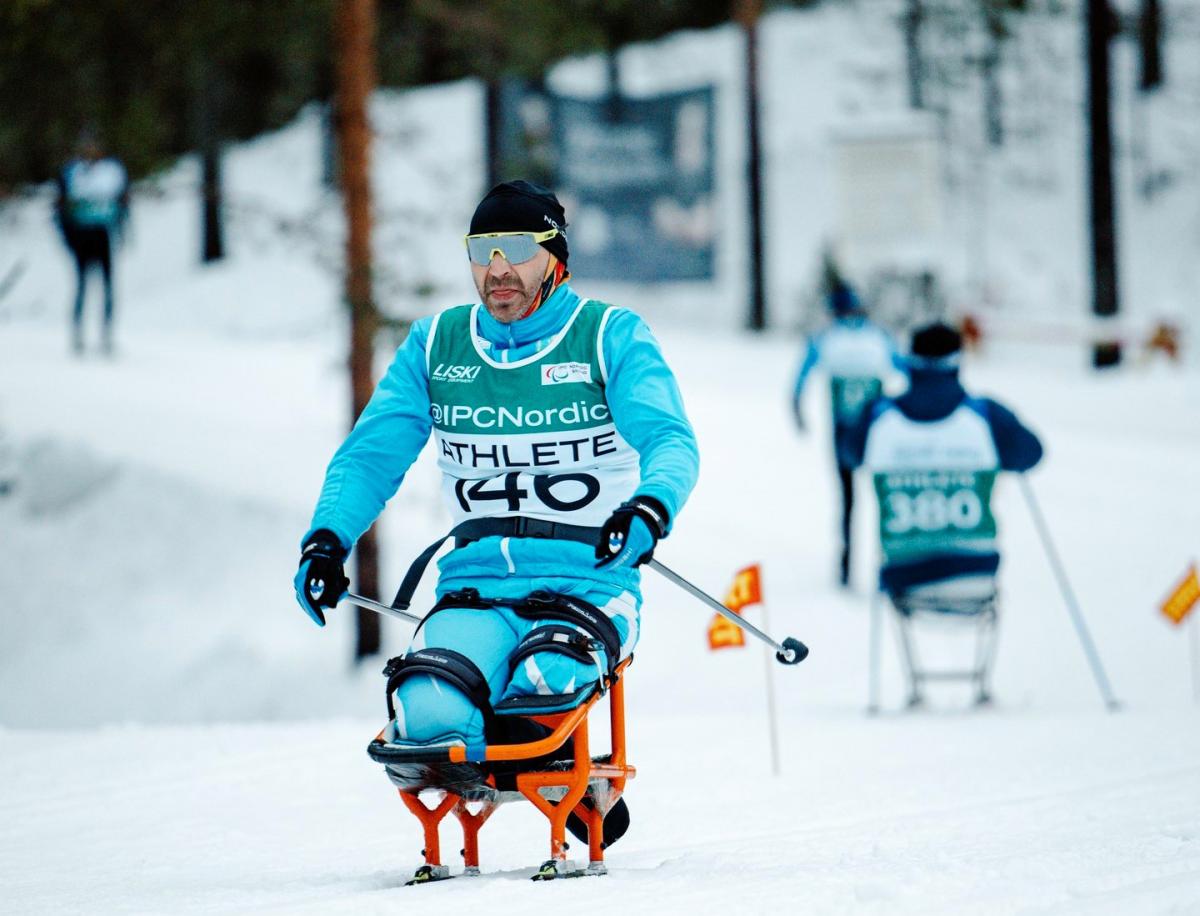 ⒸVuokatti Sport/Loru Creative
By Lena Smirnova | For World Para Snow Sports
Tickets to the Lillehammer 2021 World Para Snow Sports Championships and Beijing 2022 Paralympic Winter Games will be on the line at the Europa Cup in Vuokatti, Finland as athletes rush to get last-minute points before the end of the year.
Vuokatti is hosting two cross-country and two biathlon races from 17-21 December. Almost 100 athletes from 20 countries are set to compete there, with many making their debuts on the World Para Nordic Skiing circuit or returning after a long absence.
MAKING HISTORY
The stakes are especially high for Mehman Ramazanzade. The 51-year-old sit skier is aiming to become Azerbaijan's first-ever Winter Paralympian. His country had an outstanding performance at the Tokyo 2020 Paralympic Games in the summer, finishing among the Top 10 nations in the overall medals tally with a total of 14 gold.
The smallest country by population on that Top 10 list, Azerbaijan has never had representation at the Paralympic Winter Games. And Ramazanzade wants to change that. 
"Azerbaijan has never competed in the Winter Games and now we are trying to get there," he said. "In order to develop winter sports in our country, we have launched these sports and I gave it a try."
Ramazanzade started in sports as a Para powerlifter and Para cyclist, and aspired to compete in the Tokyo 2020 cycling races. But due to the coronavirus pandemic, he was forced to miss many competitions and could not collect the points he needed to classify.
As the dream of Tokyo 2020 slipped away, Ramazanzade took up Para Nordic skiing with the goal to make it to Beijing instead.
"I didn't get into cycling, I couldn't go to Tokyo, so I started skiing," Ramazanzade said. "Cycling, skiing, they suit each other really well so I decided to give it a try."
He built a sit ski at home, attached it to rollers and trained by riding 10 to 15 kilometres on asphalt and dirt roads in his neighbourhood. His first time on snow was four weeks ago when he went to a training camp in Ufa, Russia. His second time on snow was in Vuokatti this week.
"It is now a month that I've been skiing," Ramazanzade said. "I still need to learn the technique for doing turns. It's not that hard to ski, but when you have a descent or a turn, you need to keep your balance and this is something I need to learn a bit more."
While there is also a Para alpine skier in Azerbaijan, Ramazanzade remains his country's best hope for making Paralympic Winter Games history. The alpine skier tested positive for Covid-19 ahead of a recent Europa Cup and missed that opportunity to collect classification points. 
To classify to the Para Nordic competition at Beijing 2022, Ramazanzade needs to place in the middle of the sitting men's field in the cross-country races in Vuokatti.
"I would be so proud to bring Azerbaijan to the Paralympic Winter Games and to compete for Azerbaijan there," Ramazanzade said.
ICY WELCOME
Another athlete who made the switch from Para cycling to Para cross-country skiing is Iceland's Arna Albertsdottir. 
She competed in the women's H4-5 time trial at Tokyo 2020 and will become the first athlete from Iceland to compete on the World Para Nordic circuit when she races in Vuokatti.
"It's quite exciting and cross-country skiing is gaining popularity in Iceland, although maybe not Para as much," the sit skier said.
"It's always exciting to think about doing the Paralympic Games in both sports. For me the goal right now is just to be classified and learn a little bit more because there's not a lot of knowledge when nobody is doing it in Iceland."
The transition from Para cycling to skiing is not unusual with some athletes winning Paralympic medals in both. This includes USA's Oksana Masters, who won the Tokyo 2020 women's H4-5 time trial race, to add to her two gold medals in Para cross-country skiing at PyeongChang 2018. 
"There are a couple of girls doing both cycling and skiing and that's why I got into it. They showed me that it is possible to do both sports," said Albertsdottir, who added skiing to her training regime one a half seasons ago. 
"I'm just starting, I'm a beginner, but it's quite similar. I think it benefits me to be a cyclist, but of course the technique is totally different."
Coming from a northern country, Albertsdottir is also enjoying the variety that training on skis has brought into her life.
"In Iceland I'm cycling indoors on the trainer for half of the year or even more, so it's quite a nice balance to do some outside training in the winter as well," she said. "I was an alpine skier before I got my injury so it's a part that I missed, to be outside in the winter."
TEAM EFFORT
Like Ramazanzade and Albertsdottir, many athletes will be racing at their first major Para Nordic competition in Vuokatti. This includes 20 athletes from China who are represented in every cross-country and biathlon race across all classes.
Ukraine is sending its strongest delegation to Vuokatti, including Paralympic and eight-time world champion Liudmyla Liashenko in the women's standing class and the Paralympic biathlon champion in the men's sitting, Taras Rad. 
Belarus promises to be the major threat in the vision impaired classes, with Paralympic champions Yury Holub and Sviatlana Sakhanenka headlining their respective races. Several Paralympians are also representing Belarus in the sitting events.
Russia, which was among the biggest winners at the World Cup in Canmore, Canada last week, is presenting its younger team at the Vuokatti Europa Cup. But with legendary head coach Irina Gromova still at the helm, these athletes could pose a challenge even for the veteran skiers.