Lillehammer 2021: Top 10 athletes to watch
Some of the biggest names from Para alpine skiing, Para Nordic skiing and Para snowboard worth keeping an eye in Norway next month
14 Dec 2021
Imagen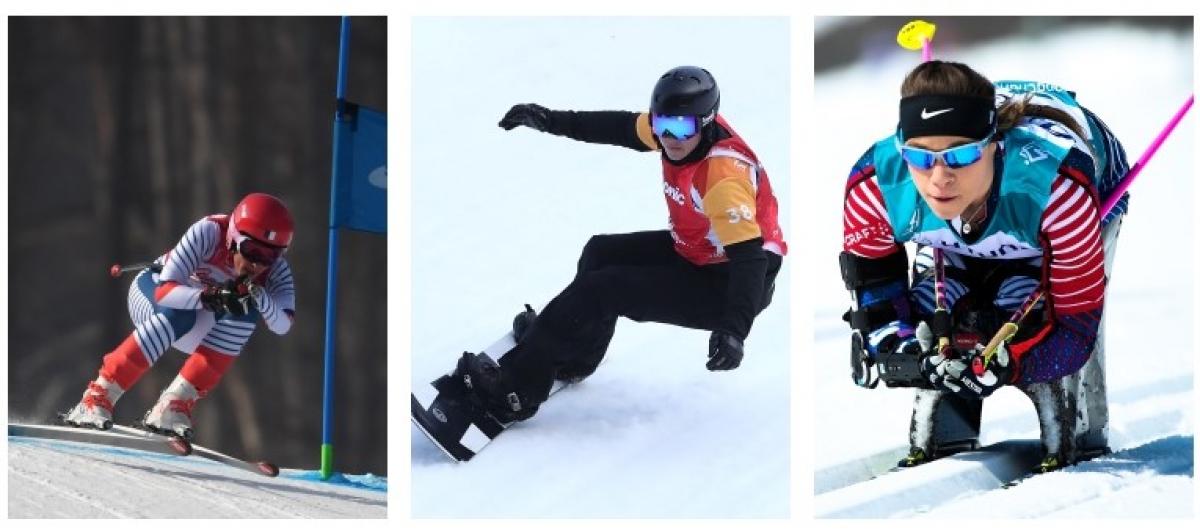 ⒸGetty Images
By Lena Smirnova | For World Para Snow Sports
There will be no shortage of stars at the Lillehammer 2021 World Para Snow Sports Championships as the world's best Para alpine skiers, Para Nordic skiers and Para snowboarders come together for the first ever joint Worlds. 
Eighty-two sets of medals will be contested in Lillehammer, Norway from 12-23 January 2022. Here we highlight some of the biggest names to watch at this historic competition.
PARA CROSS-COUNTRY
Vilde Nilsen - Norway
One of the host nation's biggest medal hopes, Vilde Nilsen became a teenage sensation four years ago when she took a silver in the women's standing sprint at the PyeongChang 2018 Paralympic Winter Games. The cross-country specialist built on that success by winning four gold medals in five races at the 2019 World Para Nordic Skiing Championships. Maintaining that excellent form, Nielsen also won every World Cup race she competed in last season. She credits strength training and ski sessions with able-bodied skiers for her success, and calls the Lillehammer tracks her home turf.
Brian McKeever - Canada
Canada's most decorated Winter Paralympian of all time Brian McKeever has stayed at the top of the men's vision impaired class for more than two decades. The 13-time Paralympic champion comes from a skiing family. His older brother Robin competed in cross-country skiing at the 1998 Olympic Winter Games and later served as McKeever's guide and coach, while his nephew Xavier, competes on Canada's junior ski team. Lillehammer 2021 will be the last World Championships for 42-year-old McKeever and he is sure to put in another spectacular show.
PARA ALPINE
Marie Bochet - France
The French ski champion, model and charity founder Marie Bochet was uncatchable at the 2019 World Para Alpine Skiing Championships where she swept gold in the women's standing class events. The eight-time Paralympic champion remained in the spotlight over the following seasons, but admitted to struggling with the pressure of being a frontrunner and saw a dip in her World Cup results. A year of reflection during the coronavirus pandemic helped Bochet to regain focus and she started the 2021-22 season by winning her career's 100th World Cup gold. Aside from skiing, Bochet knits hats to raise money to help children take up adaptive sports.
Jesper Pedersen - Norway
Pedersen's run at the 2019 World Championships ended with his top rival, Jeroen Kampschreur of the Netherlands, sweeping gold in the men's sitting events. Then returning from a serious bacteria infection, Pedersen was content with his two silver and two bronze medals. But three years on, that is no longer the case as Pedersen has made a full recovery and is in his best ever form. He has since won the overall Crystal Globe for three consecutive seasons, while his rivalry with Kampschreur remains one of the most captivating in the sport. Among the biggest stars on the host nation's team, Pedersen has extra motivation to win in Lillehammer and, as his golden start at the first World Cup of the 2021-22 season suggests, he is well on track to achieve this.
Henrieta Farkasova - Slovakia 
A crash in the downhill race forced 14-time world champion Henrieta Farkasova to exit the 2019 World Championships early. The crash re-aggravated an old leg injury and forced the vision impaired skier to miss the following season. Since then, Farkasova changed her long-time guide Natalia Subrtova, who helped her to win nine gold medals across three Paralympic Winter Games, and is now skiing with her former ski technician Michal Cerven. The tandem struck gold immediately on their return to international racing in December 2020 and are looking strong at the start of the 2021-22 season with World Cup gold already in the bag.
PARA SNOWBOARD
Lisa Bunschoten - Netherlands
Riding in the shadow of her late mentor Bibian Mentel-Spee in earlier years, Lisa Bunschoten has now come centre stage, not only as the top athlete in the women's SB-LL2 class but also as an advocate for increasing female participation in the sport. The Paralympic medallist and double world champion co-founded Adaptive Board Chicks in 2019, a foundation that holds training camps for novice female riders. Bunschoten's own performance on snow has also been exemplary. She remains the top athlete in her class since 2018, celebrating many of her victories with boyfriend Chris Vos, who is a four-time world champion in the men's SB-LL1 class. 
Jacopo Luchini - Italy
Italy's biggest Para snowboard talent Jacopo Luchini went through a heartbreaking moment in 2020 when coronavirus restrictions prevented him from competing in the season's last race and thus cost him his career's first overall Crystal Globe. The Italian rider used that disappointment as fuel for his future success, which included winning two World Cup races last season and pushing the boundaries of the SB-UL class to the next level in epic head-to-head battles against France's Maxime Montaggioni and Great Britain's James Barnes-Miller.
Matti Suur-Hamari - Finland
Matti Suur-Hamari was forced to watch the 2019 World Para Snowboard Championships, hosted on home snow in Pyha, Finland, from the sidelines with his arm in a sling. The Paralympic champion in the men's SB-LL2 class injured his arm two weeks prior at a World Cup event, dashing the host nation's best hopes for a medal. Since his recovery, Suur-Hamari has once again become the dominant Scandinavian force in Para snowboard and will look to repeat his golden sweep from the 2017 Worlds, now with a new, special fan watching on - the Finnish rider became a father for the first time in October 2021. 
PARA BIATHLON
Oksana Masters - United States
One of the biggest names in Paralympic sport, Masters comes to Lillehammer 2021 only four months after winning two gold medals in Para cycling at the Tokyo 2020 Paralympic Games. These were the first Summer Paralympic medals for the dual athlete, who previously won two gold in the women's Para Nordic sitting races at PyeongChang 2018. Although her teammate – and Summer Paralympic gold medallist in Para triathlon – Kendall Gretsch beat her in the Para biathlon races there, Masters made great improvements to her shooting since then. She was second in only one race at the 2019 Worlds, winning the other five races, and also won every biathlon World Cup race she competed in last season.
Liudmyla Liashenko - Ukraine
Ukraine is a strong force in the women's standing class, but even among her talented compatriots Liudmyla Liashenko shines as a star. The multi-skilled athlete won a medal in each of her races at the 2019 World Championships, including four gold. She had the same track record of winning a medal in each race at the 2015 and 2017 Worlds, while her World Cup performances last season earned her the overall Crystal Globes in both biathlon and cross-country. When not skiing, Liashenko enjoys taking to the slopes as a hobby snowboarder.