Suur-Hamari delivers gold at home World Cup along with hefty dose of drama
Challenging course yields plenty of crashes and comebacks at Pyha's three-day SBX competition as few athletes secure double wins in Finland
13 Dec 2021
Imagen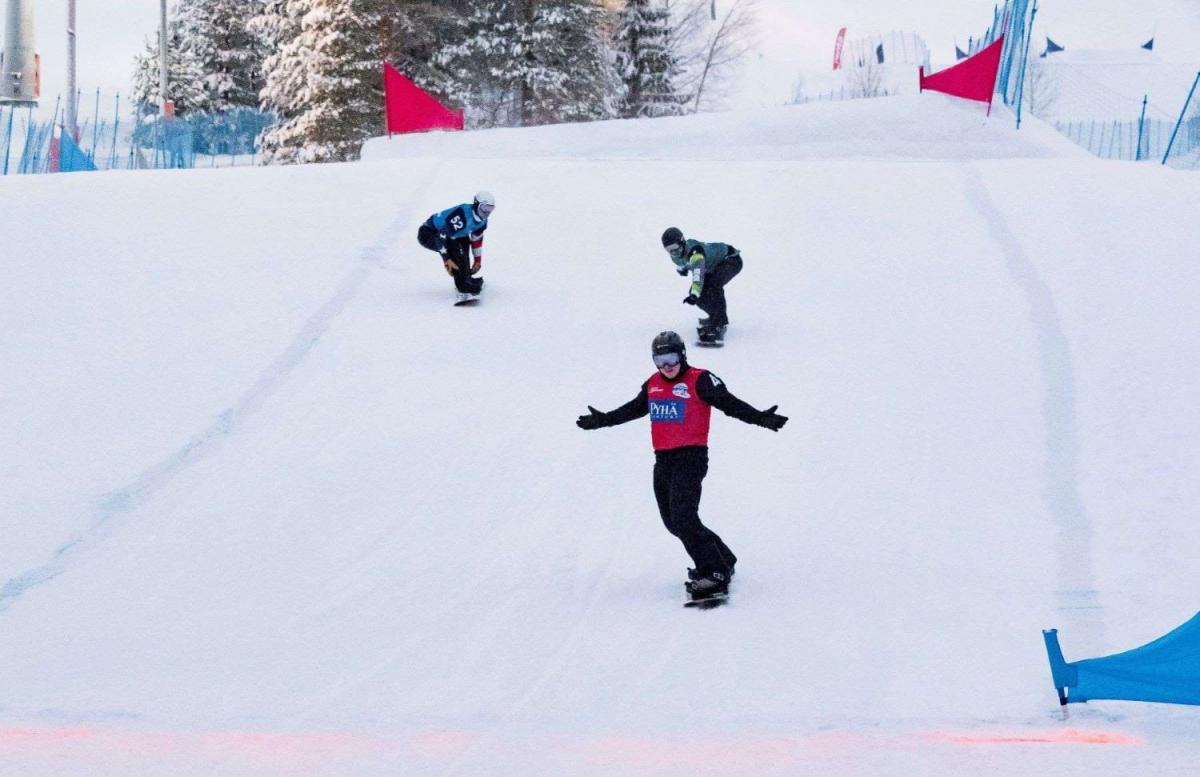 ⒸSimo Vilhunen / Finnish Snowboard Association
By Lena Smirnova | For World Para Snow Sports
Hearts were shattered on the first day of the snowboard cross competition in Pyha, Finland as the home favourite, Paralympic and world champion Matti Suur-Hamari, suffered an early exit.
The Finnish SB-LL2 rider crashed in the start section and finished 16th overall. But in the end, this disappointment only made his triumph on the following day more dazzling. 
Suur-Hamari returned for the second SBX race to lead the qualification round. He also won his quarterfinal and semifinal, ending the day with a gold medal around his neck - his first World Cup medal since becoming a father in October.
The first day's gold medallist Ben Tudhope of Australia took silver behind Suur-Hamari, with USA's Evan Strong winning the bronze to improve on his fifth-place finish on Day 1. 
Canada's Alex Massie and USA's Keith Gabel took silver and bronze, respectively, in the first men's SB-LL2 race.
ROLLERCOASTER RUNS
A challenging SBX course demanded the most from the riders at the season's second World Cup stop, which Pyha Ski Resort hosted from 10-12 December.
That was also reflected in the changing medal tables. Aside from Suur-Hamari's jump from 16th to first place, there were several new medallists and reshuffled standings over the weekend competition. 
This included a gold medal swap in the men's SB-LL1 class where the first day's gold medallist Chris Vos of the Netherlands yielded the lead to silver medallist Noah Elliott of the USA on the second day, and took a bronze instead. 
Japan's Daichi Oguri and Junta Kosuda took bronze and silver in the LL1 race, respectively.
Italy's Jacopo Luchini was among the few athletes who were able to secure double wins. The SB-UL rider finished ahead of the pack in both races, with Great Britain's James Barnes-Miller taking silver and bronze and France's Maxime Montaggioni taking silver on the second day. 
USA's Mike Minor won bronze in the first UL race to add to the two bronze medals he collected in banked slalom at the World Cup opener in Landgraaf, Netherlands in late November.
"I'm feeling equally comfortable in both events," Minor said. "I'm just really happy to be getting back to snowboarding again, I really love it so much. With Covid making things seem so uncertain it's just really great to be running heats with everyone again."
With SB-UL riders crossing the finish line mere centimetres apart, the class has become one of the most competitive over the past Paralympic cycle. Minor's eighth place finish on the second day of racing in Pyha highlighted that change as well.
"The SB-UL class level of riding has really seen some tremendous growth, not only within this Paralympic season, but over the last two years also," the 2018 Paralympic champion said. 
"The timed finishes are becoming extremely close within our time trials, and the racing heats are getting fast and intense. It's really amazing to see how much work everyone has been putting in. Not only just in my class either, but the whole Paralympic snowboarding field has raised the bar since I came on the scene in 2016. I'm excited to see what this season holds for us all."
Aside from his Finnish fiancé who came to watch the races in Pyha, Minor had his most devoted spectator with him - a dog he travels with to competitions and brings with him onto the podium.
"My dog 'dinky' is a rescue from Leadville, Colorado, who travels the globe with me. We are best friends and there's rarely a time you will see us apart from one and other," Minor said, adding that even Pyha's cold weather was not enough to dampen Dinky's race day mood. 
"My fiancé lives here in Finland and her parents not to far from Pyhatunturi so he is quite used to these cold Finnish temperatures."
TWO FIRSTS FOR DEJONG
Poland's Monika Kotzian and France's Cecile Hernandez also managed to win double gold. Kotzian took first place in the women's SB-UL race ahead of Spain's Irati Idiakez Lopez, while Hernandez was first in the combined women's LL1 and LL2 race.
Lisa Bunschoten, Landgraaf's double winner in the women's SB-LL2 races, settled for two silver medals in Pyha, while Canada's Lisa Dejong came away with two bronze medals from her career's first SBX races at the World Cup level.
"I was feeling good about my SBX practice runs before the race but I also knew it was a competitive group of girls to race against so getting bronze in my first World Cup was pretty special," Dejong said after her first victory.
"My strategy for the race today was to keep it light and fun. I didn't want to get in my head and feel the pressure. The final didn't start the way I wanted it to out of the gate but I kept my head down, finished the race and came out with a podium."
The Para Snowboard World Cup continues with two banked slalom races in Hochfuegen, Austria from 17-19 December.
Full results from the Pyha World Cup are available on the World Para Snowboard website.