Tokyo 2020 sprinter Noelle Lambert dashes to debut in Para snowboard
USA dual sport athlete to compete at the season-opening Europa Cup in Landgraaf on 28-30 November less than three months after her Paralympic final
24 Nov 2021
Imagen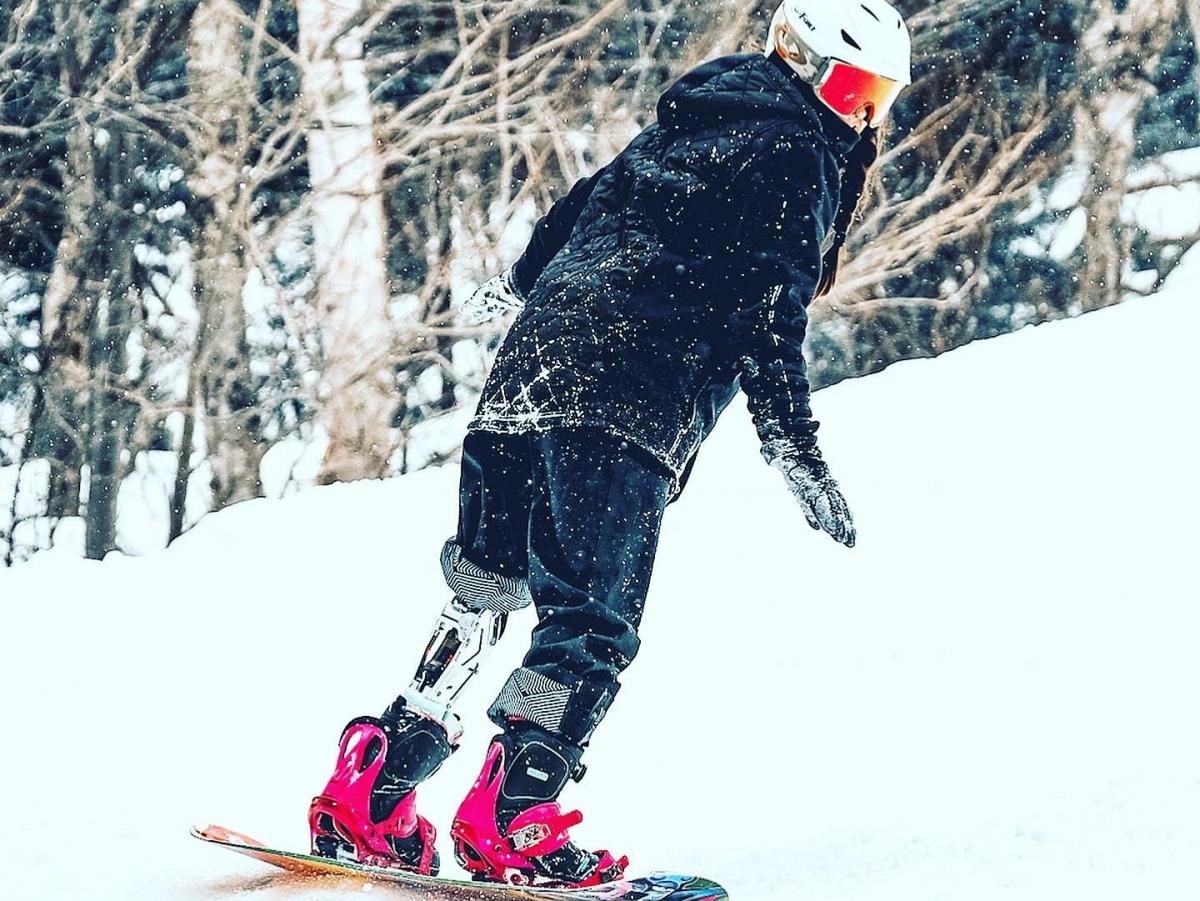 ⒸNoelle Lambert
By Lena Smirnova | For World Para Snow Sports
When the curtain came down on the Tokyo 2020 Paralympic Games, most of the athletes who competed there set their sights on a well-earned vacation. Noelle Lambert's first thought was to pick up another sport and try to compete at the next Paralympic Games in six months time.
The 100m sprinter from USA is making her Para snowboard debut this weekend at the Europa Cup in Landgraaf, Netherlands. It is a sport Lambert first tried less than a year ago and the ambitious athlete is eager to prove that she can master it.
"I'm never satisfied. I'm always very impatient. I want things done yesterday," Lambert said. "I've never been OK with accepting the fact that maybe I can't do this. I always beat it into my head that I absolutely can."
Fast track
Lambert first stood on a snowboard in March 2021.
"As a kid, I skied a lot, but never picked up a snowboard and my boyfriend is huge into the sport," Lambert said. "I said, 'I think it would be cool to try' and once I said it, he picked it up and ran with it. He was like, 'You need to do this'."
This was not Lambert's first experience trying to learn a sport in a short time. 
In 2018, she became the first above-the-knee amputee to play lacrosse at a college level. Lambert had returned to her team following a moped accident and subsequent leg amputation two years prior, and even scored a goal in her first game back.
She took up Para athletics after graduating in 2019 and made the final in the 100m T63 at Tokyo 2020.
Snowboarding was the next challenge and Lambert loved the sport so much, she rode every weekend in March and early April.
"It probably wasn't the smartest idea trying to pick up snowboarding five months before Tokyo, but every weekend I was going. It was crazy. I was falling in love with it," Lambert said. "I didn't even tell my track coach that I was snowboarding. I was just like, I'm just not going to tell him yet because I knew he would yell at me. But I would show up on Monday extremely sore and I would tell him and he's say, 'I must have worked you really hard on Friday', and I'm like, 'Yeah, that's exactly what it was'."
Lambert stepped back from snowboarding only as her preparations for Tokyo 2020 got fully underway. She made her Paralympic debut on the penultimate day of competition, finishing sixth in the women's 100m T63 and lowering her own national record from 16.31 to 15.97 seconds.
The moment Tokyo 2020 was over, Lambert's thoughts turned back to snowboard. She got in touch with three-time Paralympic medallist Amy Purdy on social media and got invited to train with Adaptive Action Sports, a non-profit organisation that Purdy and her husband Daniel Gale founded to help people with impairments pick up snowboard and other sports.
"We are so honoured Noelle chose AAS to train with on her mission of making the Paralympic snowboard team," Purdy said. "She is already a world class athlete and it shows by the way she has committed herself to training and to the sport. She's on a mission and is laser focused and that's what it takes to achieve your goals. She also is learning so fast! Every day that she trains she visibly improves her skill set, it's really amazing to watch. Noelle is an amazing athlete and we are so excited to be by her side on this journey."
While Gale and Purdy have been helping Lambert in person - with Purdy even lending her snowboarding foot for Lambert to test - other Paralympic riders, including Noah Elliot, Mike Schultz and Brenna Huckaby, reached out to Lambert online to welcome her and offer their help.
"I've been going back and forth with each one of them. They've been telling me what to do with my knee for adjustments and then the adjustments on my foot, so it's been really surreal," Lambert said. "It's really a great community and it's becoming very easy to fall in love with."
Welcome to the family
Lambert will make her Para snowboard debut at the season's first Europa Cup, which takes place in Landgraaf from 28-30 November. USA's Beatriz Hatz, who similarly competed in Para athletics at Tokyo 2020 and then switched to Para snowboard, will also race there.
"For me, Landgraaf is kind of testing the waters, getting to see what the whole competition world is about," Lambert said. 
"I knew from track experience, the best way is just to dive in," she added. "I signed myself up for the first track meet I found and just showed up and then I improved after that. So that's exactly what I'm doing for snowboarding."
From there, Lambert hopes to get the points she needs to compete at the Lillehammer 2021 World Para Snow Sports Championships in January and the Beijing 2022 Paralympic Winter Games. She is also continuing to train in athletics with the goal of competing at Paris 2024.
In addition to being an international dual athlete, Lambert is the founder of the Born to Run Foundation, which helps teenagers and children with impairments to get specialised sports prosthetics. She hopes her latest sporting endeavours will inspire others like them to take risks.
"I always want to show that if I can go through something and come out on top and do everything that I'm doing, then 100 percent so can they. It really isn't about the disability, it's about the heart and dedication you're willing to put into it," Lambert said.
"Just because you have a disability, just because you're going through a difficult time, it doesn't mean you should give up. It doesn't mean you're broken. You need to use that fuel and that tough time as motivation to get to where you want to in life."
Live results from the Europa Cup and World Cup in Landgraaf will be available on the World Para Snow Sports website.