Dutch duo set the tone at home World Cup
Bunschoten and Vos dominate their races at season opening in Landgraaf while Montaggioni and Luchini go head-to-head again in the men's SB-UL
30 Nov 2021
Imagen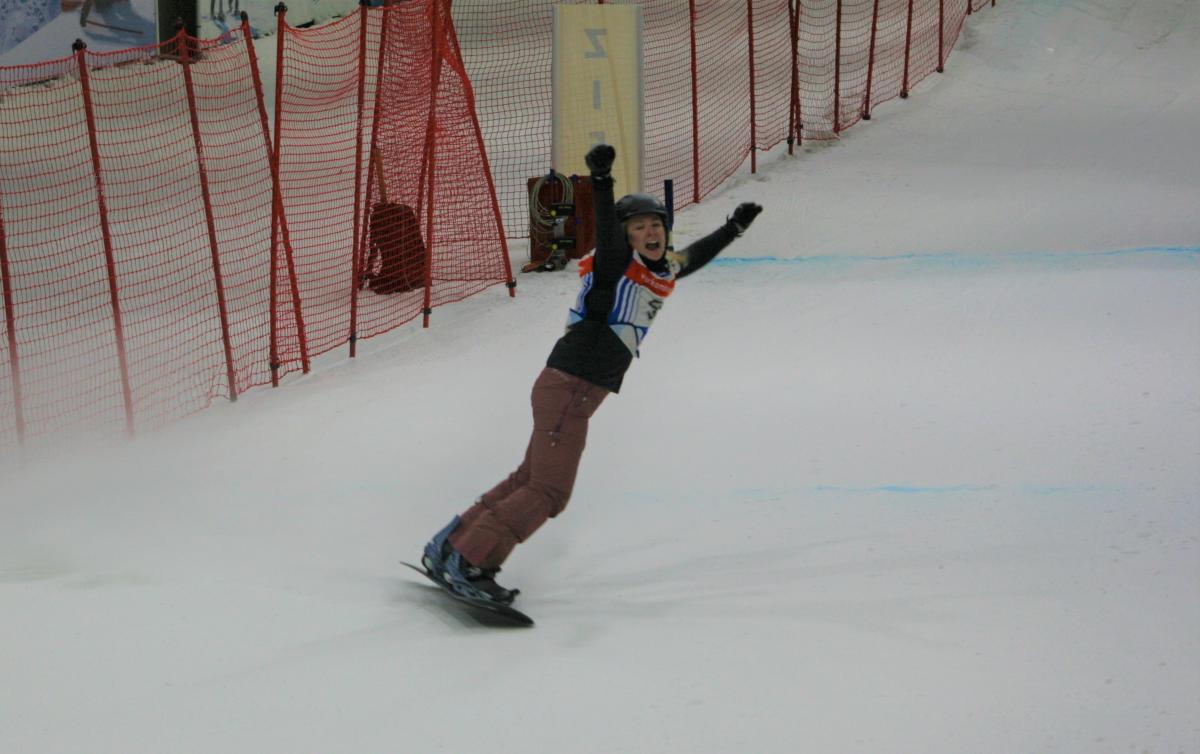 ⒸDutch Ski Federation / Nederlandse Ski Vereniging
By Lena Smirnova | For World Para Snow Sports
The home team set the tone at the season's first World Cup in Landgraaf, Netherlands with power duo Lisa Bunschoten and Chris Vos dominating their races.
Landgraaf SnowWorld hosted two banked slalom races from 28-30 November to open the 2021-22 World Cup season. 
Bunschoten has been the one to beat in the women's SB-LL2 class for three seasons straight and this season is no exception. The 26-year-old rider smashed the field, winning all four of her runs on home snow. 
Her victory on the first day of competition also qualified her to the banked slalom race at the Beijing 2022 Paralympic Winter Games. 
"This summer I've been training a lot and I feel fit and ready for the season," Bunschoten said. "This season is, of course, about World [Para Snow Sports] Champs and the Games, but the World Cups are still important as well. It's good to use them to get into the race flow, to push yourself and to ride as many courses as possible."
China's Geng Yanhong and Hu Nianjia took the silver medals in the two races, with Canada's Sandrine Hamel collecting two bronze.
Vos, meanwhile, put down a scorching first run of 37.69 seconds on Day 1, which kept him in the gold medal position despite an eleventh best time of 52.10 seconds in the second run. He sped up even more on Day 2, laying down 37.06 on his second attempt.
USA riders rounded off the top three in the men's SB-LL1 race. Mike Schultz got two silver medals while Noah Elliott picked up two bronze.
TABLES TURNED
Old rivalries were renewed in the men's SB-UL race as France's Maxime Montaggioni and Italy's Jacopo Luchini went head-to-head once again as they have over the past seasons. 
Montaggioni moved up from second place on Day 1 after improving his time by 0.6 seconds in the second run to finish just 0.06 ahead of Luchini. 
"I had COVID three weeks ago. I had many injuries in the summer so it was pretty cool to reach my best level today," Montaggioni said after winning gold on the first day.
"Concerning the race, I put down a good time in training, but I did I big mistake in my first run. Even so, it was a good time so I knew that without a mistake I could do a very, very good time on my second run. I felt free to ride on my own, with a completely free mind and how I wanted to ride and not how the coach wanted me to ride. I told them that I need to feel it like I want to do it and not like I have to do it, and that led to the success in the second run."
On the second day, however, it was Luchini's turn to swap places. The Italian rider was second in the first run, but improved by 0.44 seconds in the second to take the gold from Montaggioni.
USA's Mike Minor collected two bronze medals.
In the women's SB-UL, both gold medals went to Poland's Monika Kotzian with Spain's Irati Idiakez and USA's Kiana Clay wrapping up the podium.
France's Cecile Hernandez also managed to strike gold twice, in the women's SB-LL1. USA's Brenna Huckaby took silver, while USA's Dennae Russell and Switzerland's Ellen Walther split the two bronze.
USA SWEEP
USA's Keith Gabel carried on his momentum from the last races of the 2020-21 season, which he finished by sweeping the men's SB-LL2 snowboard cross in Colere, Italy, and started off with another World Cup gold in Landgraaf. 
The multi-Paralympic medallist won the first race with a time of 37.02 seconds, ahead of Japan's Keiji Okamoto and fellow USA rider Zach Miller. 
"To come out with a win at the opening competition of the season feels amazing," Gabel said. "It's been a long time since I raced in banked slalom and I wasn't sure how I was going to measure up against such good competitors, but it was a great feeling to finish so strong last season in SBX. Although it was a long break between the two and technically this is a different discipline, I didn't forget that feeling and I think that really helped carry me to a victory."
One of Team USA's rising stars, Miller improved his result in the second race by shaving 0.47 seconds from his first day's best and leading a USA podium sweep. Paralympic champion Evan Strong finished second with Gabel coming in third.
"It's no secret that we have a large, strong team and are always developing athletes that turn out great results," Gabel said about the extra motivation he gets from competing alongside world-class teammates. "I've been on this team for a long time now so to stay at the top of the game, I always have to be adapting and evolving, as well as willing to try new things."
The Para Snowboard World Cup continues with two snowboard cross races in Pyha, Finland from 10-12 December.
Full results from the World Cup in Landgraaf, Netherlands are available on the World Para Snowboard website.