Above-Arctic World Cup welcomes returning legends and tropical newcomers
Para snowboard veteran Evan Strong back in the gates during crucial Paralympic season that will see Brazilian competitors in action
09 Dec 2021
Imagen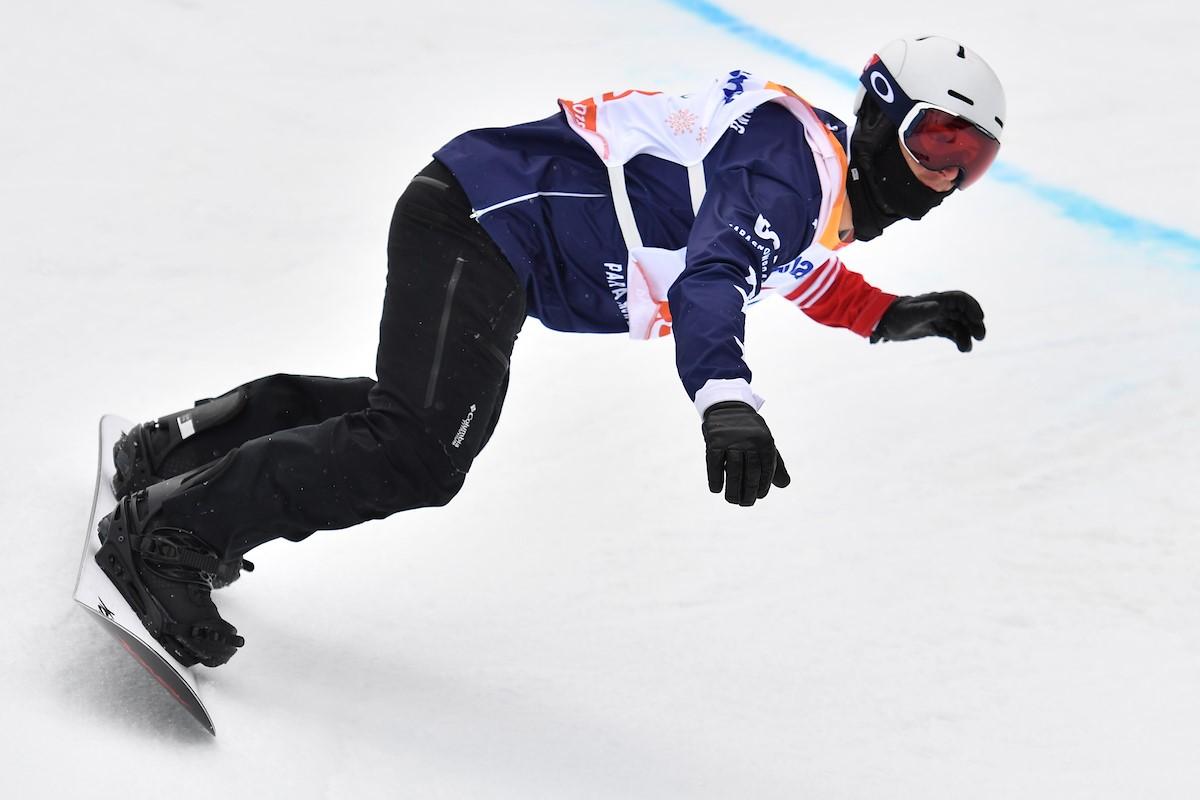 ⒸLuc Percival
By Lena Smirnova | For World Para Snow Sports
There was a sense of deja vu when Evan Strong reached second place on the podium at the season's World Cup opener in Landgraaf, Netherlands last week. The USA rider's silver in banked slalom was the same result he achieved before taking almost four-years off from the World Para Snowboard circuit.
Now one of the biggest legends in the sport is back as he targets his career's third Paralympic Winter Games, in Beijing.
Strong's next big race will be in Pyha, Finland. The ski resort, which is located a 90-minute drive north of the Arctic Circle, is hosting two snowboard cross races from 10-12 December as part of the season's second World Cup stop. Athletes from four continents are set to compete there, including the only Para snowboarder representing Brazil at the World Cup level.
COMING BACK STRONG
Considered one of Para snowboard's founders, Strong won gold in men's standing SBX in the sport's inaugural Paralympic appearance at Sochi 2014. He added a silver in banked slalom four years later at PyeongChang 2018.
Since then, however, Strong has been mostly off the radar - until now. 
"I always knew that I wanted to come back and continue racing in Para snowboarding, but I just wanted to focus my time, spend it with my family." Strong said. "Finding out that my wife was pregnant with our second child, I knew that I didn't want to miss as much as I did with my first kid. I wanted to really be present and not miss so much as I did with my first kid. But now that she's almost three and the Paralympic Games are coming up, it was time to come back."
Although he did not compete on the World Para Snowboard circuit, Strong stayed active since 2018. He participated in the Dew Tour banked slalom and won one of those races. He also competed in skateboarding at the X Games and several adaptive surfing contests.
Strong's first World Para Snowboard competition since PyeongChang 2018 was the World Cup in Pyha in February 2021 where he won a bronze medal in each of his SBX races. Last week he also took a silver in banked slalom at the Landgraaf World Cup. 
"The biggest challenge returning was being able to qualify for the US team under a pandemic. That was super challenging, needing to make it to World Cups in Europe with all the lockdowns," Strong said. "Another big challenge, since I've been so much of a present at-home dad over the last three years, it's been adjusting for myself and my family of now being a dad that has to go off to work and be away."
Strong is aiming to solidify his gains at the Pyha World Cup, where he will face tough competition from his teammates Joe Pleban and Keith Gabel, the latter of which shared the podium with him at Sochi 2014, as well as local star Matti Suur-Hamari.
"My goal for the season is to experience and showcase high-performance snowboarding from the best of my abilities to represent myself as an athlete, but also to represent Para snowboarding as a whole," Strong said. "If I can tap into that on competition day, I'm going to be happy. Wherever place that puts me in, that's fine, just experiencing high-performance snowboarding when it matters is really my goal."
TROPICS IN THE ARCTIC
Pyha is situated well above the Arctic Circle. Temperatures dipped to -28 Celsius in the week leading up to the World Cup, but even these freezing conditions were not enough to discourage the event's only competitor from Brazil.
The California-based SB-LL1 rider Andre Barbieri made his World Cup debut in Landgraaf. He previously competed in Para triathlon but switched to Para snowboard when his class was not included on the Tokyo 2020 programme. 
Another Brazilian rider, Jose Valter Correa de Lima, is also competing in Pyha, but at the Europa Cup level, which marks his first time on real snow.
"It feels so awesome. I am so so grateful for this opportunity," Barbieri said of being the only Brazilian at the World Cup. "Just being here I feel like I have already won. I'm having so much fun, not to mention what a great honour it is to represent my country at this level."
Barbieri competed in Landgraaf alongside four-time world champion Chris Vos of the Netherlands and 2018 Paralympic champions Mike Schultz and Noah Elliott of the USA. All but Schultz will race again in Pyha, as well as Japan's Daichi Oguri, who won the two snowboard cross races in Pyha last season.
"In Landgraaf I learned a lot. I learned how fast my opponents are and how they move their body - especially the ones that have the same disability - also how much more I have to work on. Even though I've had my snowboard leg for two years I'm still learning about that leg, how to adjust it right - height, pressure, trust. It's work in progress," Barbieri said. 
The Brazilian added:
"I want to perform as well as I can, even though I know I'm sort of lightning years away from the top dogs," he added. "The competition is with myself more than anything, see how much I can improve my technique and then on to the courses. Later I can become more competitive, even though I'm more on the older side - I'm 40, but really, I don't care. If I stay fit and somewhat competitive, age is just a number."
BACK FOR MORE
Last season's winners of the final World Cup SBX races, Poland's Monika Kotzian in the women's SB-UL class and France's Cecile Hernandez in the SB-LL1, will also be in Pyha to try and repeat their successful performances. 
The double gold medallist from Landgraaf, Dutch rider Lisa Bunschoten, remains the one to beat in the women's SB-LL2 class.
Meanwhile, the big final of the men's SB-UL is likely to turn into a showdown between France's Maxime Montaggioni and Italy's Jacopo Luchini, who split the two gold medals in Landgraaf, and Great Britain's James Barnes-Miller who consistently shows top results in this discipline.
Live results from the World Cup races in Pyha will be available on the World Para Snowboard website.