Coach's Corner: Espen Hegde
Each month, this World Para Ice Hockey content series spotlights a different national team coach
21 Jan 2020
Imagen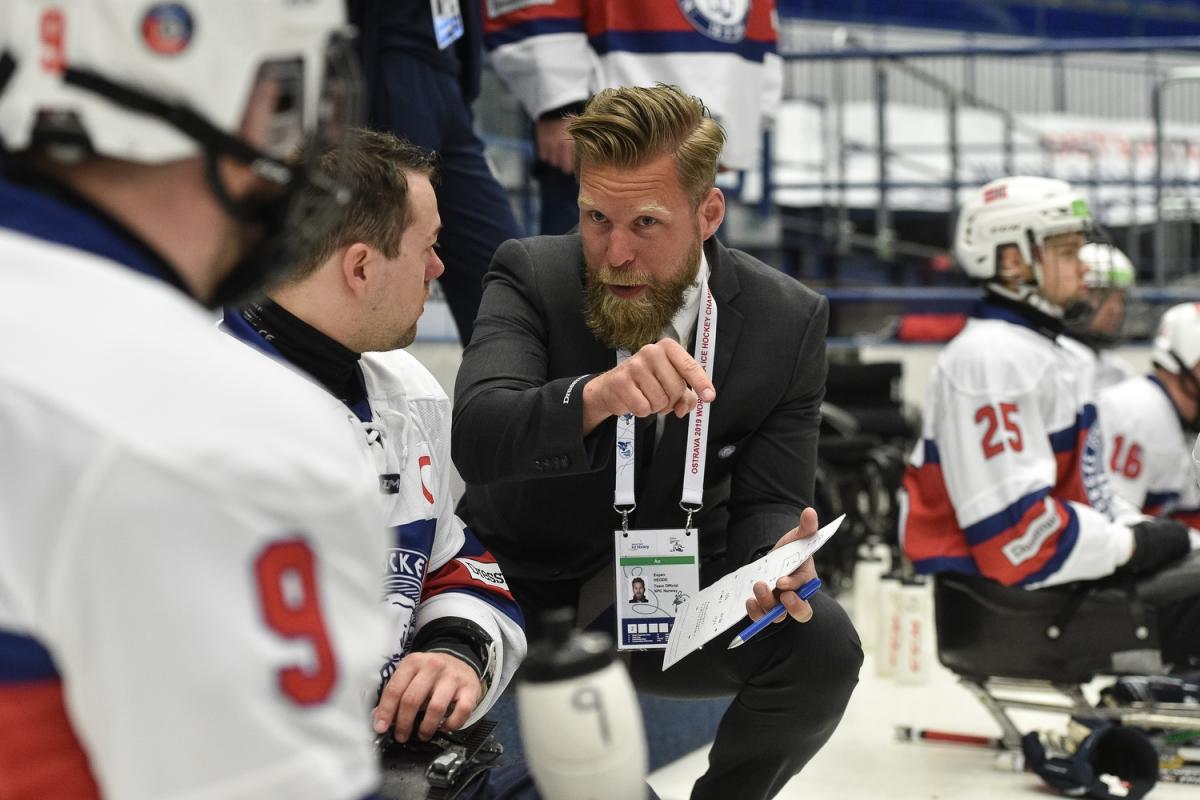 ⒸOstrava 2019
By Stuart Lieberman | For World Para Ice Hockey
After Norway failed to win a Para ice hockey medal at the Paralympics for the first time in 2014, long-term assistant coach Espen Hegde took over the reigns as Norway's national head coach. 
While Norway has yet to medal at the Paralympics or World Championships under Hegde, the team has consistently kept itself in contention in the A-Pool the entire time.
Known for his admired beard and emotional reactions on the bench, Hegde always says his team learns more from losing than it does from winning, and he's been highly regarded in helping develop the women's game in Europe.
Here's a closer look at some insight from Hegde: 
Who do you model your leadership style after and why?
I believe that if you want to succeed as a coach or leader you must always be curious and look for inspiration and find a style that works for you personally. I enjoy talking to other coaches and leaders as well as athletes and people in general. I have a fundamental understanding that I can learn something from everyone. 
Obviously, I have learned a lot from Norway's previous head coach Morten Haglund and my assistant coaches Ole Eskild Dahlstroem and Andre Lysenstoen.
How has the sport grown since you've become involved with it?
Since I got involved on the international stage in 2012 the sport has grown massively. If you compare Para ice hockey in 2012 with 2019, the three things that stand out to me are development of equipment, overall skill level of athletes and the level of international competitions. Just look at the 2019 World Championship in Ostrava.
What type of speeches do you give your team in the locker room to stay motivated?
During intermissions you do and say what you believe will have the best positive effect on the players performance on the ice. Sometimes you say nothing at all and leave it to the players. Sometimes you throw a chair through the room and break a table. Mostly you present some key aspects of the game, encourage the players to believe in themselves and remind them to work hard, play smart and do one shift at the time. 
What is the toughest part about coaching a national Para ice hockey team?
As a coach, you want to spend as much time and energy with your athletes as you can, making sure they are in a situation in which they can perform and develop as well as possible. However, you must also manage everything around the team: making budgets, schedules, travel arrangements, health issues and so on. This requires a lot of priority and structure.
If you weren't a Para ice hockey coach what other sport would you coach and why?
If I were to move to another sport it would be able-bodied ice hockey. I love the physical play, speed, intensity, strategy as well as the feeling you get from being part of a team. There is no other sport that intrigues and energises me the same way hockey do. Also, the national and international hockey family is an amazing group of people to spend time with. 
What are your predictions for the future of the sport?
Based on the past it seems likely that Para ice hockey will continue to grow. I believe the competition will get tougher in both A-pool and B-pool in the years to come. It is energising to witness this growth and be part of the challenge to always keep improving players and the national team. I also hope we will see women's Para ice hockey in the Paralympics some day.