Coach's Corner: Jiri Briza
This new World Para Ice Hockey content series will spotlight coaches around the world every month of the season
06 Dec 2019
Imagen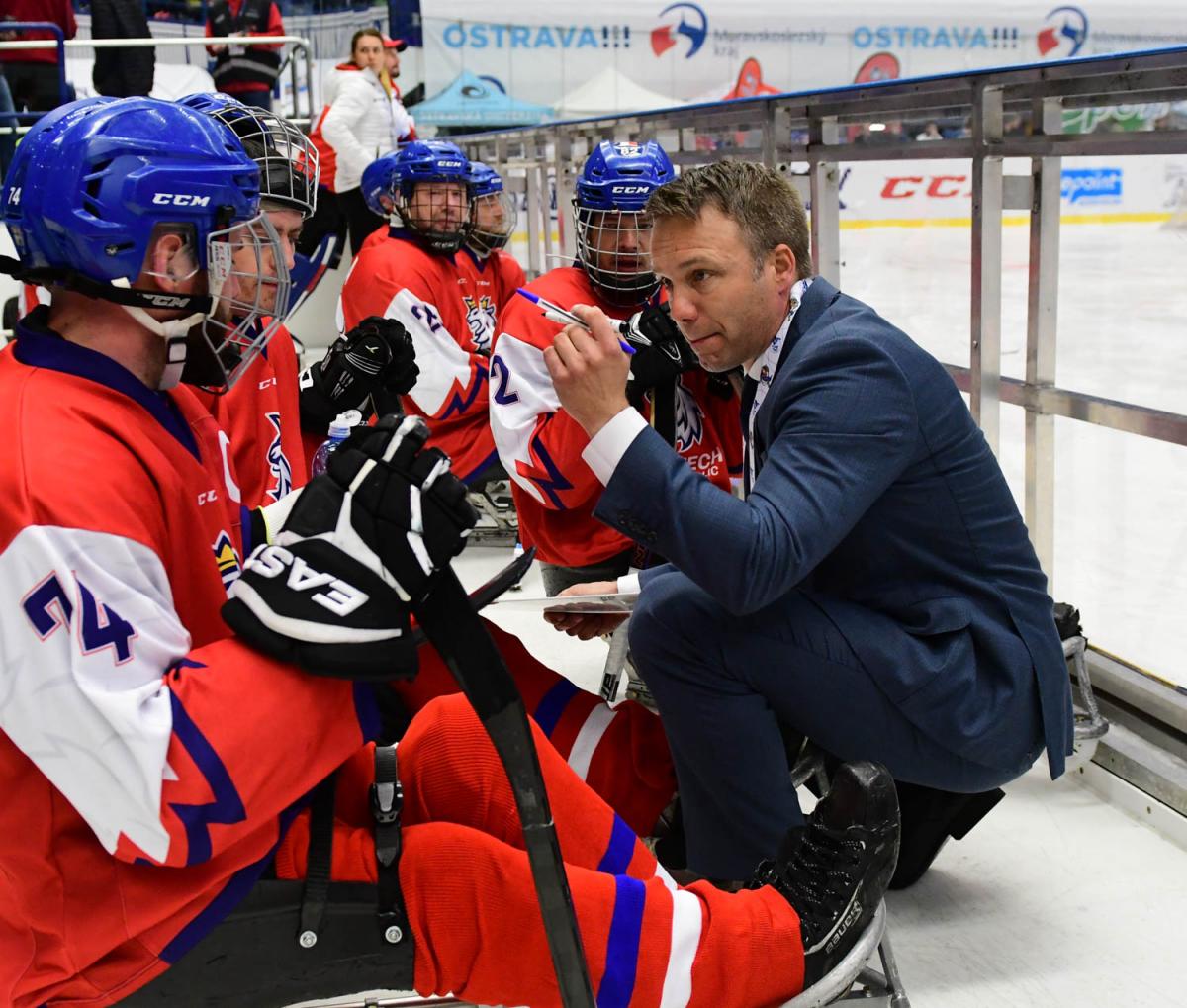 ⒸIPC
By Stuart Lieberman | For World Para Ice Hockey
When Jiri Briza showed up at the 2013 World Championships as the new head coach of the Czech Republic's para ice hockey team, he was like a ball of energy that could not be stopped. His enthusiasm at the tournament was palpable.
Everyone he met lit up with a smile. Briza led the Czech Republic to victories in its first two matches at that tournament, and for the entirety of those matches he stood on his team's bench, signaling his players and calling the shots, with his eyes always glued to the puck.
Six years later, Briza is still rolling and has become one of the hardest workers in the Paralympic Movement. This year, he helped organize the most successful World Para Ice Hockey Championships in history, attracting nearly 65,000 screaming spectators to Ostravar Arena, and assisted in acquiring NHL legend Dominik Hasek to be the tournament's ambassador. He then led the Czechs to a best-ever fourth place finish at the event.
On top of that, Briza is often dubbed the most talented development coach in the world for para ice hockey. He traveled to Israel to help develop a para ice hockey programme there and in January will be heading to Australia to assist with the development of its team.
How did hosting the 2019 World Championships in Ostrava change the Czech Republic's para ice hockey program?
Because of the World Championships we were able to expand para ice hockey development camps for beginner athletes in the Czech Republic.
What was your favorite part about the 2019 World Championships?
Being in Ostrava and seeing the marriage between the Czech fans and the players on the ice was the best part. The energy and atmosphere was just incredible.
As a coach, what advice do you have for people looking to start playing para ice hockey who may not know where to start?
It someone likes able-bodied hockey, then that passion will usually carry over into para ice hockey. There is a lot of courage and patience needed to start the sport, but it is worth it and once you get past that and become a para ice hockey player, you will love it.
What type of speeches to you give to your team in the locker room and how to you keep your players motivated?
I always try to coach and keep my players informed with an entertaining style, always keeping in mind our passion for the game. In para ice hockey, passion is the most valuable thing and helps inspire not only us but also others who may be watching the sport.
If you were not a para ice hockey coach, what other sport would you coach and why?
Rugby! It is the toughest, cleanest and most gentlemen-like sport to me.
Who do you model your leadership style after and why?
I don't model it after anyone. I just try to be myself.