Coaches reflect on the unique experience at Green Bay
Four team leaders reflect on the impact of the first Women's World Challenge on their players and the legacy of the event
19 Sep 2022
Imagen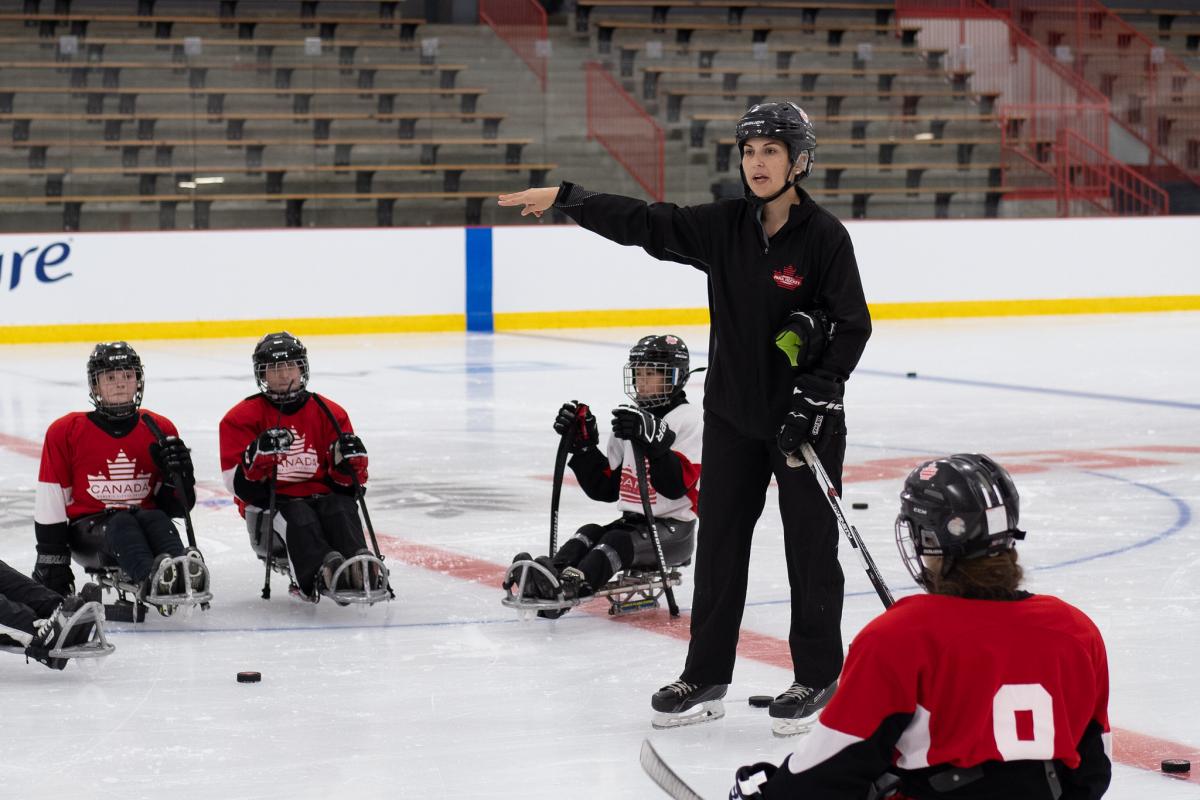 ⒸCharlie Skinner / WPIH
By Stuart Lieberman for World Para Ice Hockey
The first-ever Para Ice Hockey Women's World Challenge last month was historic in many ways, with years of hard work and dedication of players, coaches, trainers, and volunteers making it see the light of the day.
One of the most important factors in the success of the event was the presence of the four head coaches behind the benches: Rose Misiewicz (USA), Tara Chisholm (Canada), Ian Offers (Great Britain) and Espen Hegde (Team World).
Speaking highly of the event, which was presented by Citi, the coaches highlighted that it was a stepping stone towards the ultimate goal of creating a women's World Championships and adding a women's tournament to the Paralympic Winter Games. 
"From a world perspective, this event was really successful in growing international attention," Chisholm said. 
"I was reflecting throughout the week on this event, and we didn't really know exactly what it would be like until we arrived. To have the full-meal deal where we were treated like elite Para sport athletes, compete at the level we did, and go through all the protocols and processes behind the scenes of Para sport was such a great experience for our women because they felt like true Para sport athletes."
The event gave the coaches a start point with their programmes and they can now return home with a clear outline of next steps to build the sport and increased visibility on recruitment and an athlete development pipeline. 
"It's more or less an eight-year path to get the women's hockey in the Paralympics," Misiewicz said. "Each year we must accomplish certain things to keep moving forward. This was the first kind of check box, and it's so exciting."
Team identity
For Hegde, one of Norway's national coaches, Green Bay provided a unique experience as he was brought into coaching Team World, a team made of athletes from seven different nations looking to grow the sport in their respective countries. 
"Before arriving in Green Bay, I didn't know what to expect," Hegde said. 
"Whatever my expectations were, they were not even close to reality. It, truly, was a memorable experience. Amazing athletes, friendly volunteers and a great Local Organising Committee were all working together towards making the event as good as possible. I must say, I was most impressed by the Team World locker room. The way all the girls got together and formed a team identity in just a couple of days… how they cared and fought for each other was something I will never forget." 
Quick Bonding
Paving the way for the growth of the women's side of the sport is a key pillar in the World Para Ice Hockey Strategic Plan, and now that coaches, trainers, and officials have a shared tournament experience together that they can build upon.
The coaches at the Para Ice Hockey Women's World Challenge are now eager to grow the sport together and are quickly bonding to do so.
"Even with our American counterparts who we have a huge rivalry with on the ice, we are working to grow the game forward with," Chisholm said. 
"People in the sport are an open box. They don't want anything in return, they just want the sport to continue to build and people to ask questions, send emails, make phone calls, to support more countries to get here."