Countries share the spoils on opening day of World Cup
Five different countries all won gold in Dubai on the first day of competition at the World Para Powerlifting World Cup.
27 Feb 2017
Imagen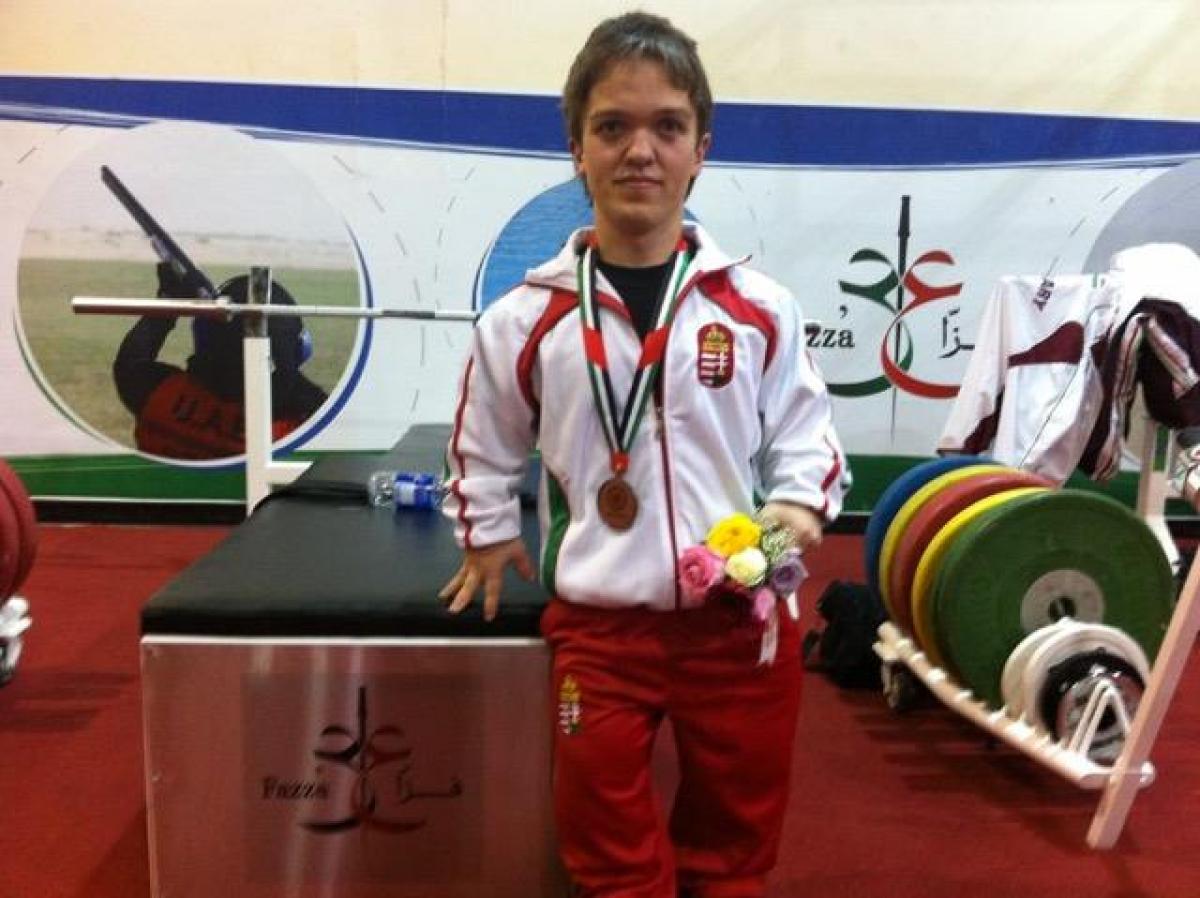 ⒸHungarian National Paralympic Committee
Jordan's Omar Qarada took gold on Monday (27 February) at the 2017 World Para Powerlifting World Cup in Dubai, United Arab Emirates, as four of the top five finishers from the men's up to 49kg class at Rio 2016 went head-to-head.
In the absence of Vietnam's Paralympic champion Le Van Cong, Rio 2016 silver medallist Qarada eased to World Cup gold. His only successful attempt of the competition, a 162kg lift, in the opening round was sufficient to seal the win.
Behind him the competition to land silver between Hungary's Rio 2016 bronze medallist Nandor Tunkel and India's Farman Basha was compelling. Heading into the final round Tunkel was in second thanks to a best lift of 147kg, whilst Basha, who finished fourth in Rio, was comfortably in third courtesy of an opening round lift of 142kg.
The final round saw a dramatic twist as Tunkel failed with a 149kg attempt, presenting Basha with an opportunity to seize the silver medal. The 42-year-old did not need a second invite and a stunning lift of 148kg under immense pressure pushed Tunkel into the bronze medal position.
The women's up to 45kg class saw another thrilling competition with just 1kg separating the top three finishers.
China's Lingling Guo led throughout, opening with a 92kg lift. Although she failed with an attempt at 94kg in the second round, she successfully lifted the same weight in the third to take the gold. Ukraine's Maryna Kopiika progressed each round, recording lifts of 90kg, 92kg and 93 kg to take silver. Poland's Justina Kozdryk also finished with a lift of 93kg, but had to settle for bronze after only managing 88kg and 91 kg in her opening two rounds.
The women's up to 50kg class was won by Ukraine's world champion Rayisa Toporkova after the 31–year-old managed two successful lifts, 90kg in the first round and 95kg in the second. She finished ahead of Kazakhstan's Kabira Askarova (75kg) in silver and Thailand's Wandi Kongmuang (75kg) in bronze.
Syria's Noura Baddour, a fourth place finisher at Rio 2016, took gold in the women's up to 41kg class. Her best lift of 90 kg came in the second round and was enough to see off her closest rival, Turkmenistan's Roza Matyakubova who finished with a best lift of 72kg.
Egypt's Hossam Elgafary took gold in the men's up to 54kg class with a second round lift of 150kg. Silver went to Iraq's Ali Al-Darraji (143kg) and bronze Japan's Tetsuo Nishizaki (124kg).
In the junior events, gold medals went to Kazakhstan's Zakhar Buimov (70kg) in the men's up to 49kg and Hungary's Gyorgy Sztano (113kg) in the men's up to 54kg class.
World Cup competition in Dubai will continue through to 3 March and all the action will be streamed live at worldparapowerlifting.org.
Updates and pictures will be posted to Facebook.com/parapowerlifting, Twitter (@powerlifting) and Instagram (@parapowerlifting).