Czech Republic team to be decided
With just one month remaining until the crucial Worlds B-Pool, the roster will be fixed following the Four Nations tournament in Ostrava.
28 Oct 2016
Imagen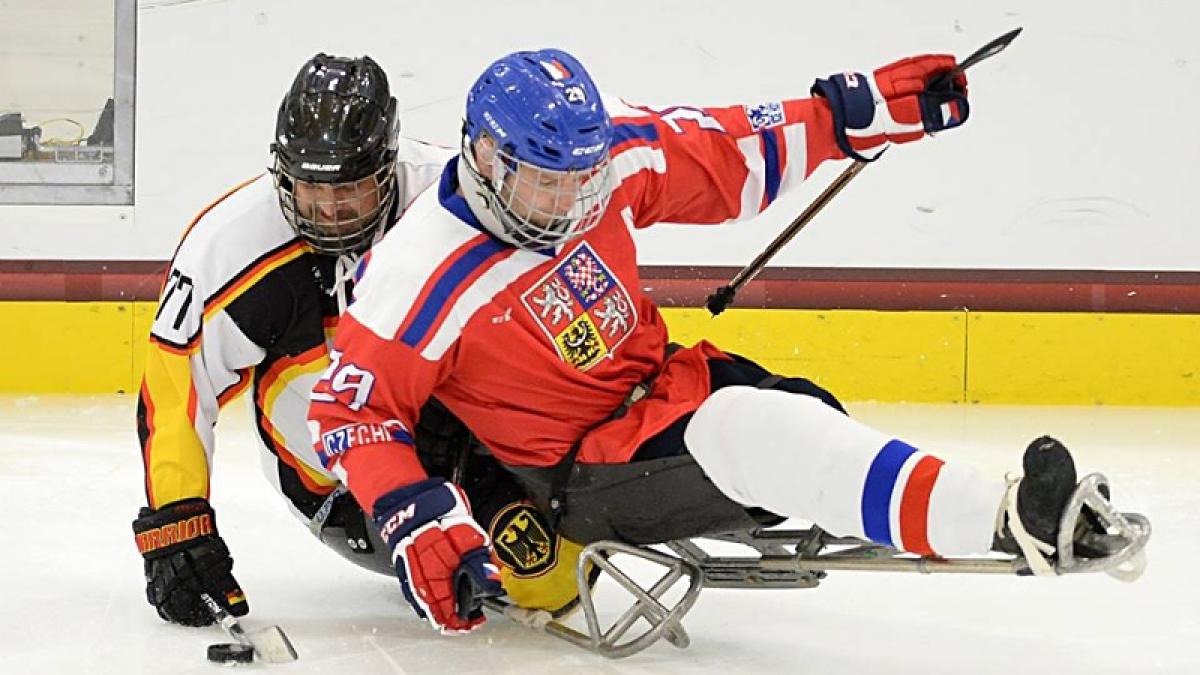 ⒸFacebook Czech sled lions
By Czech Ice Hockey Team and IPC
The Czech Republic team that will go for gold at the 2016 IPC Ice Sledge Hockey World Championships B-Pool will be decided this weekend, as the country takes on Germany, Japan and Slovakia at the Four Nations tournament at home in Ostrava from Friday (28 October).
Just one month remains until the Worlds B-Pool in Tomakomai, Japan, where the Czech Republic will face Slovakia, Great Britain and the hosts. If they finish in the top three they will reach the Qualification Tournament for the PyeongChang 2018 Paralympic Winter Games, returning from the disappointment of being relegated to the B-Pool in 2015.
The competition in Ostrava will therefore be an important indication of what is to come, but head coach Jiri Briza also wants to give development players the chance to shine.
"Given that we are playing at home, we want to use the home environment to play a roster full of players who regularly attend our camps. So it will not be strictly a rehearsal," Briza said.
A total of fifteen players and two goalies will show up in Poruba. "We will play with three lines, for the first time in a long time, if not the first. For the boys it will be a new experience as to sharing the game with the others and playing at a high intensity," said Briza.
"I'm not saying it will be an advantage over our rivals. The game is played three times in 15 minutes and the deciding factor is the quality of the players. We will now have as many as five newcomers/freshers. For them it is the only international experience you can gain for the full year."
Domestic selection begins on Friday when the Czech Republic play their first game against Germany. They face Slovakia on Saturday (29 October) and Japan on Sunday, all at the RT TORAX Arena.
Briza and his team are most familiar with the Slovakian side which features players they know well.
"We know the players in our league, playing in Zlin and Olomouc. Last year, they acted as a team in the league Dolny Kubin. At the international level, we did not meet because we were still in the A-Pool and we wanted teams that would challenge us.
"This is not to detract from their quality, but they are a small country and they work with a smaller number of better players, which is reflected in their performance. But now I think they are going forward, also because of increased public awareness. They have the support and will be good.
"Last year we played three friendly matches against them and we won two and one ended in a draw. It will not be an easy opponent, and thus we encounter them a month in advance so that we know where they are."
Briza has established a clear way forward for his team as he attempts to lead them to the upcoming Winter Paralympics.
"We're going out by growing our squad. We try to play newcomers with experienced players so they can improve.
"In the camps, we have focused on combination drills where players were mixed up, so that not only the more experienced play.
"We want to make the new ones learn from the older and to get the older ones to help them."
Four Nations tournament schedule
Friday, 28 October
14:30 Japan v Slovakia
17:00 Czech Republic v Germany
Saturday, 29 October
14:30 Japan v Germany
17:00 Czech Republic v Slovakia
Sunday, 30 October
10:00 Slovakia v Germany
12:30 Czech v Japan