Women's ice sledge hockey players impress
The Women's World Ice Sledge Hockey Festival came to a close with plans to keep developing.
26 Oct 2016
Imagen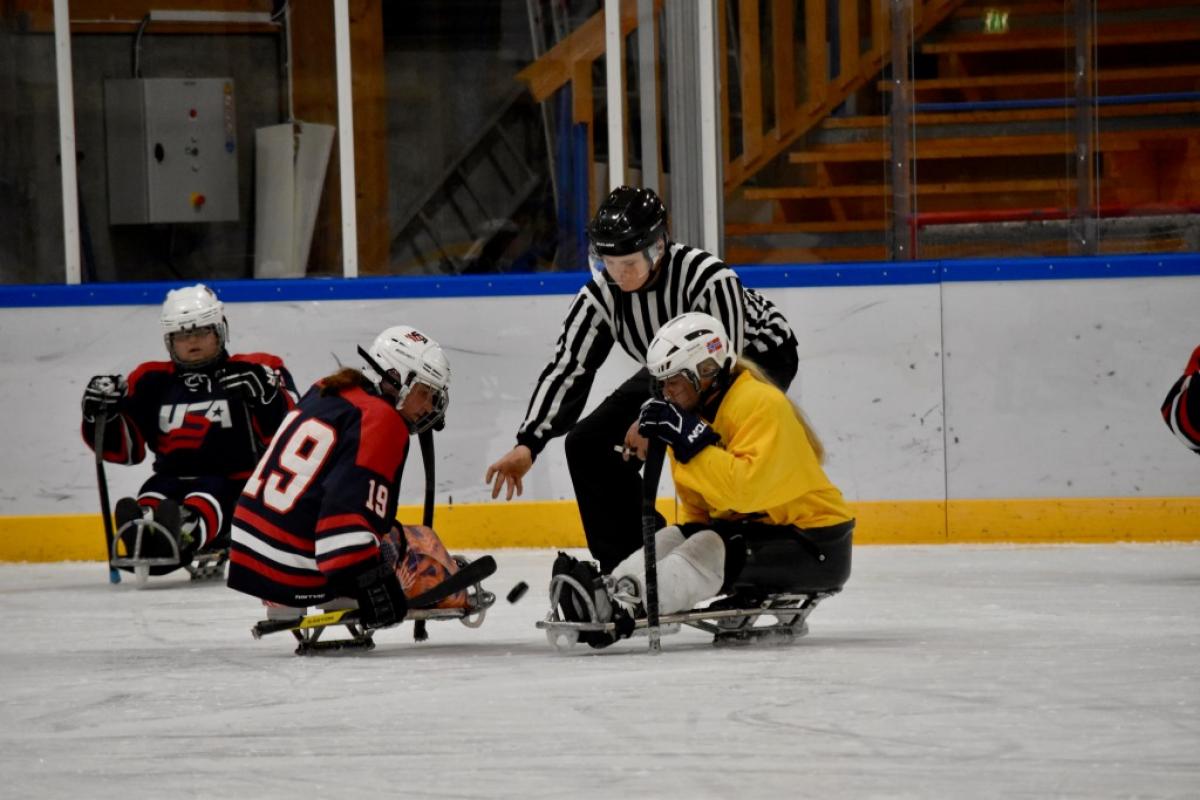 ⒸLori Kile
By Kim McGreal | For the IPC
For four days, Skien fritidspark in Norway was the home to some of the best women's ice sledge hockey players in the world.
Three teams - USA, Canada and Europe – came together for the Women's World Ice Sledge Hockey Festival, and to showcase their sport to the rest of the world over a series of six games.
While USA and Canada have faced each other several times in the last few years, it has been a while since either of them played against Europe and they were not sure what to expect. Despite a smaller, less experienced team, Europe more than held their own on the ice, even forcing one of their games into overtime.
Kelsey DiClaudio, a long-time member of the USA national developmental team, demonstrated her speed and puck-handling skills with an impressive eight goals in total over the event. Canada's captain Christina Picton picked up five goals of her own and Europe's Lena Schroder had a hat-trick against the USA.
Schroder, who trains with the Norwegian national team as well as the European women's team, was thrilled with the way her team was working together.
"The best thing about the tournament was seeing how much the European team has managed to grow," Schroder said. "We still have very few players, but we have gotten so much better as a team. It is also great to be able to play against the best women from other countries. That way you get a better idea of your own level compared to other female players and it helps you get better yourself."
The European team currently consists of players from Great Britain, Norway and Finland, which means they are facing their own set of challenges in terms of training and development. But with the support of their staff, including coach Tor Rivera who plays on the Norwegian national team, they are successfully going from strength to strength.
Off the ice, another equally-important partnership was forming, as representatives from each of the teams met to discuss the future development of women's ice sledge hockey. Along with invited guests, the topics ranged from how to increase participation in Europe and Asia, to classification and plans for social media.
Thanks to the digital coverage and live streaming of the games, the Women's World Ice Sledge Hockey Festival was followed by people all over the world. Organisers are already planning the best way of building on this success and hope that the next tournament will be even bigger and better.
Results:
Game One: Canada vs USA 4-3 (penalty shots)
Game Two: Canada vs Europe 2-1
Game Three: Europe vs Canada 0-3
Game Four: Europe vs USA 0-2
Game Five: USA vs Europe 7-3
Game Six: USA vs Canada 3-2