Faces for PyeongChang: Canada's Young on the up
With 500 days until the next Winter Paralympics, Canada's Emily Young looks ahead to the new Nordic skiing season.
25 Oct 2016
Imagen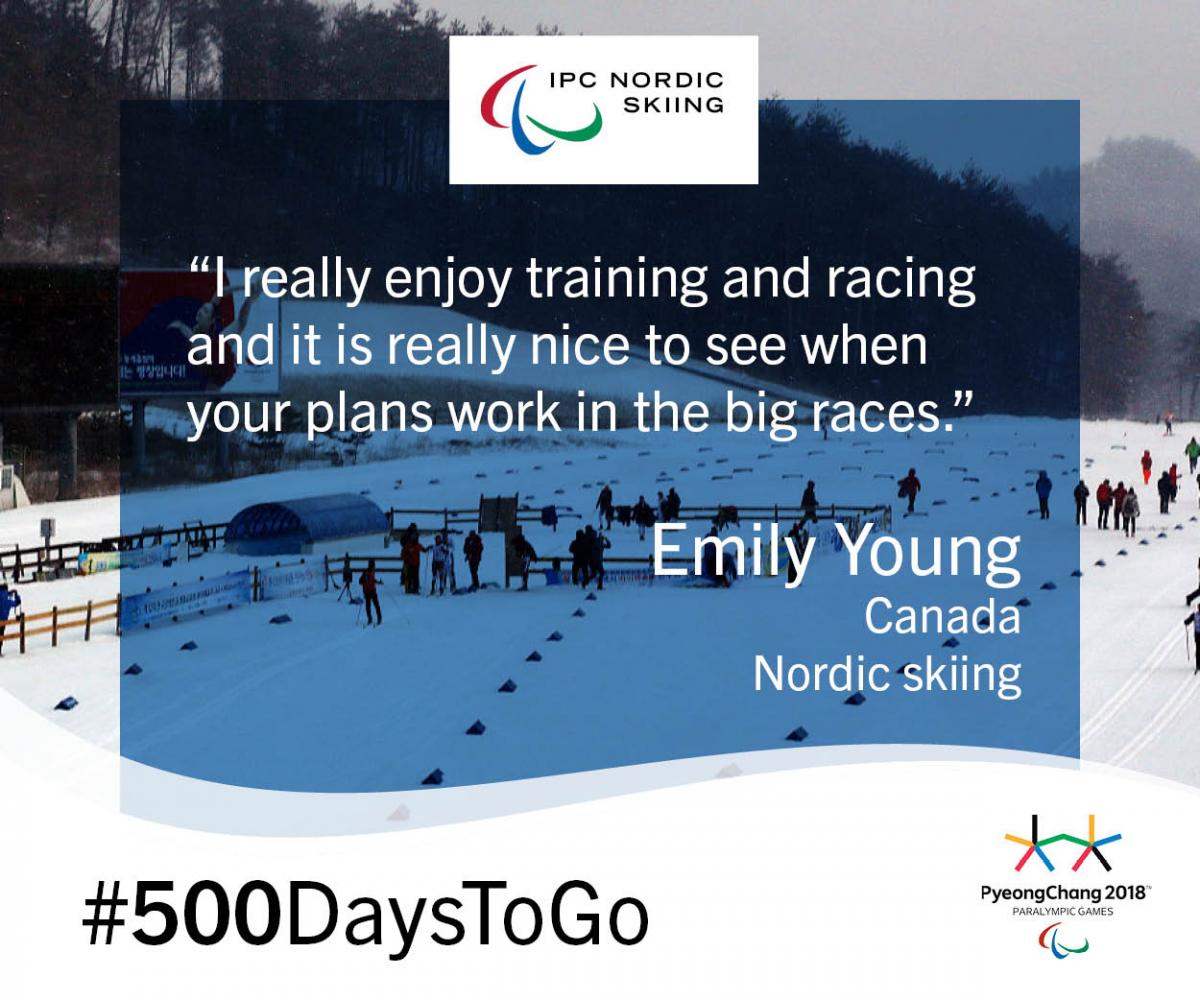 By Louise Wood | For the IPC
With 500 days until the PyeongChang 2018 Paralympic Winter Games, another promising young Canadian skier is getting ready for a hugely important Nordic skiing season.
Emily Young took part in her first World Cup in season 2015-16 and she is now looking forward to two years of important competitions ahead.
The 25-year-old has a lot to be excited about with the World Para Nordic Skiing Championships coming up in Finsterau, Germany in February 2017 and the Paralympic Games in 2018.
It may not seem long until PyeongChang but for an athlete with only one full season under her belt it still seems quite far in the future.
"I can't even think of 2018 just yet as there are so many big races this coming season, but if I could represent Canada in Korea it would be an absolute honour and a privilege," Young said. "Until then I will continue training and learning this sport so that I can give it my all if given the chance to get to on the start line."
Her biggest challenge this season will be competing in Finsterau. Unlike the Paralympics she has already had some experience of the World Championships from Cable, USA in 2015.
"This will actually be my second World Championships. I was lucky enough to race in Cable 2015 and with only four months of skiing under my belt I didn't make a complete fool of myself. I am really looking forward to see how this World Championships compares to the World Cups races of last year", she added.
Her first World Cup campaign went well with a personal best of fourth place in the women's biathlon 12.5km standing in Vuokatti, Finland. The 25-year-old ended the season ranked in the top ten in both cross-country and biathlon.
"Last year was a huge learning year. It is incredible to see the learning and improvement. That being said, starting from scratch you would hope to see some sort of improvement and I guess the coaching staff and Cross Country Canada saw what they wanted because they kept me around."
"I was happy with last year", continued Young, "I really enjoy training and racing and it is really nice to see when your plans work in the big races. I want to try and work my way up the pack a little more this year towards the top girls. My coach has really been working hard with me on technique and ski fitness this past off season and it has really been paying off."
Young may be relatively new to Nordic sport but she is not a beginner in sporting terms. She has a background in both triathlon and wrestling. In fact it was while practising sport that she obtained her impairment.
"I have ulnar nerve damage to my right arm which I injured in 2009 when I was wrestling. Since this is a relatively young injury it has yet to really stabilize and the affected areas are changing constantly. It mostly affects my shoulder, neck and right arm which is permanently stuck around the 90 degree mark. I don't feel half my arm and have many muscles that just don't connect properly."
Even though one sport caused her injury another sport actually led her to discover skiing.
"When I was first introduced to cross-country skiing I was training for triathlon after some surgery. I ran into a friend's mum who was married to the Head coach of Hollyburn Cross Country ski club. I gave roller skiing a shot and the rest is history."
Her experience of different sports has also helped her transition into cross-country skiing.
"I believe to this day, the reason I have been somewhat successful picking up the sport was because of the balance and some positioning from wrestling and my cardiovascular fitness from the triathlon," Young concluded.
__
The PyeongChang 2018 Paralympic Winter Games will be take place between 9-18 March 2018.
The Games will feature up to 670 athletes competing in 80 medal events across six sports: alpine skiing, biathlon, cross-country skiing, ice sledge hockey, snowboard and wheelchair curling.